In Brief; Casio's EXILIM EX-G1; Withstand The Elements
Touted as being shock-resistant, dustproof, freezeproof, and waterproof, the Casio EXILIM EX-G1 camera would seem to be ideal for those who want to take their camera through such extreme conditions without concern. Priced at $229 (MSRP), the camera fits right into your hand, a pocket, or small case in a backpack, and weight is of little concern.

The thin camera holds a 12.1-megapixel chip (JPEG only) that compresses at best quality to about 5MB and opens at a little over 34MB, a compression of about 7:1. There is no Raw option, though you can compress the JPEG file more. There's a 2.5" monitor on the back with no viewfinder, which is just as well as a viewfinder would have made the camera larger or, if kept at about the same size, would be a tiny porthole indeed.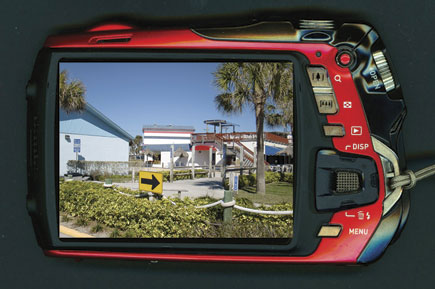 (Top): The Casio EXILIM EX-G1 fits in hand or pocket (2.5x4x0.8"). The body is sealed to the possible insult of the elements. (Above): The control layout is simple, with a 2.5" LCD finder. The menu button and toggle control are the gateways to basic and more enhanced controls. While the shutter release (not shown) could possibly be activated with gloves on, the on/off switch and "BS" button, access to enhanced menus and special effects, requires a much more defined touch.
There are very few controls on the back in keeping with the slim and compact design, with an optical zoom control (3x, about 38-114mm, 35mm equivalent), menu button, toggle for selections, and playback button. In essence, the camera can be used as the ultimate point-and-shoot (or point and make videos—AVI format, max 848x480 at 30 fps). There are many tricks in the "BS" (for Best Shot) menu, such as multi-motion image, Best Shot Scene modes, face detection, and more, but the essential items to work with are quality, Flash modes, Autofocus and Self-Timer modes, ISO, and face detection, all of which are very easy to access and change via a toolbar on the side of the screen with use of the toggle control. There's also a "live" histogram for an exposure check as you work.

Here are some of the specs for those concerned about taking this camera on a kayak or ski trip, which I think is the ideal use for this camera: it can be dropped from about 7 feet (I actually dropped it by accident once and it came through fine); submersion up to 10 feet (which is more for pool shots and for placing in your kit on a kayak trip); and workable down to 14?F, which was tested during our lovely winter here in the Northeast. I should note that the camera does not float, so if you drop it in water, be prepared to dive in to follow it to the bottom to retrieve it. I kept it in water for 5 minutes and it came out just fine. Also, there's no way to use this camera with gloves, as the controls are tiny, and in fact you need tiny fingers or sharpened nails to push the on/off button.
Outdoors, the camera definitely favors a fast shutter speed in its multi-pattern Program mode. There's no AV or TV mode available. In Auto ISO for this shot through a plastic curtain toward Cocoa Beach, the camera chose ISO 64 for an exposure of f/3.9 at 1⁄800 sec.
All Photos © 2010, George Schaub, All Rights Reserved
If you want you can use multi-pattern, center-weighted, or spot metering, and there are a few options like exposure compensation in +/-2 EV, and images are very easy to download with the supplied cables. There are also quite a few tricks with supplied software and websites for movies and stills, and other Casio features like Make-up mode, but these to me are not why you would buy this camera—it's clearly aimed at the hikers, boaters, and skiers among us.

So, how does the camera perform, and what about image quality? In bright light, when the shutter speed is fast enough, the pictures are fine. You have to consider that with any of this style camera the lens is placed behind a protective shield, which immediately creates another surface that can create some glare and flare and will necessarily degrade the image quality. That's a given sacrifice with this type of camera. Another sacrifice for convenience is the size and lack of a viewfinder, which necessarily puts you into the unsteadiest possible shooting posture.
Auto ISO, in the camera I tested, would not go above ISO 400, but you can raise ISO up to 3200 manually. This shot, inside the Kennedy Space Center, was made at ISO 1600 and an exposure of f/3.9 at 1⁄50 sec, a bit beyond the threshold of being able to hold the camera steady.
Casio tries to help all this with various systems, such as Auto ISO, Anti Shake DSP (a forced raising of shutter speed), and what they call Anti Blur Auto Shutter, but in my tests I got the best results when I made sure that the shutter speed was above 1⁄125 sec and even better results above 1⁄250 sec. As to Auto ISO, for some reason my camera balked at raising the ISO when on Auto above ISO 400, and I learned to just raise the ISO manually (it goes to 3200) when I shot in low light, such as when we toured inside the Kennedy Space Center museum near Shutterbug world headquarters.

The movies were fun and fine, if a bit low res given modern capabilities, but I am not a video maven and just enjoy making the occasional clip. Exposure was always quite good, and I shot mostly using multi-pattern, as I think that's in the spirit of using this camera. Flash modes were easy to access and for close-up shots with contrast I think it is wise to use fill, or Flash On as a general practice. And one more note: while a compact, the camera does not use SD cards, but microSD, like used in camera phones; I found a 4GB SanDisk microSD with SD adapter for $20 on sale in RadioShack.

All in all, the camera was eminently portable and fun. Picture quality was okay as long as the shutter speed stayed high, and quality at up to ISO 800 was quite good. I would recommend this for active types who want a tough camera companion, but under less rigorous conditions I think a camera with a sliding lens cover would be preferred. So perhaps it's that third camera—the sidekick you take along when you know you are in for somewhat extreme and potentially hazardous conditions.

For more information, contact Casio America, Inc. at: www.casio.com.

FEATURED VIDEO