Be Green & Growing: How Collaboration with Other Photographers Leads to Creativity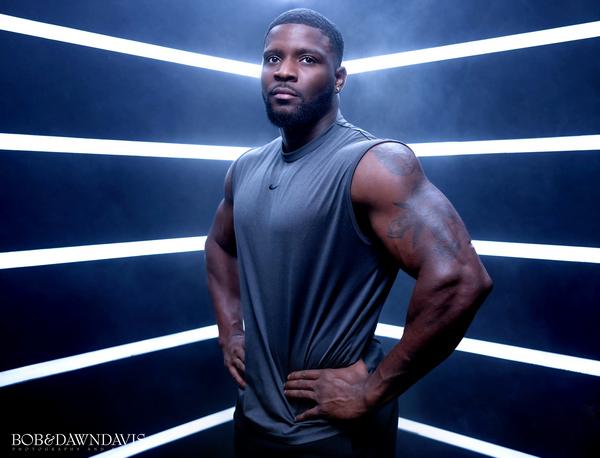 (Editor's Note: Exploring Light is a monthly Shutterbug column featuring tips, tricks, and photo advice from professional photographers in Canon Explorers of Light education program. This month's column is by Bob Davis on how collaboration with other photographers can improve creativity).

The art and craft of photography can become a solo practice, but I find I produce my best work when I collaborate and assist other photographers. I believe in being "green and growing," and it beats the alternative of being "ripe and dying." I'm always looking for inspiration, how to improve my vision, craft, and lighting.
To overcome these creative lows, I've collaborated with fellow photographers in creating the Lighting Lab—a place for us to play without any expectations of producing work for clients or the pressure of deadlines or "having to make a great picture!"

The Lighting Lab has been absolutely liberating for me. It has become my oasis for experimenting, failing, and learning, and all without the anxiety of client satisfaction. To get to the next level of your craft, whatever it is, you have to be free to try new things and learn from them. My collaborations in the Lighting Lab have given me fresh ideas that will better serve our wedding, event, and corporate clients while keeping me personally and professionally fresh and engaged.
For this column, I have one tip for you—find time to experiment, collaborate with colleagues, and learn new ways of doing things to keep your photography fresh and apply new techniques to keep clients happy, and new clients knocking.
I will share examples of real jobs that benefited from my work in the Lighting Lab and also from collaborating with other photographers. I hope you learn from my experience and how I continue to grow in my style of lighting.
These photographs were for a law firm that was refreshing their website. We set up a white background for a high key studio look in a conference room, and then created an environmental portrait outside. These types of assignments don't offer you much time with the subject, so collaboration and practice really play an important role in these situations. The lighting on both the white background and the street scene was something we worked on in the Lighting Lab, and for this assignment, one of my colleagues from the Lighting Lab assisted me. The entire session went off without any challenges.
Thinking back to something I learned during a recent session in the Lighting Lab, we decided to use artificial light to illuminate the subject and let natural light be the supporting character. The artificial light was made to look like natural light coming through a window. Balancing the light to make it all look natural was not an easy task. But again, thanks to the collaboration between myself, the subject, and the creative director (who happens to be my wife Dawn Davis), we were able to create the look and feel the client wanted – Industrial Chic!
I'm a firm believer in practice, practice, practice, which is why we tested the lighting and setup before the actual shoot. You never want your client standing around while you try to figure things out. The result was a successful balance of natural light and a combination of off-camera flash using an octagon light modifier, strobe and Canon EL 1 Speedlite for fill.

My last example is a location portrait session with an athlete. For this session I used Canon EL1 and 600EX RT Speedlites with a mix of light modifiers. When I think of athletes, I think of hard light to define and sculpt their physique. Another technique I explored in the Lighting Lab is something called in-camera cross color. Cross color is when the light source color temperature is the opposite of its natural color tone.
Daylight has a color temperature of 5200 Kelvin or the daylight icon in the white balance setting; Tungsten is 3200 Kelvin or the light bulb icon in the white balance setting. I wanted a cool, blue-toned photograph using the Speedlites as daylight. I intentionally set the camera's white balance setting to Tungsten, giving the overall image a blue tone.
The haze seen in the photograph is canned atmosphere for added depth in the image. The main light is a Canon EL 1 Speedlite in a beauty dish, and the fill light is comprised of three 600EX RT Speedlites pointing into a seven-foot silver parabolic umbrella. My camera was an EOS R5 with an EL1 Speedlite as the sender with the flash output turned off. The sender provides "instructions" to the off camera Speedlites.

I also wanted to include two time-lapse videos I shot during a couple jobs, which appear at the bottom of this page. I suggest to folks all the time that they set-up an extra camera to capture a time-lapse so they can look back at their work and remember lighting setups and posing tips that worked.
Bio

Bob Davis has been a professional photographer for more than 30 years and is a 15-year member of Canon's Explorer of Light program. Bob's passion for photography began back in high school when he became Editor of his school newspaper. He then went on to Columbia College and was named College Photographer of the Year. With this came a full-time job at the Daily Southtown newspaper in Chicago and then on to the Chicago Sun-Times newspaper for 14 years.
Bob's cameras have always been a passport, allowing him a front-row seat to history. While at the paper, he covered countless amazing events, such as presidential elections, Michael Jordan's entire career with the Chicago Bulls, and many faith celebrations and rituals. Bob has traveled around the world photographing weddings and human-interest stories for non-profit organizations.
Bob has since moved on from the newspaper industry. Now, a partner with his wife at Bob & Dawn Davis Photography & Design. Their client list reads like a "Who's Who" of entertainment's elite. They have had the honor of photographing Ashley's wedding, of ABC's TV show The Bachelorette, to J.P. in Pasadena, California, and many other "A" list weddings such as Eva Longoria and Tony Parker, Salma Hayek and François-Henri Pinault, La La Vazquez and Carmelo Anthony, Tracey Edmonds and Eddie Murphy, and many fabulous events with Oprah Winfrey.
You can find more of the couple's work at the links below:
www.facebook.com/BobandDawnDavis
www.youtube.com/user/bobanddawndavis/featured

FEATURED VIDEO