The Bag Man Reviews the Everyday Photo Backpacks and Sling from Peak Design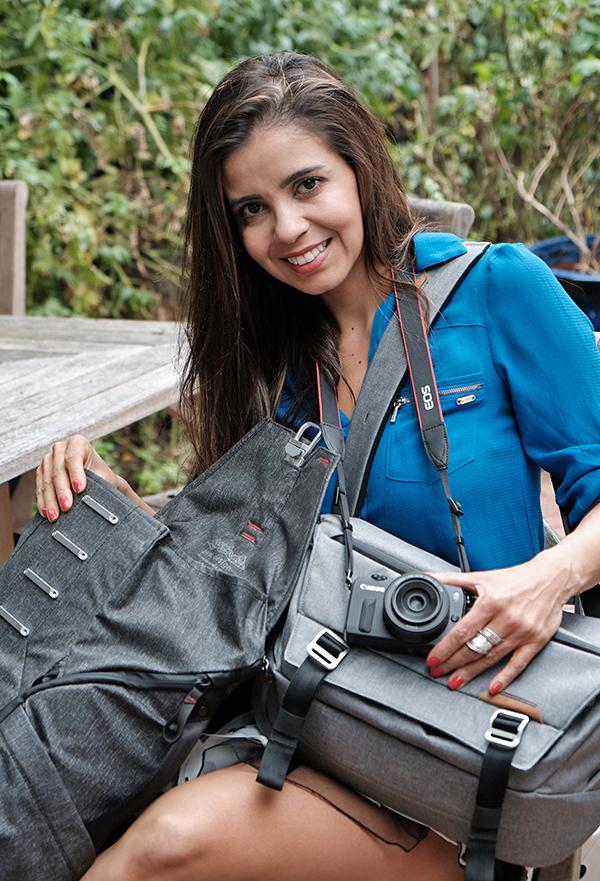 Photo backpack fans listen up! Everything good about Peak Design's photo messenger bags now comes in backpack shape, in two sizes plus an innovative sling.
When I review products from Peak Design I feel like I'm crossing over into marketing reporting, or maybe financial. The products themselves are outstanding (in fact, let's call them "category disrupting") but the backstory, the narrative account of their unbelievable string of successes on Kickstarter, is as compelling as the product tale.
The bags we're examining today landed 26,359 backers on Kickstarter who pledged $6,565,782 to help bring the Everyday Photo Backpack project to life. If you toss in Indiegogo, the tally shoots up to $7,055,048 in total funds raised as of September 9, 2016.
This shouldn't come as a surprise, I guess, since the Everyday Messenger bags roused 17,029 backers and $4,869,472.
For the record, I am not running for any political office, so these numbers are 100% on the level. No e-mail servers were hacked, and no walls were built, to obtain them. Although I did drink some Russian vodka, I was mentally reciting the Pledge of Allegiance the whole while.
I first reviewed the Peak Design CapturePRO Camera Clip back in September 2013 right here. I realized that Peak had their stuff together, as the saying goes, and two years later, in October 2015, I tested the Everyday Messenger Bags.
If I had to describe Peak Design bags in as few words as possible I'd write that they are just like any other photo bag only completely different. Typical photo backpacks and many messenger bags are black ballistic nylon. Conventional bags have padded dividers that anchor via finger-shredding Velcro and ordinary hardware. There are exceptions, of course, but I'm generalizing.
The Everyday series are made from Kodra fabric that has a weatherproof, hydrophobic DWR coating. They feature weatherproof zippers, expandable designs, brilliant Flexfold dividers and unique custom hardware like the one-of-a-kind Maglatch closure.
The Everyday Sling ended up being the most useful for me, and yes, I do actually use the products I review, as one of the photos in this column testifies. The Sling has a zippered flap on the front that fits a small tablet or larger items. The top cover unzips to reveal an integral, lined pouch that's inhabited by four small pockets perfect for memory cards, batteries, etc.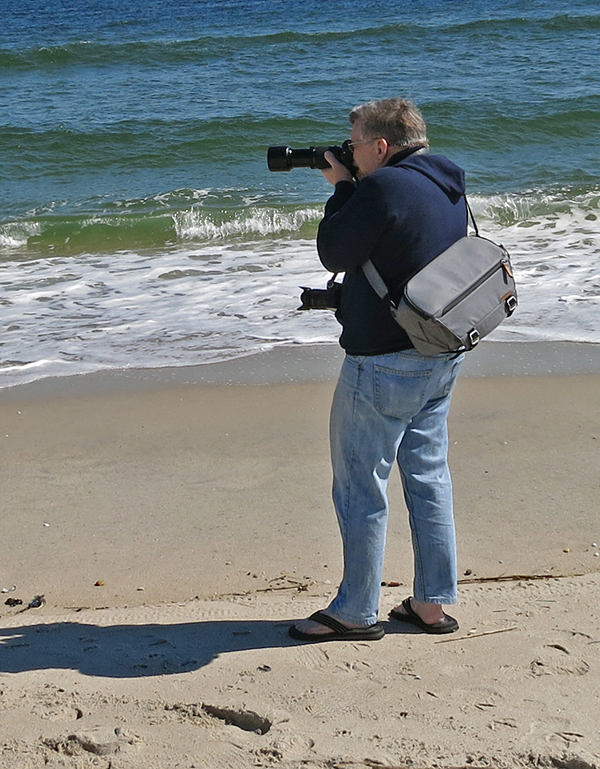 Inside the main compartment there is a nicely padded, full-size pouch that supports my MacBook Air and a large storage area that can be customize using the included Flexfold dividers. The adjustable shoulder strap has custom swivels at the attachment points which allow the sling to move and conform to your body. It also has a built-in shoulder pad (which I wish had an anti-slip surface). And there's a classy, leather-trimmed grab handle along the back of the top, plus dedicated Capture attachment point on either end.
Two of the things I like most about this sling: it readily accommodates my money camera with a 70-200mm f/2.8 lens attached, and it lies flat on the passenger seat of my car or snuggly behind the passenger seat. No rolling around.
The Everyday Photo Backpacks come in two sizes, 20L and 30L. Looking down from the top you find a larger cover flap that connects via the ladder-like Maglatch closure. Behind the top cover is a zippered pocket that stows a large notebook and a tablet and includes a shallower pouch for other small electronics or the like. The 20L holds notebooks 15-inches and smaller; the 30L will handle a 16-inch.
Open the top to reveal the first compartment level. You control the depth of that storage area by adjusting the Flexfold dividers. Both sides unzip open like D-shaped wings to allow reach-through access to the innards. Yes, reach-through, so lefties as well as right-handed people have equal entrée. The side wings themselves have integral zippered storage which features multiple padded pockets inside. On the outside, each side wing has a deep pocket and a padded grab handle.
The harness is adequate and includes a wide but unobtrusive strap that secures the whole thing to the extended handle of a set of wheelies or rolling luggage. Each strap sports a connection point where one could hang a phone or similar, and of course there is an adjustable sternum strap and even a hideaway waist cinch.
Did I leave anything out? Yes, the bottom has a protective, waterproof coating. Not that I would ever set this on the wet ground.
The Everyday bag journey on Kickstarter ended September 9th, but they are now available for pre-order exclusively on Indiegogo. To order, you must become a backer of this project. To do that, visit the Indiegogo website. Peak Design says they will begin shipping new orders once they have finished fulfilling pre-orders made previously on Kickstarter. That's only fair.
Peak Design offers a variety of other products, including straps and the aforementioned CapturePRO Camera Clip, and you can see them on their website. You'll also find a video that tells the Everyday story.
—Jon Sienkiewicz

FEATURED VIDEO