The Bag Man Reviews the Everyday Messenger Photo Bag from Peak Design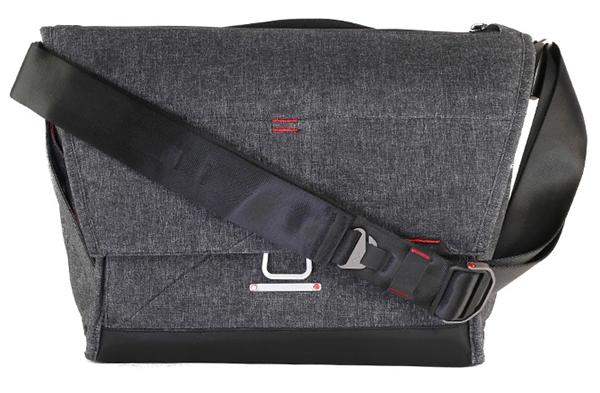 What can you say about a camera bag that raised $4,869,472 on Kickstarter and won the hearts of 17,029 backers? Quite a bit, actually, starting with "Wow!"
The Everyday Messenger Bag from Peak Design has already become a legend even though it will not be delivered until sometime in December. At first glance it's easy to recognize that it's a breed apart from the camera bags we're accustomed to seeing. The sample I am reviewing here is preproduction, so it's possible that a few minor details may change before it reaches the market. With that caveat, let's open 'er up and take a look inside.
The front flap is secured by a row of latches that climb the inside cover like a ladder with rungs spaced about an inch and a half apart. The latches are engaged by a stirrup-shaped loop that can either seize the latch securely or make a quick magnetic connection. It sounds more complicated than it is. They call it the MagLatch and it's very easy to open and close with one hand, even when you're on the move.
The inside cover unzips from the top to expose a soft, protective lining and eight pockets—four large and four small—that are sized to hold memory cards, small electronics, business cards, etc., up to about four inches square.
Behind the cover is the roomy main compartment which is divided by three of the most amazing repositionable partitions I've even seen. Made of compression-molded EVA foam, they are soft and protective and are prefolded so that they can stand upright to protect a tall lens, or fold neatly along scored lines to create a cradle that supports camera with lens. Alternatively, they can be folded inward thereby creating a "roof" that protects a shorter lens nestled inside.
The main compartment is padded with a soft, quilted material that is thin but feels quite protective. At the top is an open pouch large enough to swallow an iPhone or serve as a hideout for lens caps, filters or your Montblanc ballpoint. Above that is the base of the front flap which features a larger zippered pocket that runs the full length of the bag. The interior will hold a DSLR with a 24-105 zoom attached and a couple other lenses.
On the top you find a padded synthetic handle and two parallel zippers. The zipper closest to the front provides access into the main compartment without raising the flap—a great feature when you want to change lenses or grab an accessory in a hurry. The zipper that transverses the back of the top opens to reveal a laptop pouch that will almost (but not quite) accommodate my 17-inch MacBook Pro but will readily devour anything smaller. A second pouch holds a tablet and prevents it from rubbing against the laptop. The zippers, by the way, are weatherproof.
On either end there is a deep pouch and a diagonal strap that is sized to fit a Peak Design Capture clip. The sides also are home to tiny pockets that house the hideaway straps that can be extended to wrap around your body (or luggage wheelie) to stabilize the bag. The bottom is covered with an attractive waterproof material that helps keep the whole kit clean and dry.
The shoulder strap is a work of art in its own right. It has the width and feel of a car seatbelt and is fitted with an interesting hook-and-loop connector as well as a metal buckle that allows length adjustment. The shoulder strap is attached at each end with a rivet that permits the strap to rotate to facilitate different carrying styles without tangles or undue stress on the attachment point.
There is one thing about the shoulder strap that I hope they improve in the final production models. The inside of the pad does not have a slip-resistant surface, so it sometimes can be a bit of a struggle to keep it shouldered, especially if you're wearing a slick nylon jacket. Of course, that's a moot point if you wear it bandoleer style.
The outside of the Everyday Messenger Bag is constructed with 500D Kodra synthetic canvas that is waxed and DWR-coated. "DWR" is the abbreviation for "durable water repellant." The sample I have been using is sort of cinnamon-brown in color and truly handsome.
Peak Design's Everyday Messenger Bag is available for preorder online. MSRP is $249. We've been reporting on the innovative products from this San Francisco based company since early 2013 and most recently in May of this year. You can read that review here.
Although I'm not partial toward messenger bags in general, this product is great for covert carry. It looks like a high-end, modern bag that you might see on a Tokyo subway in the hands of a fashionably dressed salaryman. It does not scream out, "Cameras inside!" and that's a good thing. Personally, I can't wait to see more bags from Peak Design. I look forward to seeing some of the innovative features they've introduced with this messenger bag incorporated into other designs.
—Jon Sienkiewicz

FEATURED VIDEO