The Bag Man Looks at Manfrotto Nano Camera Pouches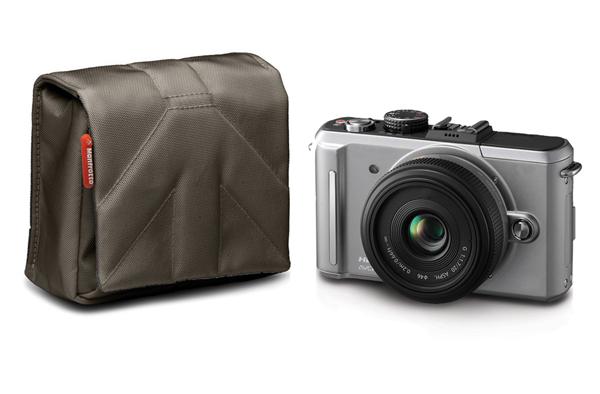 You know better than to carry a camera in your trouser pocket, but who wants to look like they're wearing a goofy fanny pack? Manfrotto offers what is arguably the best compact camera belt pouch ever made. Best looking, too. Want to know why I think so?
If you think a camera pouch is a camera pouch, think again. The Manfrotto Nano series of camera pouches have five features that—when combined—separate these cases from the pack.
Extra-wide, extra-long belt loop. The robust belt loop assures that the case is held snug and secure—it doesn't go flopping around when you run from a zombie. Instead, the case stays close to your waist.
Two large and separate Velcro-type fasteners. Think strong without being ridiculous about it. Even if you close the case carelessly, the pair of touch-fasteners grabs tight to trap your camera. The case is also easy to open, thanks to its wide, full-width cover flap.
Roomy and deep accessory flap pocket. Many times the flap pocket on a compact case looks like an afterthought and won't hold much more than a tiny SD card. The flap pocket on a Manfrotto Nano case extends the full width of the front and is about three-fourths as tall.
Just-right padding. Not too thin, not too thick. The case is flexible yet durable and protective. When not on my belt, the Nano slips neatly into my backpack, shoulder bag or sling without adding unnecessary bulk.
Attractive price. For example, the Nano III which measures 1.8 x 3.7 x 5.1" (4.5 x 9.5 x 13.0 cm) is available from B&H Photo for a mere $9.09 as of this writing (Black Friday 2014). The larger 3.5 x 4.5 x 5.1" (9.0 x 11.5 x 13.0cm) Nano VII will run you $10.39. Prices are subject to change! These are exterior dimensions, but to give you an idea, the Nano VII interior dimensions are roughly 2.5 x 4 x 4.7 inches, certainly large enough for most compact cameras. You can check dimensions and order directly from Manfrotto but the prices are different.
Manfrotto Nano cases are available in several sizes and come in black, bungee (grey) and white. (White? Are you kidding me? Oh, well.) IMHO they are one of the best values you'll find. They're ideal for personal use and make a great gift.
—Jon Sienkiewicz

FEATURED VIDEO