Albuquerque International Balloon Fiesta
About Lynne...
Lynne Eodice is an accomplished writer/photographer and a popular contributor to Photographic magazine.
This event began in 1972 when a man named Sid Cutter helped organize a balloon festival to celebrate the 50th anniversary of a local radio station. About a dozen hot-air balloons were launched from a parking lot in an Albuquerque shopping mall, and from these modest beginnings, the Fiesta has grown to become the world's largest annual ballooning festival. It's also one of the most-photographed events in the country.
Albuquerque is considered the premier city for hot-air ballooning because of its crystal-clear skies, perfect October climate and a phenomenon called the "Albuquerque Box." The Rio Grande Valley and the surrounding Sandia Mountains create this "box" which protects balloon ascents from strong winds while causing breezes to simultaneously blow in different directions at various altitudes--giving pilots a lot of control when flying their balloons. The 2005 Albuquerque Balloon Fiesta is being held from September 30--October 9 at Balloon Fiesta Park (see map), and over a thousand balloons from around the world are expected to participate.
What To Photograph
During the Fiesta there are numerous events you'll want to take in, including a display of classic cars and special interest vehicles, "After Glow" fireworks show, wine tasting, and much more. Here are some of the attractions you won't want to miss with your camera:
· Balloon Glow: This will give you the chance to shoot during "magic hour" lighting. Just before dusk, about 400--500 balloons are tethered and inflated. Burners are ignited and the brilliant colors of these balloons are striking against the dusky skies. In 1993, due to the popularity of this event, Fiesta officials added a second "Night Magic Glow." You'll want to use fast film (or the equivalent ISO setting on your digital camera) in the 400--1600 range when shooting in low light. A tripod or monopod will help ensure sharp images.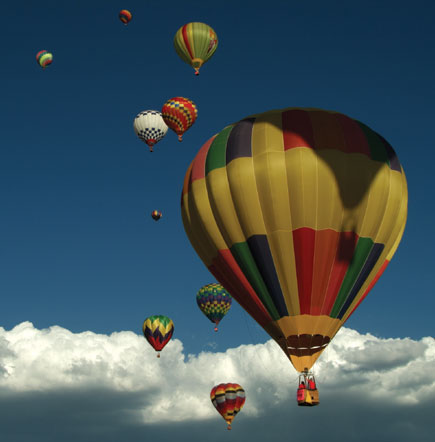 Photographers who attend the Albuquerque Balloon Fiesta say that it's difficult to miss getting great images at this colorful, event-filled exposition in beautiful New Mexico.
Photo by Cindy Petrehn
· Special Shape Mass Ascension: This is an opportunity to photograph themed balloons in a variety of unusual shapes, such as a piggy bank, motorcycle, polar bear, a string of chili peppers and even a replica of Noah's Ark.

· Mass Ascension: You'll probably never see anything more spectacular than this Fiesta event, when hundreds of colorful balloons take to the sky at once. If your lens accepts filters, a polarizer will give your blue skies extra punch.
A Few Photo Pointers
· Watch the background: Look for simple, uncluttered backgrounds. Avoid distracting elements and explore a variety of viewpoints from which to shoot. In most cases, shooting up at balloons with the blue sky in the background will provide the simplicity you need.

· Use side lighting: During the morning or afternoon hours, when the sun is low in the sky, the light will rake across your subject and create depth and texture. Colors will be more brilliant early and late than at midday.

· Bring several lenses or a zoom that covers a variety of focal lengths. Normal or wide angle lenses will allow you to encompass more of the sky when shooting the mass ascensions. A moderate telephoto will enable you to isolate details. Try zooming in on an interesting balloon and framing it with portions of other balloons rising around it.