Adobe's Photoshop Lightroom 3; Is It A "Must-Upgrade" Version?
A smooth workflow makes the job of photography feel more like a passion. You release the shutter button and next thing you know you're holding a framed comp for a client. Or, after a location shoot or a travel trip, your time in the studio becomes so productive that you're invigorated to get out and shoot more photos. This "process of producing imagery" becomes a more artistic endeavor.
With Adobe's Photoshop Lightroom 3, several critical changes have improved the workflow significantly, matching the actual needs of real photographers and not just increasing the feature count. In my tests as a journalist who often takes photos for magazines and websites, usually as part of a written piece, Lightroom 3 became an indispensable aid. Even more than previous versions, the changes fit my style in terms of speeding up routine tasks, such as selecting images for import and selecting shots.
Lightroom now lets you save import presets, which are like Word templates you can reuse. Presets save file import location, effects, and file handling attributes.
All Photos © 2010, John Brandon, All Rights Reserved
Still, know this: while Adobe's Photoshop CS5 added some gee-whiz features such as Content Aware Fill that automatically fills in a portion of an image, Lightroom 3 is more about tweaking existing features and improving the speed of photo browsing, and addresses workflow concerns. It is not necessarily a big step forward for Adobe; I am not even sure it will likely impress anyone who already uses Lightroom.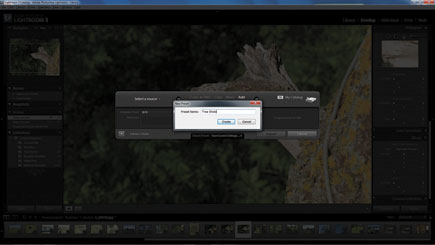 The import preset controls can be reused, and they are easy to apply to new import tasks.
Major Changes?
The import changes are the most dramatic. Apple's Aperture 3 actually has a slight edge in terms of viewing camera details, such as EXIF data, during import. However, Lightroom 3 takes over from there and makes a giant leap forward past Aperture. The new preset feature is extremely powerful. Essentially, it works like a template in a word processing program.
You set up the basic variables—such as where to import from, the file handling (such as whether to import the sidecar data added to proprietary Raw files), develop settings (presets for color handling and effects), and metadata. You can then save these presets and use them for every import, which for me trimmed about 10 minutes per shoot. That's a lot of time savings in a week or a month!
Noise reduction now works remarkably well on images with a high ISO setting. You can adjust luminance, detail, color, and other settings to get the right balance.
For my process, I tend to import in two ways: directly off-camera connected over a USB cable, and from a CompactFlash card inserted into a card reader on the PC. I set up presets for one, saved all of my settings, opened the preset again, tweaked it for the location (changing it to USB) and saved. For those who import from many different sources, such as network drives and CD, you can tweak the settings accordingly and then never have to fiddle with the import variables again.
Lightroom now lets you select your exact lens and use a preset that corrects the image automatically.
In a typical workflow, the import presets are powerful for another reason: you can quickly reuse them. There are options to copy and paste presets and a Previous button that uses the last preset. This means presets are not just available, but easy to access in the program and easy to use.

For selecting shots, the main improvements have to do with speed. There's no jaw-dropping moment with Lightroom 3, but enhanced performance is noticeable on both the PC and Mac versions I tested. In fact, most of the speed gains I noted were on an older Intel-based MacBook running at 2.6GHz with 2GB of RAM. Unlike Lightroom 2 and Aperture, even for a catalog of several thousand images, there isn't the typical lag as thumbnails pop into view. In most cases, my photos appeared instantly on the screen.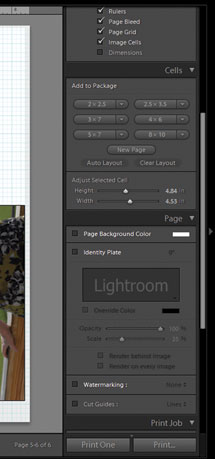 You can now add images of any size, arranged in any order on the page. This helps create a comp for clients who want to inspect images at different sizes on a page.
Why is this important? In a workflow, the longer you wait to select an image with the proper exposure settings, lighting, and cropping, the more the whole process drags out. With instant thumbnails, you can then move on to more advanced tasks such as lens corrections and adding effects. Then, the faster you breeze through those steps, the faster you can export images or archive them to the web.

At its core, Lightroom 3 is an image organizer, and you start to sense that Adobe has not really offered any major improvements in this regard. In fact, there are not really any major changes in how you tag photos, such as adding a geotag feature. You can now search for images based on focal length, but that's a minor addition. Lightroom 3 does support many video formats for import, including AVI, MOV, and MP4. You can quickly tag videos during import and there's a nifty feature that allows you to preview videos in your catalog just by moving the mouse over the thumbnail preview.

Lightroom does not let you edit EXIF or IPTC data during import, choosing to offer these features as part of the organizational workflow. The company told me they have improved performance so much that editing metadata during import is not needed. I can see the point, and it's mostly a workflow preference, but I prefer Aperture's ability to perform these tasks during the import process.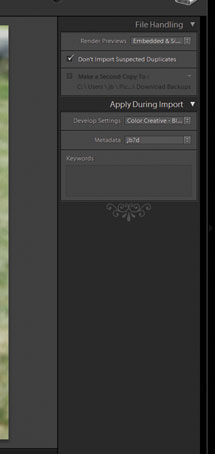 Import options, while reuseable, are not that extensive. You can't edit EXIF data for example for each imported shot.
Adobe also added a new tethered capture system, which allows you to snap photos on your Canon or Nikon with the software running on your computer. You can line up shots using a preview, then see the photos immediately in a larger view in the software. This essentially replicates what you can do with a bundled program such as EOS Utility that supports tethered shooting. One slight omission from Lightroom, though: the EOS Utility supports high-def video preview during tethering but Lightroom 3 does not.

FEATURED VIDEO