Adobe's Photoshop Lightroom 3; Is It A "Must-Upgrade" Version? Page 2
Correcting Lens Problems
Lightroom 3 now uses presets for specific lenses from Canon, Nikon, Tamron, and others that automatically correct lens problems such as barrel distortion, chromatic aberration, and vignette effects. Fortunately, you don't even need to know what these lens fixes mean—you can just select your lens and watch as Lightroom corrects the subtle distortions.

A friend sent me a few "problem" images taken with a 17-50mm lens, mostly shots of flags and trees. The shots are good, they just have nominal problems such as slight curves, which Lightroom 3 corrected. These presets correct the entire image, not just one portion. You can make manual changes as well, but as often happens, a fix in one area causes other problems. The presets solve that issue. Adobe tweaked other lens correction options as well—including perspective corrections for a horizontal or vertical landscape shot that worked well in my own tests with the lens.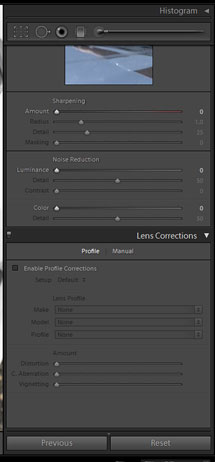 Lightroom 3 includes many of the same effects and adjustments as the previous release, including histograms, noise reduction, and other tools for inspecting images and making minor corrections.
Editing Features
There's no question Adobe has created a fine balance between the editing options in Lightroom vs. the full suite of effects and pixel-level editing functions in Photoshop CS5. The company can't add too many features to Lightroom 3 or photographers might not use Photoshop as often. So, most of new editing functions either improve existing effects or just run faster in this version.

The two most critical enhancements have to do with noise reduction and grain control. The big question in this regard was whether Lightroom 3 can fix noise problems in a photo with a high ISO setting better than Aperture 3 and competing products, and the answer is yes. To test noise, I conducted an entire photo shoot with the ISO set at around 6400 or higher. The shots look bright and colorful, but there's plenty of unwelcome noise. Lightroom 3 smoothed these images without causing detail problems like reducing noise at the overly apparent expense of sharpness. If noise is a problem for your photos, Lightroom 3 does radically improve this correction step. In addition, Lightroom's grain filter now works much better. The grain I added to one image didn't look "computerized" and had a more natural appearance.

Otherwise, most of the effects available are about the same as the previous version; although they do run faster. Lightroom always was a powerful tool for prepping images before archiving them to an online portal, and now Adobe offers a software development kit to create custom exports to any site. The program tweaked a few print options as well, including new options for setting photos at any size you want for multi-photo prints and new text and graphic watermark options that apply to all images no matter how you export.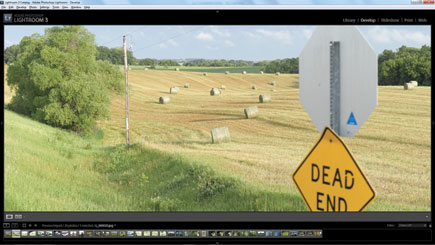 The full-screen mode in Lightroom 3 removes all of the clutter—however, it has not changed much since the previous release. You see a thumbnail strip and the large selected image.
So, What's Still Missing?
Lightroom 3 seems blissfully unaware of the recent trend in photography to add GPS data to images. Adding this data helps with categorization because you can view all images taken at a particular shoot. While geotagging is still not a feature with even current D-SLR cameras such as the Canon EOS 7D, it is quickly becoming important for serious photographers who need to track shoot locations. Aperture 3 not only includes features for geotagging photos, but automatically detects locations in all imported photos and provides a way to see images on a built-in map.

There is some debate about how much an image organization tool should write metadata back to a Raw file. Aperture 3 added support for most popular Raw formats, giving you the option to edit EXIF and IPTC data and write these additions back to the original Raw file. One example: you can add a quick copyright notice or geotag to a large collection of Raw files. Lightroom does not write this data back to the Raw file, but uses a sidecar file instead. Adobe told me they do this because the Raw format is proprietary for most camera makers, such as Canon and Nikon. If they wrote to the source file, and the proprietary format changed, those files could become corrupt and unusable.

That's true, but so far Aperture has not had problems with these Raw formats and Apple will likely update the program if the Raw formats change. I prefer the ability to write metadata to Raw and can deal with the possible file corruption issues, since I make routine backups anyway.

Another minor complaint: Lightroom allows you to switch photo catalogs easily, but you do have to reboot the app. The program does run fast enough so that this switch is not a major drawback. However, I would prefer a way to switch catalogs without having to reboot.
Conclusion
Many photographers decide to use all the tools Adobe offers for their workflow. They use PDF for comps and contact sheets, they organize images using Lightroom, and they use Photoshop for editing. It's a wise approach, and Lightroom now runs faster, fixes noise problems, offers import presets, and even lets you shoot in tethered mode. It's an important update, but there is a nagging question about whether Lightroom 3 is really worth the upgrade. I wish the program had a few more new effects to offer, supported geotagging, or provided some major new feature that made it a more compelling upgrade.

As such, I can recommend Lightroom 3 if the new features match your workflow. Maybe you routinely work with thousands of images and the speed improvements will cut down your time in the shop by several hours per week. You might prefer to do tethered shooting from within your organizer of choice. You may decide the lens correction presets are invaluable. However, if you just need to keep track of your images and you're content with how Lightroom 2 works, this is not a "must-upgrade" version.

For more information, contact Adobe Systems Inc. at: www.adobe.com.

LATEST VIDEO