Think Tank Photo V2.0 Retrospective Camera Bags Review
If you're interested in matching two or more pieces of your camera luggage, or even if you're not, Think Tank's Retrospective line, version 2.0, includes seven (7) separate pieces, including a 15 Liter photo backpack and a set of shoulder bags in sizes for everyone.
In addition to being stylish and extremely well made, the Retrospective V2.0 lineup has been carefully thought out so that you're sure to find the one that's just right for the assortment of gear you regularly carry.
Key Features Common to All
Available in classic Black or Pinestone (gray-green) they utilize hook-and-loop "sound silencers" that muffle the rrrip! sound that Velcro can make at the worst times. All shoulder straps are adjustable and feature a cushioned non-slip pad. The sand-washed, 100% cotton canvas exterior fabric has a DWR (Durable Water Repellant) coating and seam-sealed rain covers are included. All zippers are YKK RC Fuse (abrasion-resistant) and all hardware is antique plated brass. Stitching is 3-ply bonded nylon thread. Interior protection is assured by closed-cell foam and PE board reinforced dividers.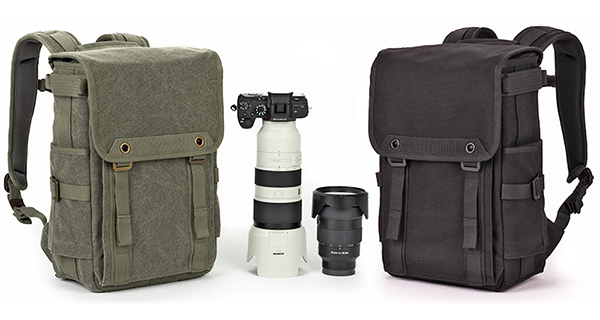 Think Tank Retrospective 15L Backpack V2.0
With a stylish design that falls somewhere in between military and urban chic, this 15 Liter photo backpack features a dedicated pocket that fits up to a 15-inch laptop plus collapsible side pockets for water bottles or tripod stowage. Highly convenient, top and rear-panels allow access to camera gear.
It holds a ton. You can pack a standard DSLR body with 70-200mm f/2.8 attached plus a 24-70mm f/2.8, 100mm f/2.8 macro, 50mm f/1.4 normal, accessory flash unit and a 15-inch notebook computer.
Exterior Dimensions: 11.8 x 15.9 x 7.1 inches (30 x 40.5 x 18 cm). Weight is 4 pounds (1.8 kg). Like all other Think Tank Retrospective bags, the 15L Photo Backpack is available in Pinestone or Black.
Buy at Amazon $249
Think Tank Photo Retrospective 5 V2.0 Shoulder Bag
If a messenger-esque shoulder bag is more your thing, the compact and durable Retrospective 5 is a good choice for one camera and one or two lenses. The sample I have been using currently is home to a Sony mirrorless and two lenses.
The outside dimensions (10 x 8.5 x 6 inches, or 25.5 x 21.5 x 15 cm) put it in the same size class as one of my all-time favorite and most-used bags, the Domke F-5XB. The Think Tank 5 goes it one better by also accommodating one 9-inch tablet (as long as it doesn't exceed 9.1 x 6.3 x 1.0 inch in size). The Retrospective 5 V2.0 weighs 2 pounds (0.9 kg) empty, including straps and rain hood.
Buy at Amazon $144
Also available from Amazon, slightly smaller and lighter (1.2 pounds) the Retrospective 4 Shoulder Bag is priced at $99 and measures 9 x 7.5 x 5.1 inches (23 x 19 x 13 cm).
Think Tank Photo Retrospective 7 V2.0 Shoulder Bag
Need to add a 13-inch notebook computer or 10-inch tablet? Step yourself up to the Retrospective 7 shoulder bag. She'll hold a standard DSLR, the aforementioned computer devices, a 24-70mm f/2.8 attached to the body, 70-200mm f/2.8 (unattached) and flash. Or, for example, a DJI Mavic Pro drone, controller, batteries and accessories.
Exterior Dimensions are 12.5 x 8.8 x 5.4 (31.8 x 22.4 x 13.8 cm) and empty weight is 2.7 pounds (1.2 kg).
Buy at Amazon $165
Also available from Amazon, a slightly larger version at 13 x 10.5 x 7 inch (33 x 26.7 x 17.8 cm), the Retrospective 10 Shoulder Bag at $169.
Think Tank Photo Retrospective 20 V2.0 Shoulder Bag
If you're like me, it can be challenging to carry a full-size DSLR with a huge lens and still have capacity to pack other lenses and accessories. The Think Tank Photo Retrospective 20 V2.0 Shoulder Bag fits a professional (gripped) style DSLR with a 70-200mm f/2.8 or 300mm f/2.8 lens attached plus 24-70mm f/2.8, up to a 10-inch tablet and a flash. Example: Nikon D3s with 70-200mm f2.8 attached, 14-24mm f/2.8, 50mm f/1.8, SB910.
With outside dimensions of 13 x 12.5 x 7 inches (33 x 31.7 x 17.8 cm) she's not small, but it still feels compact and under-the-radar even when filled to the brim. Empty weight with all included accessories is a fairly light 3.2 pounds (1.5 kg).
Buy at Amazon $175
Also available from Amazon, slightly taller 16 x 11.2 x 7 inch (40.6 x 28.5 x 17.8 cm) Retrospective 30 Shoulder Bag at $100.
Conclusion
It's an easy game of "buy the size you need." Styling, basic design and of course high quality are all the same regardless which of the six Think Tank Retrospective V2.0 shoulder bags you choose. The Retrospective 15L V2.0 photo backpack is top notch and will serve a lifetime of rugged use.
—Jon Sienkiewicz
(As an Amazon Associate, Shutterbug earns from qualifying purchases linked in this story.)