Special Report: photokina
The World's Fair Of Imaging Lives Up To Its Reputation
Imagine you're a kid with a very sweet tooth in the world's largest candy store. You're allowed to roam around the halls for five days, sampling whatever strikes your fancy. You're also in one of the world's largest slam dancing parties, sharing the space with 100,000 or so other such kids. That's the feeling one can get at photokina, the largest photo/imaging trade show in the world, held every two years in Cologne, Germany.

This year's event saw the unveiling of many new products and services that once again change the rules of the imaging game. To cover the show we had a team of reporters assigned to a somewhat impossible task--making sense of it all amidst the flurry of sound and light and picking their favorites from among the over 1500 exhibitors at the show. Some of the stands covered huge amounts of floor space, while others shared space or were tucked along the aisles, making it a labyrinth of imaging pleasures. This show is so big that the photokina organizers, who always do a great job, actually supply press taxis to get you from hall to hall.

What follows are reports from specific areas of interest from our reporters. But before we get to their reports I thought a brief overview of highlights might be in order.
Digital SLRs
Of course much of the buzz here was over digital SLRs, with higher and higher megapixel counts, new entrants, and some lower pricing rumors. Now there is no company noticeable by their absence from this class of camera, as Konica Minolta (http://konicaminolta.us) finally showed up with a 6-megapixel SLR with Anti-Shake (a CCD that bounces along with you to help get better handheld shots). The Maxxum 7D now allows Minolta lens owners who waited patiently for a digital SLR to stop trying to sell those lenses on eBay. The pricing is still tentative, but we get the idea that it will be in the $1500+ range.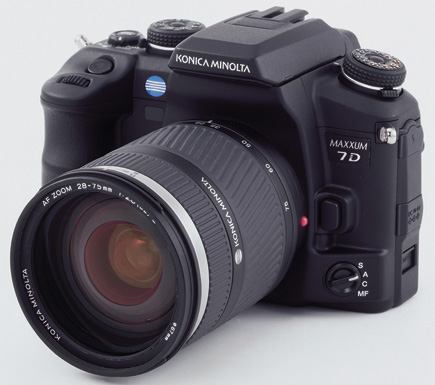 The "top megapixel count in a digital SLR" award this show goes to the Canon EOS-1Ds Mark II, with 16.6 effective megapixels on a full-frame sensor. Due to be priced at about $7500, Canon (www.usa.canon.com) touts this as competitive to medium format, and we think it might be so. As you'll see later in this report, there are some integral medium format cameras now with 22-megapixel backs, but at almost double or sometimes triple the price of this Canon entry. In any case, the
full-frame sensor means that Canon lens owners won't have to multiply to get the true effective focal length, and that the pixels are big enough to yield some very high-quality images. The camera also has an available WiFi accessory that will also be compatible with the amateur EOS 20D, which means you can transmit images wirelessly around the home, studio, or arena of your choice.

The Fujifilm FinePix S3 Pro is quite reasonably the third in the line of Nikon mount digital SLR cameras from Fuji (www.fujifilm.com). The new model promises wider dynamic range, an extended ISO range, and a new image processor. It has the Fuji Super CCD SR II, an interesting arrangement of pixels that yields 12.1 million recording pixels. One of the more interesting features is what Fuji calls Film-Image Simulation mode, where you can choose neutral or high color saturation, the former being like shooting with portrait print film and the latter being what you might see with Fujichrome slide films. You can of course set this up for yourself with saturation and contrast controls, but this seems like more fun.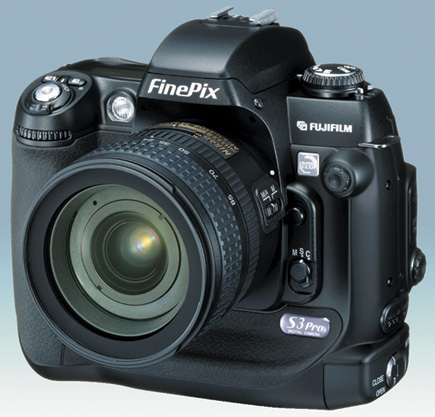 The latest Nikon digital SLR entry joins a fast framer with a high megapixel camera. The 12.4-megapixel D2X is their first CMOS-sensor camera and it can bang out images at 5 frames per second (fps) at up to 15 shots on their raw format (NEF) and up to 8 fps for 26 fps in what they call "crop" mode. One very cool function is what Nikon dubs Multiple Exposure, which allows you to create a single image from up to 10 frames. It lets you do this in the camera and actually work the transparency of each image. Of course you can do this in the computer but it's neat nonetheless. This model puts Nikon (www.nikonusa.com) in the competitive race again, at least when it comes to megapixel power.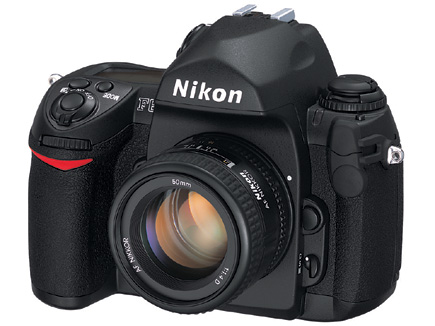 The Olympus E-300 EVOLT is a consumer-directed and competitively priced digital SLR that should come in at the sub-$1000 range. It of course takes the Olympus Four Thirds lens system mount and even beats the Olympus Pro E-1 with 8 million pixels. The camera feels quite good, has a built-in flash, and a kit includes an Olympus 14-45mm lens. You get raw and JPEG options, two color space settings, very handy white balance controls, and it takes Microdrive and CompactFlash, including the very high capacity cards. For more information, visit Olympus' website at: www.olympusamerica.com.
Film SLRs
Nikon surprised just about everyone with the introduction here of the F6, their top of the line film pro SLR. The F5 was no mean feat, and I wondered just how they could trump that 8-year-old camera that is still a workhorse for many pros. Well, just the fact that seven or eight years have gone by tells the tale, with all the tech developments (and not just on the digital side) that have occurred. This includes a much-improved AF system (11 areas) and a whole raft of flash updates, including wireless TTL capability. Being an F camera it has a very rugged build with aluminum alloy die-cast chassis, magnesium alloy front body and covers, etc. And, hold onto your hat, it has a mere 41 Custom Function settings.
Rangefinders
For those who yearn for the old days, or who just want to experience the fun and cool feel of a rangefinder 35mm camera, the Zeiss Ikon is back. The new camera will be distributed by Hasselblad (www.hasselblad usa.com) in the US. The shutter is electronic in a range of 1/2000 sec to 8 seconds, and as you might expect there's manual advance and rewind. Availability? Soon. Price? According to a spokesperson, about half that of a comparable Leica.

And yes, there are a few rangefinder digital cameras rearing their heads. The Epson (www.epson.com) model, already reported on in these pages, makes me giggle, as it actually has you cocking the shutter to make the next picture, even though it's a digital camera. The classic rewind knob is now a function control. It's another M-mount camera, so at least we have compatibility in lenses among film and digital rangefinders.

FEATURED VIDEO