Special Report: photokina
The World's Fair Of Imaging Lives Up To Its Reputation Page 2
Medium Format
For a long time the only way that medium format owners were able to gain access to digital was via digital backs, snap-ons that mimicked film pack backs. These are still available, but now there's a move afoot to have integrated digital backs on medium format camera frames. That way you can use your, for example, Mamiya 645 AF lenses on a Mamiya body with digital innards. A prototype of such a camera, dubbed the Mamiya ZD, was shown under glass here. The ZD features 22 million pixels, a 48x36mm CCD, thus capable of kicking out images with near 63MB file size. Availability questions were met with a shrug, while pricing questions were met with a polite smile. For more information, visit Mamiya's website at: www.mamiya.com.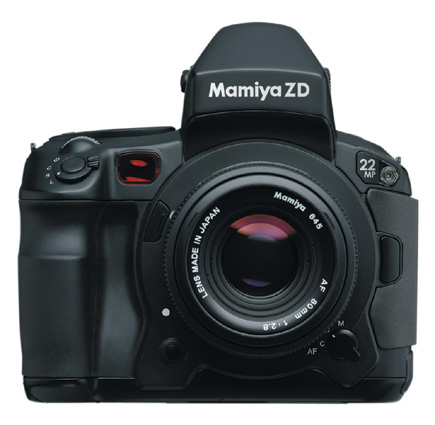 If you're a Hasselblad guy or gal you will want to find out more about their new integrated 22-megapixel camera, the H1D. And yes, a back is also available for use as a snap-on back with other Hassies. We even saw one adapted to a 503CW camera, and you can now get digital backs for Hasselblad models going back to the late 1960s.
Lenses
Lens makers are now splitting their lines between those for both film and digital SLR cameras and those made exclusively for digital cameras. The difference? Mainly in the image circle they throw, with digital SLR-only lenses throwing smaller circles to cover the APS-sized sensors.

Sigma (www.sigma-photo.com) is the first independent lens maker to deliver a lens for the Olympus Four Thirds system lens mount. Their new 18-125mm f/3.5-5.6 DC zoom is also available in other mounts as well. And speaking of Olympus, they brought in new 14-45mm and 40-150mm zooms. Tamron (www. tamron.com) has made a commitment to digital-only interchangeable lenses, although of course they maintain a very broad range of film SLR lenses. Their latest is an SP AF11-18mm f/4.5-5.6 digital SLR-dedicated lens. The focal length range, to say the least, is exciting (multiply by your very own conversion factor).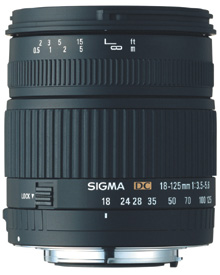 Pentax (www.pentaxusa.com) has also come along with their own digital-dedicated line-up. The pitch on their *istD digital SLR had been that you could mount your old Pentax lenses, regardless of vintage. Now you can get a digital-dedicated 100mm Macro and a 40mm f/2.8, along with more to come.

The Leica (www.leica-camera.com) solution to all this digital stuff is their Modul-R, which will fit their production model R8 and R9 SLR cameras. The chip's by Kodak, the guys who also make the chips for Olympus, by the way. It's a 10-megapixel CCD in 26x17mm form. The back comes with an LCD monitor with the possibility of having an audio histogram, which makes noise when you screw up exposure. (It may sound like I'm mocking it but in truth this allows you to know you made an exposure mistake without having to take your eye from the finder.)
And What Might Come?
In the prediction category here are some quick thoughts on what we might see in digital cameras of all ilk in the coming year or years. Many cameras will have built-in wireless transmission, without the need for accessory plugs or transmitters. This might operate in hot spots or, with more expensive cameras, with user-selectable bandwidth with a specified range. We might also see "smart" cameras that will recognize specific white balance and light level conditions and automatically set certain Scene modes, which these days can be up to 15 or more on some digicams. This may stop the Scene mode madness and help get better pictures from the start. And we might also see many cameras with built-in Image Stabilization, on a software level.

Some Other Items Of Interest
Le Louche from California Sunbounce is a clever way to add dappled and other lighting effects to just about any shot. There are two layers in the Le Louche envelope made from special netting that can accommodate just about any material, including leaves, paper cuttings, thin fabric, foils, scraps of cloth, and just about anything else with mass without much weight. Large openings at the side provide easy access to fill the netting or change the inserted material. The shadows created can emulate the upper leaves of a tree, window blinds, or whatever strikes your fancy. The setup comes in various sizes and is compatible with California Sunbounce and other frames from other makers. It's portable, too, and can be bunched up or folded. The company distributes through select pro shops here in the US; a list can be found at: www.sunbounce.com.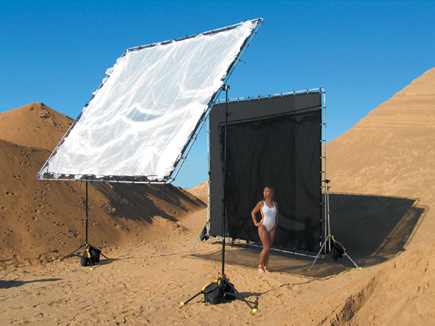 There has been some question about filmmakers and their intentions now that digital has become the darling of the industry. Some of the most vivid prints we saw were from Agfa (www.agfa.com/photo) with their new generation of Vista color print films. Oddly, Agfa names the films Version 3.0 in the Vista line-up, a telling nomenclature if there ever was one.

The Kodak EasyShare Printer Dock Plus allows you to make prints from your mobile camera phone wirelessly via built-in infrared (IrDA) and optional wireless standards. The dock joins the Kodak walk-up kiosks with this capability and should appeal to those who are curious about how their handset images look on paper. For now, the prints are about as fuzzy as you might expect (don't blame the dock, as it makes great prints from cameras and digital files on computers) but it's an interesting feature nonetheless. To learn more, visit www.kodak.com/go/EasyShare.
If you're a very large format photographer you'll be interested in Schneider's 500-1100mm lenses in what they call their Fine Art XXL series. These are specially made for cameras that use cut sheet film in the 8x10 to 20x24" size range. Roger Hicks has more on these in his report on Large Format. You can also visit www.schneideroptics.com.
Pick Of The Show
I asked our reporters to make their show picks, and with the amazing number of products at the show you'd rightly think that whatever they reported on was part of their picks. My choice is the Canon EOS-1Ds Mark II, mainly because it made me think long and hard about the direction my photography will take in the future. At 16 megapixels it can produce a near-48MB file, enough to satisfy even the most demanding reproduction necessity. True, the new Hasselblad integral 22-megapixel camera will create an even larger file, but according to the stock agency to which I supply images a 35MB file is the minimum they'll accept for sales, which the Canon handles with ease. Having shot 6x7 and 6x4.5 for stock for a while now, the ease of preview, handling, and editing of digital files makes it much more attractive from a stock shooter's point of view. And for those who like large prints, having that 48MB file right from the camera--without scanning film--is tempting indeed. It should also raise the eyebrows of those doing portrait, fashion, and even wedding work. In short, the EOS-1Ds Mark II, and cameras like it, will give photographers pause when considering how they want to work in the future.

FEATURED VIDEO