SKB Flyer Series Photo Equipment Transport Cases with Think Tank Trimmings Review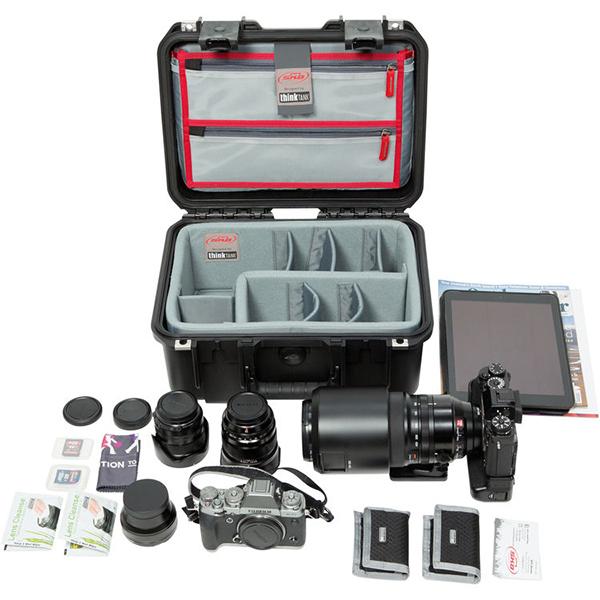 Two giants of the camera case industry, Think Tank Photo and SKB Cases, have collaborated to create the SKB Flyer Series, a lineup of hybrid camera transport solutions that have broad appeal and manifold applications for every ardent photographer.
Hard shell camera cases serve an essential purpose, but usually they're not very exciting to look at because, for the most part, they are big black plastic cubes fully devoid of personality and style. They remind me of an oversize Tupperware container. The last sexy-looking protective case design was the sleek, all aluminum job from Zero-Halliburton.
But that's all changed.
SKB Cases has collaborated with Think Tank Photo to create a series of tough, impact immune equipment cases that are as appealing as they are functional. SKB makes the protective heavy-duty molded polymer case. Think Tank designed the practical and versatile inside structure as well as the optional handsome case that envelopes the unit and provides style as well as additional storage space.
It's a union made in gadget bag heaven.
Besides this new Flyer Series, SKB offers 15 case sizes with 29 configurations for all sorts of photo, video and lighting gear. The current assortment ranges from carry-on sizes up to cases nearly large enough to stow your assistant and her pet elephant. There are five Flyer cases in all. The subject of this review is the 1309-6 model which measures 13x9x6 inches. The largest Flyer case mics out at 42x13x12.
The SKB 1309-6 Flyer Case
Like other SKB cases, Flyers are waterproof, dust-tight and provide military-grade hard case protection. The interior dividers are fully customizable. The 1309-6 accommodates two cameras and four lenses plus accessories. Flyers feature a comfortably large top handle, secure latch closures and metal-reinforced locking loops. There's also an automatic equalization valve, necessary because the Flyers are virtually airtight.
Flyer Series Case Cover Designed by Think Tank
Designed to fit around the 1309-6 (or 1510-6) hard case, the svelte Think Tank contribution includes an exterior pocket that holds a 15-inch laptop and a 10-inch tablet, and has a trolley slot on the back for quick attachment to rolling luggage or wheelies. It features a zippered main compartment, dual side pockets, interior sleeves for the above mentioned laptop and tablet, a nicely padded shoulder strap and a front zipper organizer pocket with obligatory key fob.
(As an aside, I don't know why bag manufacturers feel compelled to include a key fob. Do you tether your keys to your bag or backpack? I sure as hell don't, and I can't recommend it. Losing your bag would be bad enough, but your keys too?)
The cover is made from 600 denier polyester fabric which appears snag and scuff resistant. SKB claims you can use the cover as a general purpose travel bag, but that's quite a stretch for my tiny mind since there are un-closable openings in the top to allow access to the latches and handle.
Who is SKB Cases?
Headquartered in Orange, CA, SKB is the manufacturer of premium cases for any item that must be protected to the fullest extent during transportation and storage. In addition to durable cases for photo and video gear, SKB also makes cases for musical instruments, hunting bows, rifles, medical and technical instruments, and a variety of industrial products. SKB transport cases are engineered from molded polymer and are commonly called "hard shell" cases by photographers.
This is Serious Stuff
As testimony to the reliability of SKB cases, they make one model for Lockheed Martin specifically for the spare modules and advanced computerized CNI system apparatus used in conjunction with the Martin F-35 Lightning II Joint Strike Fighter, a supersonic stealth fighter that's central to the Communications, Navigation and Identification (CNI) system.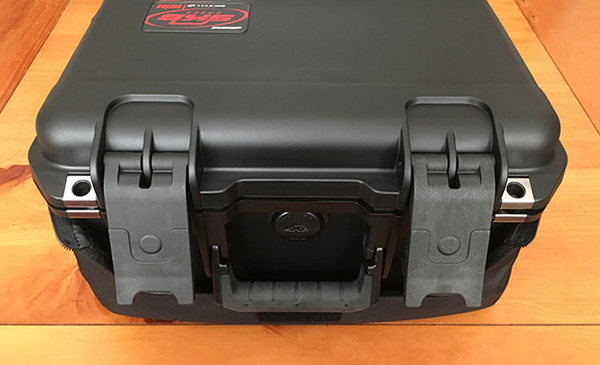 Conclusion
The SKB + TTP collaboration fits a need for me and many other ardent photographers. It provides ultimate security and protection without sacrificing utility or aesthetics. It performed flawlessly during the field test and promises to withstand many years of use and abuse. Despite the smallish 13x9x6 inch cube it holds enough equipment for many engagements I might encounter—and it's small enough to slip behind the passenger seat of my Subaru or easily into the cargo area. To be honest, I found it far more useful and versatile than I had expected. It's a brute when it comes to protection, but the disarming Thank Tank Photo case cover doesn't make it look like I'm transporting Polonium-210.
Pricing and Availability
The SKB 1309-6 Flyer Series hard case retails for around $139. This includes the interior treatment designed by Think Tank. The exterior case cover costs about $95. SKB photo cases, including the new Flyer Series Think Tank collaboration products, are available from many photo specialty stores, including these long time dealers who may be in your neighborhood: The Camera Company in Madison, WI, Roberts in Indianapolis, IN and Allen's Camera of Levittown, PA. You'll find them at the big NY and LA mail order camera stores, too.
—Jon Sienkiewicz

FEATURED VIDEO