Shutterbug.com Manfrotto 190 Alu 3 Sec Tripod with XPRO Ball Head + 200PL Plate Sweepstakes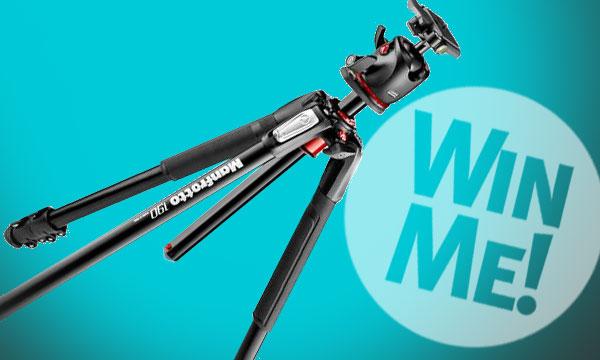 Register to win a Manfrotto 190 Alu 3 Sec Tripod with XPRO Ball Head + 200PL Plate ($498.00 Retail Value) we are giving away.
According to the company:
This 190 kit comprises a compact 190XPRO3 3-section aluminium tripod and a portable, versatile ball head. Both tripod and head have advanced features and excellent build quality.

The key feature of this kit is the tripod's 90° center column mechanism, which allows the column to be extended vertically as normal or horizontally. This makes it an extremely versatile tripod, suitable for a wide range of photography applications. The horizontal column mechanism is housed within the tripod's top casting for compactness, but it is easily and quickly extended whenever you need it. Switching between vertical and horizontal column orientation requires no disassembly, and can even be done with a camera attached.

The legs of the tripod are also fast to extend and adjust, thanks to the Quick Power Lock levers that block and unblock each leg section. The special design of the QPL levers allow a stronger and more comfortable single-handed leg lock grip. The sections of each leg on the tripod can be released from their folded position in a single movement. The QPL lever design also offers more powerful locking of each section, making this tripod more stable and rigid than traditional lever design models. Intuitive, ergonomic leg angle selectors allow each leg to be independently and solidly set to any of the preset angles, afford considerably greater positioning freedom.

A bubble level is built in to the top of the center column for precise framing. The bubble level rotates freely around the center column, so it can be positioned wherever it's easiest for you to see while you adjust the tripod and without it either being obscured by the mounted head and camera.

The tripod's top casting has an Easy Link connector to support a photo or video accessory (such as an LED light, flash, reflector, or other piece of equipment) on an extending arm or bracket, and transforming it into a practical mobile studio.

The new XPRO Ball Head is the perfect union between innovative solutions and design. It has a new triple locking system which guarantees camera position stability, friction control helping the user balance the weight of camera equipment and two levelling bubbles to precisely frame composition. Moreover, its new polymer rings have substituted that unpleasant, messy grease, ensuring smooth, accurate and less jerky camera movement. XPRO Ball Head is portable, lightweight and reliable thanks to its magnesium body and comes with the Manfrotto 200 pl plate.

The 190XPRO3 and the MHXPRO-BHQ2 head are made in Italy by Manfrotto.
To enter the sweepstakes, all you need is an account on this website. If you don't already have one, click on the link labeled "register" at the bottom of this announcement or "LOG IN/JOIN" in the nav bar at the right. Then, enter a username and a valid e-mail address, and click on the "Create new account" button. A message will be automatically sent to the e-mail address you specified, which will include a link to activate the account.
The final step (and only step for those who already have an account) is to log in and leave a comment right here on this announcement—any comment will do, as long as it's not profane or spam. Then, when the sweepstakes closes, a lucky commenter will be chosen at random to receive the prize. So post a comment, and good luck!
For complete sweepstakes rules, click here.
[This Sweepstakes is now closed.]

LATEST VIDEO