Shutterbug Summertime Sweepstakes Is Here: Enter to Win a Sigma Lens & Amazon Gift Cards!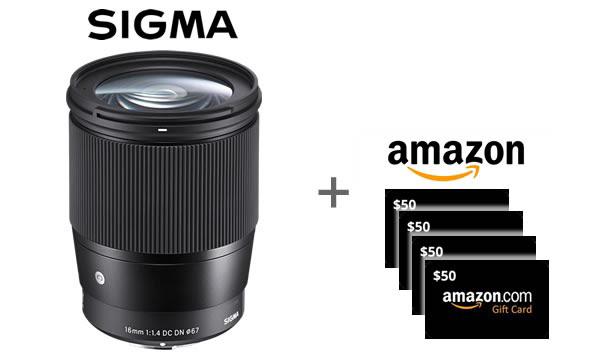 What kind of summer would it be if you couldn't have a hot dog in one hand and a brand-new Sigma lens in the other?! Today's giveaway isn't a one-shot deal, this is the first of a summerlong sweepstakes from Shutterbug. That's right folks, there will be five sweepstakes in total so be sure to stay tuned.
That's not all, we will be announcing five winners each time! Now that's what we call some serious FUN IN THE SUN! The prizes for the first Shutterbug sweepstakes are:
Prizes:
(1) Sigma 16mm 1.4 DC DN Contemporary Lens
(4) $50 Amazon Gift Cards
The first prize is a Sigma 16mm 1.4 DC DN Contemporary Lens and if you don't know all the luscious details about this lens here's a little peek under the hood:
The Sigma 16mm 1.4 DC DN Contemporary is a high-performance prime with a large aperture of F1.4 designed for APS-C mirrorless cameras. Available mounts include Sony E mount, Canon EF-M, and now L-Mount for Sigma, Panasonic and Leica cameras. The Contemporary line is part of Sigma Global Vision and is the perfect blend of image quality and compact size. The large aperture is great for low light and for creating a shallow depth of field, and its small size makes it highly portable. The lens design fully accommodates the latest autofocus and subject recognition technology -- including Eye AF and real time subject tracking -- for exceptional performance on any compatible camera body whether shooting stills or video.
If you're a math enthusiast, you'll appreciate the following stats. You have higher stakes of winning Shutterbug's first sweepstakes than finding a four-leaf clover, a buried treasure, seeing a mermaid, catching a flight on the first SpaceX to Mars, or even meeting an astronaut. We think it's worth rolling the die for!
Enter HERE for a chance to win! And if you are unlucky this time around don't forget there will be four more sweepstakes on the following dates:
Giveaway #2- July 28 - Aug 9
Giveaway #3- Aug 11-23
Giveaway #4- Aug 25 - Sept 6
Giveaway #5 - Sept 8 - 20
Just like any good magician, we can't give away all our secrets, so you'll have to follow the news to see what the next prizes will be. Good luck and cheers to summer!