We're Giving Away More Photo Gear in Shutterbug's Second Summer Sweepstakes!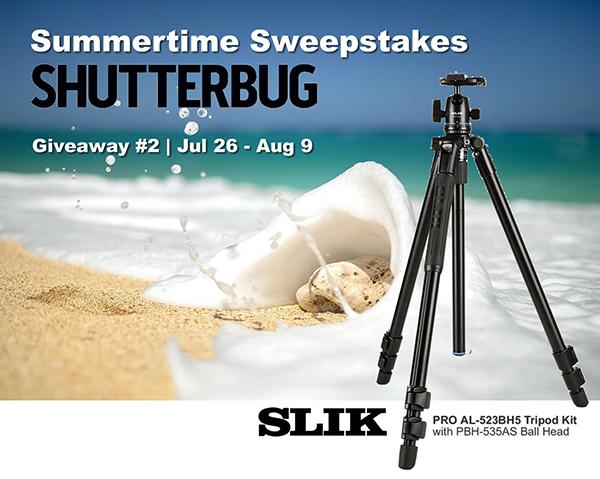 It's time to announce our second Shutterbug Summertime Sweepstakes and we have more fantastic photo gear and Amazon gift cards to give away. But before we do that, we'd like to share the names of the lucky winners of our previous summer sweepstakes, which has just ended.
You know that feeling when the cool water hits your face when you run through sprinklers on a hot day, the moment that crisp popsicle touches the tip of your tongue straight from the freezer, or that first step into a refreshing pool when your skin has been melting in the sun for too long...well, that pure sense of satisfaction is exactly what last giveaway's winners felt when they heard that they are the champions of Shutterbug's first Summertime Sweepstakes!
Here are the lucky folks:
Winner: Sigma 16mm 1.4 DC DN Contemporary Lens
Lisa T.
Waunakee, WI
Winners: $50 Amazon Gift Card
Christopher H.
Göttingen, NI, Germany
Janet L.
Las Cruces, NM, USA
Kathy S.
Meridian, ID, USA
Josey B.
Belleville, IL, USA
Ok, big round of applause for winners of the first giveaway! But I know you're shaking in your flip flops wondering what the next prizes will be and if you'll be as lucky as Lisa T. Drum roll….
Giveaway #2- July 28 - August 9, 2020
Prizes
(3) SLIK PRO AL-523BH5 Tripod Kits with PBH-535AS Ball Head
(4) $50 Amazon Gift Cards
The first prize is a SLIK PRO AL-523BH5 Tripod Kits with PBH-535AS Ball Head and before you let this smooth move tripod jump into your camera bag with you, we'll let you get to know each other a bit better:
The PRO AL-523BH5 Tripod Kit is a complete redesign of the popular PRO 500 full-size series tripods with new features, improved stability and function. At the core of the redesign is the new collar and leg-joint which improves torsion strength and reduces vibration. It also allows Slik to employ its exclusive Rapid Flip Mechanism (R.F.M.) which provides quick and easy one-handed operation when setting the leg-angles to one of three stable positions.
The kit includes the AL-523 Legs and PBH-535AS ball head. The all-aluminum legs have 3 sections that quickly deploy and lock using lever locks that are easy to operate with or without gloves. It weighs in at 4.6 lbs. (2088 g) while supporting 11lbs. (5 kg). The AL-523 leg only folds down to 26 inches and a max height of 65.9 inches. The PBH-535AS ball head offers separate pan, tension, and release knobs for easy operation and control. It uses Slik quick release plate #6507 which has a tool-free mounting design for fast and easy attach and removal from the camera.
If you've ever been to a carnival, you've probably guessed that all the games are rigged, the holes are too small to throw the ball through, the milk bottles are weighted, and everything is just an illusion. Well, we're just not that tricky, there are legit winners every time and you don't even have to have a good throwing arm.
So, enter HERE for a chance to win in our second summer sweepstakes! And if you are unlucky this time around don't forget there will be three more sweepstakes on the following dates:
UPCOMING GIVEAWAYS
Giveaway #3- Aug 11-23
Giveaway #4- Aug 25 - Sept 6
Giveaway #5 - Sept 8 – 20
This is an exciting summer with exciting prizes and winners left and right. Don't forget to keep up with next giveaways as we announce them...you never know, you could get lucky!