Photogenic ION Pure Sine Wave Inverter Sweepstakes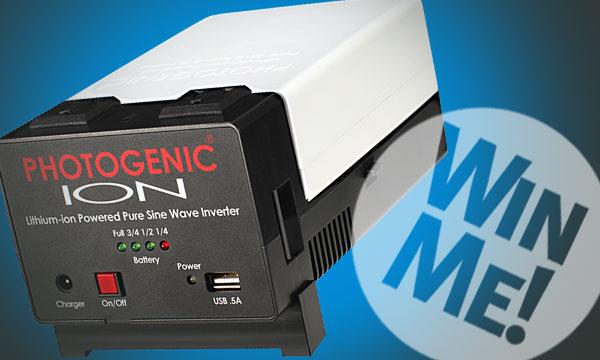 Register to win a Photogenic ION Pure Sine Wave Inverter ($479.00 Retail Value) we are giving away.
According to the company:
Make remote shots as convenient as studio work with the Photogenic Ion!

Pair the Photogenic Ion with the Photogenic Matrix for the perfect power combo or combine it with other monolights on every location that reliable power is needed. The ION is a powerful, lightweight, get outta town AC power supply that features two AC outlets for two monolights. Weighing in at only 3.5 lbs with a compact 7.5" x 4.4" x 3.3" profile, ION is the perfect lighting travel companion.

Pack the ION with your lights and head out to your next shoot. It doesn't matter if your destination is the top of Mount Everest, the middle of the Kalahari or your local forest preserve, this powerful combination will give you approximately 1200 flashes per battery at an amazing 320 watt seconds. Additional batteries are available as an accessory to get even more output. While on your way to the next job, use ION's built-in USB port to power-up your phone or other electronic devices.

For more information on the Photogenic ION and the rest of the Photogenic line as well as photo contests, inspiration, tips and tricks follow us on facebook.
To enter the sweepstakes, all you need is an account on this website. If you don't already have one, click on the link labeled "register" at the bottom of this announcement or "LOG IN/JOIN" in the nav bar at the right. Then, enter a username and a valid e-mail address, and click on the "Create new account" button. A message will be automatically sent to the e-mail address you specified, which will include a link to activate the account.
The final step (and only step for those who already have an account) is to log in and leave a comment right here on this announcement—any comment will do, as long as it's not profane or spam. Then, when the sweepstakes closes, a lucky commenter will be chosen at random to receive the prize. So post a comment, and good luck!
For complete sweepstakes rules, click here.
[This Sweepstakes is now closed.]