Shoot Film And Scan; One Photographer's Approach To The Digital Dilemma Page 2
Now we'll get back to my color trail. My initial purchase of an iMac G5 and Konica Minolta DiMAGE scanner was intended to handle years and years of color transparencies. However, I began by scanning the Reala negs I was shooting because the images were fresh and people (myself included) were blown away by the clarity of the Reala prints I was getting from the labs. Reala has saturated, but believable color, also very fine grain (it's ISO 100), and scans well, so I gave it a try and it turned out to be a perfect combination.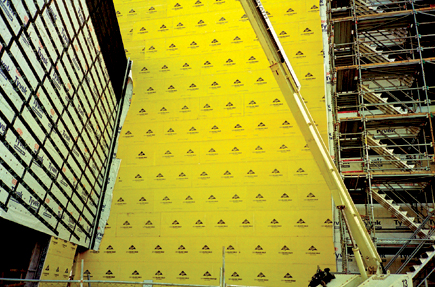 Construction Scene: New space-age materials make many construction sites an unexpected source of striking color photos these days. An advantage of small point-and-shoot cameras is they make you very mobile and a lot less intimidating. People pass you off as some tourist, not a serious photog who may make a pretty penny off the image.
While any new piece of gear requires a learning curve, the DiMAGE scanner was fairly intuitive, plus had some features that helped greatly in the process. One of the most appreciated was Digital ICE, which automatically cleans up dust and minor scratches. It also offers Digital GEM and SHO, which help control grain and contrast. My years of labor in the darkroom paid off here, as the scanner software allowed me to make very precise adjustments to the highlights, shadows, and contrast of my images. Photographers with little or no darkroom background will appreciate another option: Pixel Polish. This simplifies things by giving you a set menu of corrections. Upon selecting Custom, you have three categories: Color, Brightness/Contrast, and Object/Scene. The 12 choices they provide between them will allow you to make a satisfactorily corrected scan. This comes in handy until you gain more experience.

Whichever course you take, the resulting scans will provide good starting points for image adjustments and/or manipulation. For that I am presently using Photoshop Elements 3.0. If you think this is just Photoshop lite, don't be fooled--for myself and other photographers it offers all the functions necessary for adjusting images at a fraction of the price of 7.0, CS, CS2, or whatever.
Butterfield Stage: A simple looking picture, but one where mobility was key. To get close and high enough to fill the frame, I had to stand on a narrow cinderblock wall while withstanding a 30 mph wind that was raking the street. Piece o' cake.
Last but not least is the printer. There are a number of good printer brands out there, and you can spend lots of bucks for the latest and largest models. My initial choice has been the little-known Epson Stylus C86, which uses a basic three color plus black (CMYK) DURABrite inkset. It only prints to 81/2x11, but does an outstanding job, and at $99 (there is often a rebate available) is within everyone's budget. It will definitely allow you to affordably experiment with inkjet printing.

So there you have it: my solution for high-quality (albeit not huge print) color digital photography for about the current price of a good, but not great, digital SLR, with little fear that it will be obsolete before you get it out of the box. Just one word of caution--since you are depending on the C-41 film as the source of your files, save yourself a lot of frustration by having the film professionally processed. One-hour labs may save you a couple of bucks up front, but you may suffer for it long after the satisfaction of low price is gone. And how about my fine art black and white work? For that I'll stick to the darkroom, thank you.
Horse and Trailer: This is a good example of using fill flash. Just before this picture, the sun had been shining and the horse had had its head out the window in full light. By the time I was able to cross the street, however, there was no sun and the horse had pulled its head inside. Fill flash allowed me to light the horse without overexposing the side of the trailer. Moments after this, the rig drove away.
All pictures were made with an Olympus Stylus Epic camera and Fuji Reala film, then scanned with a Minolta DiMAGE scanner and printed with an Epson Stylus C86.
William Davis is a fine art photographer and teacher based in Taos, New Mexico. His work is represented by the Fenix Gallery in Taos, New Mexico (www.fenixgallery.com).

FEATURED VIDEO