Monochrome Plug-Ins; From Color To Black & White In A Few Steps Page 2
PixelGenius' (
www.pixelgenius.com
) PhotoKit ($49.95) shows up in Photoshop's File>Automate menu tree and is a photographer's tool kit that includes 141 effects, offering digital versions of traditional analog photographic effects. These range from burning and dodging to digital toning to adding black edges to your images. The Color to B&W Set doesn't just convert to grayscale but mimics the effect of shooting with a color contrast filter on your lens. Each effect has a full and one-half option and you can run it several times, applying it by using layer masks. Tip: Remember to turn off (click the eyeball icon) before running it again.
The minimalist interface of PixelGenius' PhotoKit belies the power that hides behind the two pop-up menus. The first lets you select which set (B&W Toning, Burn Tone, Color Balance, Convert to B&W, Dodge Tone, Photo Effects, and Tone Correction) while the second lets you pick a specific effect within that set. PhotoKit is optimized for images between 8-18MB and is useful on larger sizes, but some of the effects don't translate to smaller web-sized files.
The B&W Toning Set includes nine different toning effects that are applied to a new layer. The tones themselves vary from merely great to amazing, as is the case with the Platinum Tone effect. A simple dialog calls up the PhotoKit tool sets, but there is no real plug-in interface, no sliders, and no preview window. The process may be off-putting at first but you'll get used to it as you begin to love what PhotoKit does for your images.

onOne Software's (www.ononesoftware.com) PhotoTools 1 and PhotoTools 1 Professional are a collection of effects accessible through a single interface that provides a wide range of effects, corrections, and automation. The Standard and Professional Editions reproduce camera filters like neutral density, color correction, polarization, as well as darkroom and alternative processes like solarization, cyanotype, and palladium printing. PhotoTools Professional includes 10 presets for monochrome conversions but lets you stack effects on top of one another and control the order of each effect and how they blend together. The entire package includes 150 different effects that can be applied to color or monochrome images, which mean the combinations and permutations possible are almost infinite when one or more effects are combined and layered.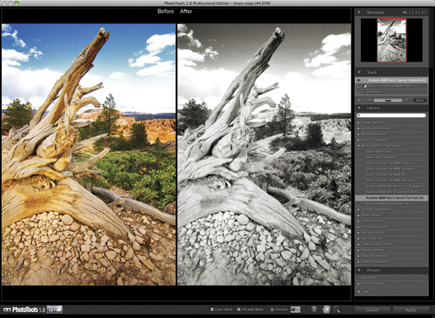 onOne Software's PhotoTools 1 Professional includes 10 presets for monochrome conversions but lets you stack effects on top of one another and control the order of each effect and how they blend together, allowing you to produce thousands of possible black and white effects.
© 2006, Joe Farace, All Rights Reserved
Once you've created an effect, you can use PhotoTools' batch-processing engine to apply that particular look to a folder of images and process the files using multiple output formats with different sizes, color spaces, and names. PhotoTools Professional is $259.95 and the Standard Edition is $159.95, and both accomplish much, much more than monochrome conversions. Author's Note: onOne Software recently announced PhotoTools 2 Professional and Standard Editions that feature an expanded range of effects and an improved user interface, including a new effects library and additional new features. When it's available, I'll cover it in my Digital Innovations column.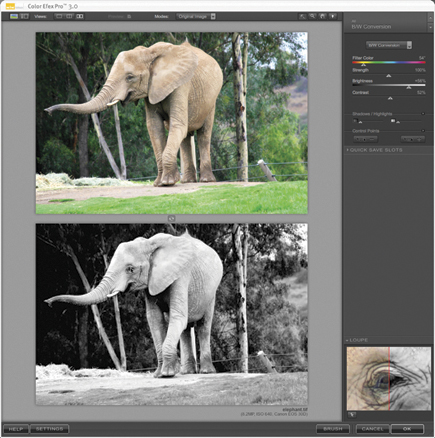 Nik Software's Color Efex Pro package combines B/W Conversion, B/W Conversion Dynamic Contrast, and B/W Conversion Tonal Enhancer into a single interface. You can use this filter to transform a color image into a black and white version, with control over the shadows, highlights, and relationships among the original colors and each method simulates the placement of a traditional black and white color filter in front of the lens.
© 2006, Joe Farace, All Rights Reserved
Nik Software also offers a family of monochrome conversion plug-ins as part of the Nik Color Efex Pro 3.0 package, which is kind of an oxymoron when you think about it. Among the more than 30 special effect filters in the Full Monty version, you'll find a B/W Conversion plug-in that transforms a color image into black and white, offering control over highlights, shadows, and the relationship of the original colors by using sliders to adjust color spectrum, brightness, and contrast. Nik's B/W Conversion Tonal Enhancer filter provides specialized contrast control, allowing you to increase detail in the image file that simulates the traditional black and white darkroom technique of using contrast control filters when printing. Nik's B/W Conversion Dynamic Contrast filter has a unique Contrast Enhancer adjustment that creates an exaggerated dynamic range. The three filters share the same basic interface and access to each one is through a pop-up menu in the upper right-hand corner. Nik Software's Color Efex Pro 3.0 filters are available in three filter collections, including Standard ($99.95), Select ($159.95), and Complete ($299.95). The B/W Conversion filters are included in the Select and Complete Editions.

PictoColor (www.pictocolor.com) has always been known for its affordable and easy-to-use color correction tools and iCorrect OneClick 1.5 not only works great but is a useful tool for converting color images into black and white or sepia tones. The iCorrect OneClick 1.5 is basically a color correction plug-in that automatically corrects white balance, exposure, and saturation. By clicking on any neutral color (black, white, or gray) in the image preview, you automatically correct the white balance, remove color cast, and correct tonal range. You can even fine-tune the exposure and recover extra detail by adjusting overall brightness a.k.a. luminance, shadows, and highlights or create more vivid-looking photos by boosting contrast and saturation. It's available for Mac OS and Windows computers and costs less than $50.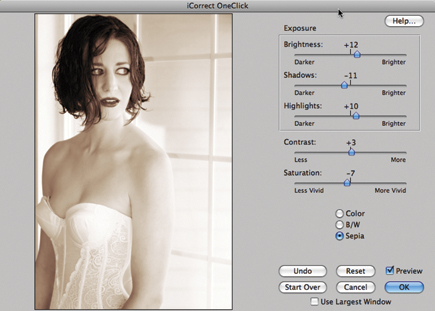 PictoColor's iCorrect OneClick 1.5 is a color correction plug-in that automatically corrects white balance, exposure, and saturation, but is also a useful tool for converting color images into black and white or sepia-toned photographs.
© 2007, Joe Farace, All Rights Reserved
Curiously or not, depending on your plug-in IQ, Adobe Camera Raw, is a plug-in. Long part of both Adobe's Photoshop and Photoshop Elements, the latest version of the plug-in also opens JPEG and TIFF files and the HSL/Grayscale tab includes a "Convert to Grayscale" checkbox for monochrome conversion. So when making decisions about which monochrome plug-in to use, don't overlook one that you may already own.

All of the plug-ins that appear in this story are products that I use daily or have tested with Adobe's Photoshop CS3 so I can attest to their functionality and usability. A list of CS4-compatible plug-ins can be found on Adobe's website (www.adobe.com/products/plugins/photoshop). If you are a manufacturer of a plug-in (not an Action or application) that I did not include, please let me know about your product. Similarly, photographers who have a favorite monochrome plug-in should e-mail me (editorial@shutterbug.com) and I'll take a look at it for inclusion in an upcoming Digital Innovations column.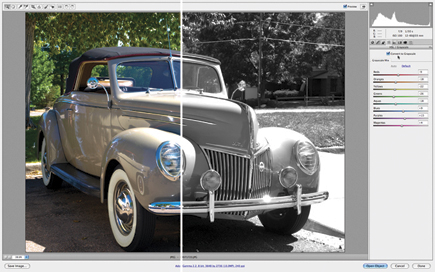 Adobe Camera Raw, part of both Photoshop and Elements, and capable of reading TIFF and JPEG as well as raw files, contains a monochrome conversion feature that may not be as extensive as some of the other plug-ins but does a good job, as can be seen in these side-by-side screen shots.
© 2008, Mary Farace, All Rights Reserved
A Plug-In Primer
Plug-ins are software but they are not applications and must cling, remora-like, to a host application like Photoshop in order to survive. Clouding the digital waters is the fact that some of these products are available as a plug-in and an application, but a plug-in doesn't have to be an application. Life was never simple in the chemical-based traditional darkroom and it isn't for the digital darkroom either. Curious readers should pick up a copy of my long out-of-print book Plug-in Smart to read about the imaging plug-in's origins in a Forward written by Ed Bomke, the programmer who created the very first plug-in for a program called, interestingly enough, Digital Darkroom.

Although Adobe defined the standard, you don't need Photoshop to use plug-ins. Fully compatible plug-ins can be used with other image-editing programs, including Ulead Systems' PhotoImpact and Corel's Painter, PHOTO-PAINT, and Paint Shop Pro. But not all plug-ins work with Photoshop Elements and some monochrome conversion plug-ins, such as Exposure, are not compatible with Apple's Aperture. Some companies offer Aperture-compatible plug-ins but they must be specifically designed to work with the program. Nik Software recently announced its Complete Collection for Aperture, bringing all of the company's digital imaging plug-ins, including Silver Efex Pro (featured later), to Apple's photo-editing and management software. The bundle costs $299.95, making it a bargain for Aperture users.
Companies have extended their technology to work with Lightroom, but its plug-in architecture is dissimilar to Photoshop. Adobe differentiates between plug-ins and external editors, and Lightroom 2 has the ability to define as many external editors as you want. According to Adobe, "onOne (Software) has offered editors for Lightroom as well as PictureCode's Noise Ninja and the lens correction tool (ePaperPress') PTLens." onOne's PhotoFrame works with Lightroom and by the time you read this so will Genuine Fractals, FocalPoint, and PhotoTools. Imagenomic's Portraiture 2 with Lightroom via free automation techniques should be available by the time you read this.

The bottom line, according to Adobe, is that "image-processing plug-ins are best utilized through Photoshop…using Smart Objects to maintain access to the raw or nondestructive workflow." When working with any of the plug-ins mentioned here it's important to remember one of Farace's Laws of Digital Imaging, that monochrome conversion, like all effects, is subject dependent. One effect may look great for portraits while another may work best with landscapes, so you may need more than one plug-in. Many, if not all, of the plug-ins are available in trial or demo versions, so be sure to visit the companies' websites and download any that interest you.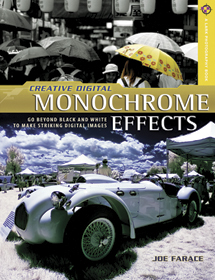 Joe Farace is the author of a new book titled "Creative Digital Monochrome Effects" published by Lark Books and available at Barnes & Noble and Amazon.com.