Sedona, Arizona
About Lynne...
Lynne Eodice is an accomplished writer/photographer and a regular contributor to Photographic magazine.
With crisp air and fewer tourists than in the summer months, Sedona is a wonderful place to visit in November. It's not yet cool enough for snow, and fall colors may linger. Sedona offers a multitude of options for the scenic photographer, as it combines the fiery geology of Red Rock State Park and the lush, verdant greenery of Oak Creek Canyon. Because the red rock buttes and pinnacles resemble familiar shapes, buildings and even animals, locals have coined names such as Bell Rock, Cathedral Rock, Chimney Rock, Courthouse Butte and Snoopy Rock.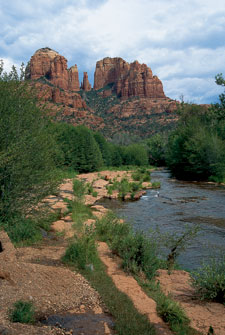 Red Rock Crossing
All Photos © Lynne Eodice
Some believe that Sedona is the home to many vortexes; fields that emit energy from the earth. This ruggedly beautiful country has also provided the backdrop for many Western movies. Some of the most popular titles include Broken Arrow, Midnight Run, and The Quick and the Dead. Numerous filmmakers, painters and photographers have found inspiration in Sedona's beauty --and so can you.
What To Photograph
Oak Creek Canyon Drive (SR 89A) winds through the canyon for some 16 miles and offers views of spectacular white, yellow, and red cliffs dotted with vegetation that includes pine, cypress, and juniper. Oak Creek flows between the soaring canyon walls. If you enjoy hiking you can get some great photos at the West Fork of Oak Creek via one of the most popular trails in Sedona. Just before the trail head you'll see ancient ruins and remains of a cliff house. The trail itself follows Oak Creek for about six miles. There are many other scenic trails in the red rock country surrounding Sedona, including trails to Vultee Arch, Bell Rock, and Long Valley.

Chapel of the Holy Cross is a contemporary Catholic chapel perched dramatically atop a small mountain of red rock. Designed by Marguerite Brunswig Staude and built in 1956, the chapel is situated between two large red sandstone peaks with a ramp leading to its entrance. A 90-foot cross dominates the structure. The Chapel of the Holy Cross is located about two miles south of Sedona on Chapel Road, off SR 179, and the structure can be photographed from a variety of viewpoints.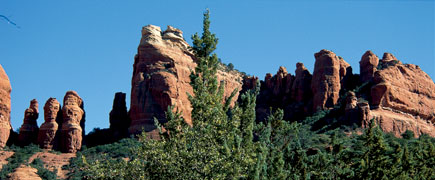 If you enjoy photographing interesting architecture, head to Tlaquepaque Arts and Crafts Village, a quaint shopping area modeled after a small Mexican village. It houses gift shops, galleries, restaurants, and a chapel. The colorful, tiled courtyards are very photogenic. Tlaquepaque is located on SR 179 just south of SR 89A.

Sedona's most recognizable icon is Red Rock Crossing, a spot where Oak Creek rushes by and Cathedral Rock stands majestically in the background. This often-photographed spot is located off Upper Red Rock Loop Road where there's ample parking. You'll need to walk a short distance, but there are several beautiful views along a stretch of land in front of Cathedral Rock. This scene is best photographed late in the afternoon.

FEATURED VIDEO