Ricoh GR Digital IV Camera Review
On-board image processors have become more powerful and diverse in their functions, and cameras like the Ricoh GR Digital IV ($599) offer more than just point and shoot still and video recording. Indeed, the Ricoh seems designed to appeal to those who would rather have their special effects in hand than take the time to apply them later. But the camera offers more than just tricks, though there are plenty of those, and its portability, ease of use and flexibility might appeal to those who want to go beyond cell phone snapshots and effects. Its fast, fixed focus lens, aperture- and shutter-priority exposure modes and a host of Scene modes that go beyond the norm make it a fascinating study in the state of photography today.
The camera fits easily in pocket or bag, being approx 4.25 x 2.3 x 1.25" and weighing in at a mere 6.7 oz. The 10MP sensor is 1/1.7 " and the fixed focal length (28mm equivalent) lens has a fast maximum aperture of f/1.9 (min aperture is f/9.) The camera is LCD viewing only and most controls are accessible through the menu and LCD interface. There are numerous paths and byways, but all in all the main route is through the camera menu where the options are clear enough. Control is via the toggle mechanism on the camera back, something that will be familiar to anyone who has shot with a digital camera in the past three years. There are also two programmable buttons on the back—FN1 and ADJ-- that you can use to retrieve often used select menus like ISO or White Balance, making going into the main menu unnecessary for those primary controls.

The menu has many of the usual suspects, although it must be said they are more DSLR-like than point and shoot, and that's where the GR Digital IV parts company with many of its look-alike brethren. You can access aperture- and shutter-priority, both of which are controlled by a front dial. There's multi-pattern, CWA and spot metering, with exposure lock, and auto bracketing, in ½ or 1/3 EV. There's simple multi-exposure shooting that keeps the prior image on the screen for visual overlays, dynamic range compensation (in three levels), noise reduction, ISO to 3200 (and Auto), white balance compensation and exposure compensation.
For those who like presets there is black and white, "positive film" (richer, a bit posterish colors), high-contrast, bleach bypass and other types of artsy filters. There's a level aid, a "snap" focus (a preset focusing distance for virtual elimination of shutter lag) and image stabilization. In short, this camera is filled with all sorts of options and presets.
The Scene modes are unlike any I've seen, and not of the goldfish bowl, smile snap variety. At the top is Dynamic Range, which differs from tone curve compensation in that it takes two images and combines them into one to expand the contrast range to include highlight and shadow information. You need to shoot this one on a tripod or bracing the camera steadily, as the process needs two shutter releases, not one that captures two images.
Then there's Interval Composite, which takes interval shots of the night sky to record star trails, pretty useless in cities and suburbs, and unfortunately during the testing period no dark sky trips were planned, so I have to take their word for it. Skew Correction is an odd one, and I think it was created for making snaps of business cards. I tried it on architecture and it certainly fixed the skew but did so by severely cropping into the image (see illustrations.) And finally there is a movie mode, for 640 x 480 flicks, not very competitive but fine for the occasional clips.
I dwell on the specs a bit more than usual because I think the camera unusual in its host of offerings. Reading through the well-done (and printed) instruction book I began to wonder just what else they would show me on the next page. And while this may be indicative of what makers are doing to compete with cellphone cams these days, the Ricoh is in some respects a high watermark of the in-came effects trend, or at least one hopes so. Regardless, I'd rather shoot with this camera than an iPhone any day. If it's to go up against a CSC or similar I am not so sure, since lack of a viewfinder always makes these compacts a tough choice for me.
In any case, I worked with the camera for a short period and made shots of cityscapes, street scenes, florals and nature, and must admit to having spent an inordinate amount of time checking out the special effects. Here are some field notes:
1) The amount of processing power in this camera is very impressive, and at times quite aggressive. I really felt this in examination of edges and sharpening, and very much so in high ISO noise suppression, which was very impressive. A shot in a dark corridor of a bookshelf at ISO 3200 (see illustration) proved the amazing effectiveness of noise suppression in this camera.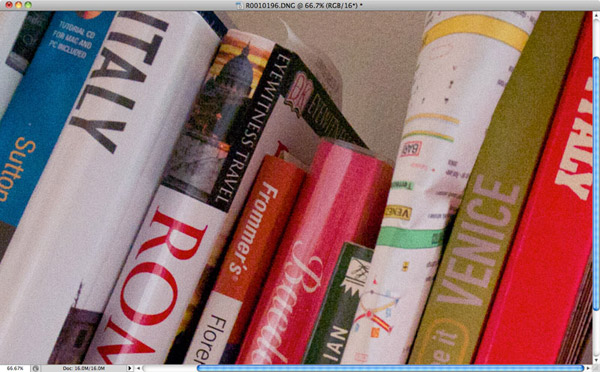 2) On the other hand, aggressive processing means that images that are not exposed correctly can reveal flaws sooner than in cameras with less aggressive processing. Opening up underexposed areas from DNG (the camera's RAW) format files in ACR showed good noise but aggressive edge processing, a sharpening algorithm. On the other hand, very overexposed areas were quite irreconcilable, sometimes causing moiré and color fringing, an extreme example is shown here.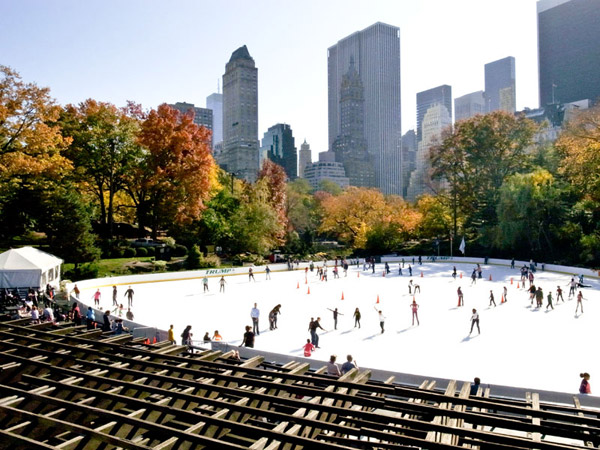 3) I really enjoyed working with the special effects such as bleach bypass, positive film and especially the very easy to use multiple exposure function. Whether this is justification enough to purchase the camera I cannot say, but it was fun while I had the camera. True, all this can be done later in software without the use of internal processing in the camera, and that's the line in the sand some will draw when considering this and similar cameras.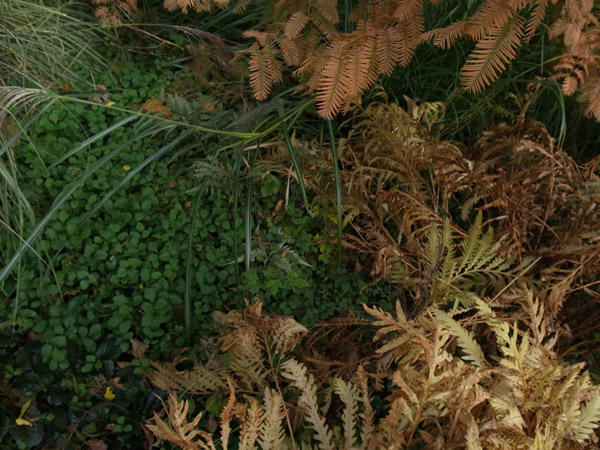 4) The on board flash is unobtrusive, small and weak, and thankfully there is flash exposure compensation available; there is also a contact hot shoe on the camera which will allow for other units to be used.
5) The menu must be scrolled through from the top each time it is closed and that wastes time; however, you can assign quick access to commonly used items using the ADJ and FN1 buttons.
6) The screen is "seeable" in all but the brightest light but it isn't the best I've seen in this class or price range. In my opinion lacking an optical finder hobbles cameras like this, despite the impressive processing and software.
7) You definitely should use a fast speed class card with this camera as the processing is intense; not doing so might mean you have to wait a bit of time for intensive processing functions (any Scene mode) before making the next shot.
8) Lag time is always an issue with this type of camera but Ricoh has cleverly offered a preset focus distance mode as well as a hybrid AF system that finally cuts down lag time to negligible or at least unnoticeable amounts.
9) The f/1.9 maximum aperture is one of the main headlines here. With it you can get quite shallow depth of field effects, not always easy in many digital cameras and especially since at tele settings you often are shooting at f/5.6. It's also very handy in low light, especially when tied in with the very good ISO 3200 (NR on) results. Combine this with the preset focusing distance that in essence eliminates lag time and you have an excellent candid camera.
10) We do not consider video when judging these cameras but it must be said that the level of video offered is clearly not a reason to get this camera, being VGA (640 x 480).
11) The level of in-camera processing is extremely sophisticated, the fixed focal and fast lens is versatile and opens up new imaging options and the special effects are unusual, and at first quite alluring. But the camera lacks an articulated monitor, which would make the fast lens and good high ISO performance even more interesting. And even though you can use an external finder in the hot shoe, shooting via LCD only is not a good shooting posture for steadiness and in very bright light is difficult at best.
All in all the Ricoh GR IV is a fascinating camera in what it offers and what it says about the now and future capabilities of in-camera processing. One could shoot and have very interesting foundation images that would not require much post processing to attain a wide range of special effects. These effects range from the sublime to the exaggerated. At $599 (list), however, one has to judge it against other cameras in that range and see if all that processing power is worth the difference. If you want a camera that seems to hold a good deal of potential for creative imagery inside its case, then it might be for you.
Impressive Tech
Here are some of the tech highlights and their implications that make this a camera of interest:
Hybrid AF: Quick focusing with 190 points plus super-fast macro focusing.
Image stabilization: Claimed up to 3 stops, and combined with a fast f/1.9 lens makes this a very candid camera.
High ISO: Shooting at high ISO with the impressive noise reduction algorithms makes for elimination of noise even in very low light.
Clever Brackets: In both dynamic range and contrast, for optimizing shots under tough lighting conditions.
Custom Settings to SD Card: Add 6 more to the 12 custom settings in the camera for image situation setups.

FEATURED VIDEO