Remembering Sir Simon Marsden: Master of Infrared Photography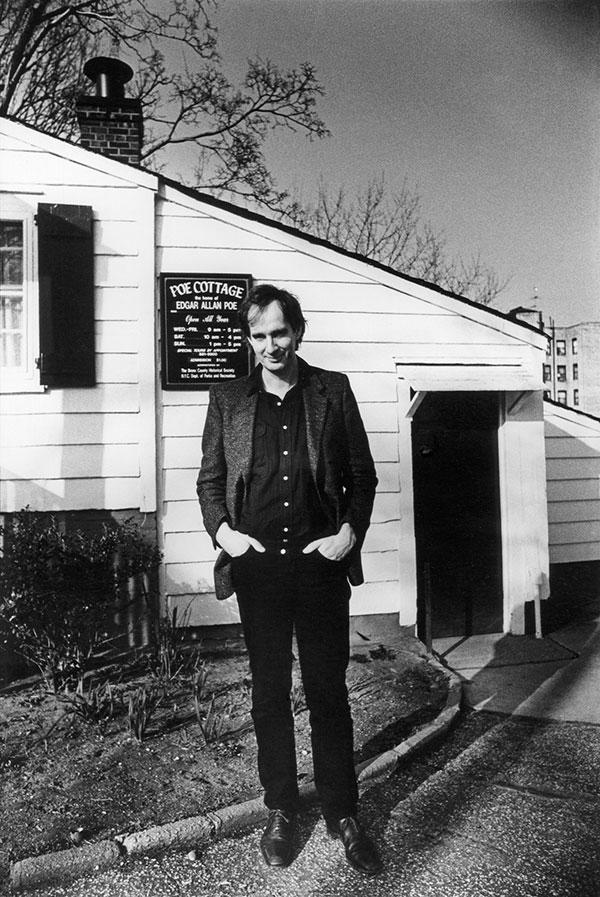 I first discovered the work of Simon Marsden in the pages of Clive Barker's A-Z of Horror. Marsden's strange and beautiful images mesmerized me and I wanted to know more.
Marsden, who passed away in 2012, primarily shot with black-and-white infrared film, but he was a talented color photographer as well. The main focus of Marsden's work was capturing images of the mysterious castles and ruins of Europe. His photos are both striking and disturbing and he shot subjects that most photographers would shy away from, such as mummified corpses, gargoyles and crumbling abbeys.
When I was just learning the basics of photography, Marsden's work inspired me to give infrared film a try. An Internet search led me to his website, The Marsden Archive, where I found more of his photos. In 2004, as a neophyte photographer, I was so moved by this man's work that I felt compelled to let him know. And I was absolutely stunned when I received an email reply from Sir Simon Marsden himself!
It turned out we had many things in common, including a love of classic horror films and literature. We emailed back and forth on a number of topics, including politics, travel, and, of course, photography.
A Preference for Analog
Marsden preferred film photography over digital. He once told me: "I don't, as yet, use digital cameras, simply because I print all my own pictures in the darkroom, and this is where most of the creative work is done - by the soul of a man, not a machine. I have seen the results of infrared in Photoshop, and they are definitely inferior to the real thing."
Marsden grew up in two haunted English manors; his father and older brother collected ghost stories and books on the occult. For his 21st birthday, Marsden's father gave him a Leica IIIg rangefinder camera. "The first roll of film that I shot was of cardboard cut-outs of ghosts that I arranged in tableaux in the gardens," Marsden recalled.
His book titles clearly indicate Marsden's affinity for the macabre: The Haunted Realm: Ghosts, Witches and Other Strange Tales (1986); This Spectred Isle: A Journey Through Haunted England (2005); and Ghosthunter: A Journey Through Haunted France (2006). His last book, Russia: A World Apart (2012) was his 13th published title, and one he was absolutely thrilled to produce.
For infrared work, Marsden chose to shoot with a simple #25 Red filter instead of the opaque R72. This allowed him to rate the film at ISO 200 or higher and shoot handheld. His camera of choice: an old Nikon F2. He taught me how manual SLRs are better for infrared because they don't have any electronics that might fog the very sensitive film.
Conjuring Dreams in the Darkroom
Marsden was a perfectionist when it came to darkroom printing. For every finished image, he produced a large stack of discarded test prints. He told me how hours would pass in the darkroom as if they were minutes: "…it is a place where time stands still and my imagination is set free."
Marsden's photos have a dream-like look for two reasons. His choice of film was Kodak HIE-135 infrared, sensitive to 900nm, with no anti-halide backing. This produced the "halo" effect seen in many of his high-contrast images. Additionally, he employed selective dodging and burning techniques, which in today's digital terms, approaches the look of HDR processing.
When Kodak announced plans to discontinue HIE-135 in the spring of 2007, I undertook a campaign to persuade the company to reconsider. HIE had become my favorite film, but this would clearly impact the artistic output of Marsden and other HIE users.
I gave my campaign a great effort, but the film was discontinued that December. While unhappy with Kodak's decision, Marsden told me that if he ran out of film tomorrow, he had enough latent images to keep him printing for years. We both bought up as much HIE as possible, storing it in deep freeze.
Still Influential
Marsden continues to influence photographers around the world. Amanda Norman is a photographer and blogger from Liverpool, England. In her recent series, "Sir Simon Marsden Country," she documents her travels to the Lincolnshire Wolds that Marsden called home. Her style is very reminiscent of Marsden's, but definitely her own, for as Norman notes, "There's nobody else like him!"
"I'll never forget the day I switched on the television looking for something to watch, when I heard this deep voice speaking slowly whilst ghostly imagery flashed upon the screen", Norman recalls. "I had stumbled across 'The Twilight Hour,' a documentary about Sir Simon Marsden's visions of Ireland's haunted past."
Totally transfixed, she realized, "…it wasn't just me who had a fascination with haunted places and atmospheric photography."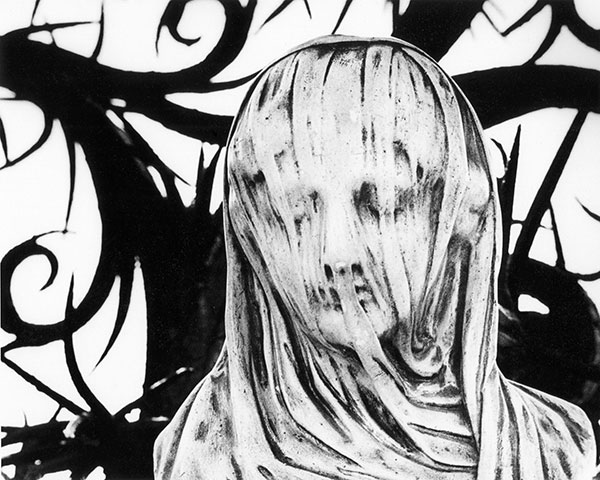 "There are a lot of photographers who go out and photograph graveyards and cemeteries," she observes, "but when you see Simon's work, it simply takes you to another dimension…. Haunting imagery that holds your gaze whilst your mind gets carried away with all sorts of visions that lead you to question: what is going on, what is hiding within the shadows, what was he thinking when he took that photograph?
"To create an image that holds the passion of the photographer for an eternity or more is something very special, and to have the power of connecting with other people through your creation is magical."
Tarquin Blake, a photographer in Kinsale, Ireland, notes: "Simon introduced me to infrared, of which there can be no doubt he was the master."
Blake describes his appreciation for Marsden's technique "…of enhancing a photograph by covering the subject in a shadowy, grainy, ethereal vale, which works so well on the ruins that I love to explore and photograph. Marsden's photographs were what I saw in my dreams, and I learnt from him how to transfer my dreams to my own camera."
"If it wasn't for Sir Simon Marsden, I possibly wouldn't have had a career in film-making," says Jason Figgis, a filmmaker in Dublin, Ireland.
After reading Marsden's books, Figgis had an experience similar to my own. "When I had ideas about taking up the camera for short films, I decided to contact Simon's agent to express my admiration for all things in the Marsden Archive. I was hugely shocked to receive a phone call from Simon himself, and from that moment on, a great friendship blossomed."
At that time, Marsden was doing research for his book, The Twilight Hour: Celtic Visions From The Past. Figgis offered to take preliminary photographs at the Irish locations and gain shooting permission for Marsden. "He was very happy with my work, and invited me to Lincolnshire to visit with him and his family. It was soon decided when I expressed my interest in film that I would document his trip to Ireland the following year."
Their collaboration became The Twilight Hour: Visions of Ireland's Haunted Past. This feature documentary was soon picked up by Discovery Channel and distributed to 100 countries in 2004, earning Jason two nominations at the Irish Film and Television Awards.
"The fact remains that if I had not met Simon and made this film, all of the other opportunities in the world of film that have come my way would not have happened, as these opportunities where all a direct result of having produced and directed The Twilight Hour. I owe Simon so much," Figgis says. He is currently working on a new feature documentary on Marsden's life and work called Simon Marsden: A Life in Pictures.
Embracing Digital Infrared
Marsden continues to influence me and my own evolving style. Unlike him, however, I embrace digital photography. I was thrilled to learn that my Nikon D800 takes beautiful infrared photos without being electronically converted. Also, unlike Marsden, I am nearly always printing from my computer, though I do occasionally print in the darkroom.
I still have rolls of HIE in the freezer kept in reserve for special locations. When I run out of HIE, I will see which companies are still making infrared film.
I am happy to say Marsden was a mentor to me, even though unfortunately, we never met. We tried to plan meetings, but whenever I was in England, he was in Russia, and when he was here, I was unable to get to New York or Los Angeles to meet him. We joked about how one day we would meet in an airport somewhere.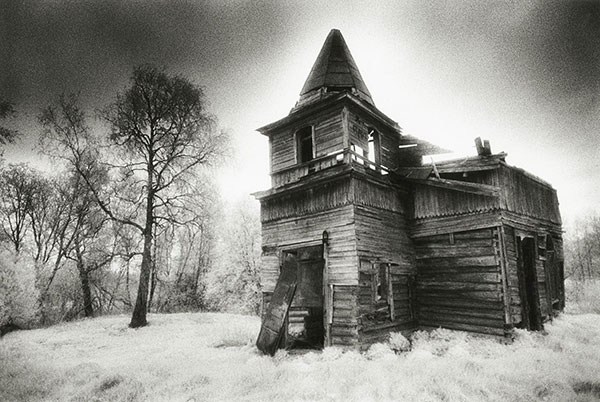 Though he died in 2012, the Marsden Archive continues as a unique picture library. They recently updated the website and hope to add more images. Original and digital prints, books, cards, calendars and DVDs are all for sale on the website: www.simonmarsden.co.uk.
Explore this stunning world, and discover for yourself Sir Simon Marsden's incredible imagery. We've posted a few more of his images below, including a color shot.
(Photographer James C. Williams lives in Winston-Salem, NC with his wife, artist Amy Funderburk. You can see his work at: www.jamescwilliamsphoto.com.)

FEATURED VIDEO