Rain Forest; Cross The River And Rest Under The Trees Page 2
www.kaemmerling.com
John Kaemmerling originally wanted to be a comic book artist but changed his mind when he realized his favorite drawings emulated the photographs that he loved. Spider-Man's loss is our gain. His wife, Michonne, brings her knowledge of fashion to imagery that combines haute couture and substance. Galleries include Wedding, Portraits, Commercial, Art, and Travel, allowing you to view images individually or as a slide show. My first view of the "Wedding" collection elicited a "wow" when I saw a wide angle photograph of a bride and groom with rose petals swirling around them. It's definitely a John Woo moment, giving some indication of the influence of John's cinematic background.

The "Portraits" section includes everything from babies to executives, each captured with flair and consummate photographic skill. The "Commercial" gallery contains mostly lifestyle images, and they are also some of the strongest images on the site, especially the monochromatic performance photographs. Over in "Art," the selection is eclectic with the strongest images being those focused on people. Many of the galleries include sub-collections, so be sure to check each one out to see the depth of talent the Kaemmerlings are capable of producing. Note: Even with my broadband connection, the site was occasionally slow, but be patient, the images and site design make it worth the wait.
© 2006, John Kaemmerling, All Rights Reserved
www.irablock.com
Ira Block began making photographs in high school and hasn't stopped since. In the mid-1970s, he began shooting for National Geographic and along the way found time to publish several books, including the landmark Saving America's Treasures. If you're not familiar with this amazing book pick up a copy. He looks like a nice guy as witnessed by the whimsical portrait of him getting a haircut in the "About Ira" section. There are so many wonderful images in the Portfolio, Images, and Recent Work sections that I only have space for a few of the highlights.

Take your time and explore this portrait of a planet that this modern master has produced. I took a look at the images from his essay on olive oil because I thought that would be a tough assignment. The selection is in the National Geographic tradition of humanistic images of contemporary life and full of Italian gioia di vita. I hadn't realized that Block was the photographer for one of my favorite recent stories, "A Dinosaur Named Sue," that charts the custody battle for the bones of the biggest T-Rex ever found. His studio and location images tell the story, and photographs such as the close-up of the dino's teeth being prepared at Chicago's Field Museum give you some perspective of the size of this beast. For something completely different I went to the "Images" collection to view "Traditional Japanese Theater" that contains poignant photos of traditional Japanese kabuki theater and geishas. Don't miss "Opening Shots," a "Best of" collection of images that appear on the website's opening page, all of which demonstrate the versatility, resourcefulness, and creativity of a photographer who's at the top of his game.
© 2006, Ira Block, All Rights Reserved
http://chrishumphreyphotographer.com
Chris Humphrey is passionate about photography. You can tell by how he talks about his chosen profession and the enthusiasm that jumps off the screen in his imagery. His galleries include Weddings, Kids, Maternity, and Commercial, each of which are displayed in an easy-to-view, multi-page format that features tiny thumbnails and large (untitled) photographs presented for your approval. His wedding imagery blends the best of many worlds--portraiture, architecture, and photojournalism--to capture the people-to-people aspects of a wedding. Here are the quiet moments, the ones you want to remember, that often go unnoticed save for Humphrey's wisdom and artistic talents in capturing them.

He obviously has a way with kids, as witnessed by the many moments he skillfully captures at weddings, but his portrait efforts show that kids like and trust him and they respond with expressions bursting with joy. Mom's gotta love Humphrey for capturing these images that combine sensitivity with fun in equal doses. The talent to capture the warmth of human beings doesn't often translate into good studio still life skills, but Humphrey shows they can with his skillfully executed food photographs and editorial-style coverage, both of which he excels at. As is the trend these days, there is a photoblog and I don't know how Humphrey (or anybody) can find the time to shoot and blog at the same time. The blog contains slide shows of recent weddings that functions as both a sales tool and a vivid demonstration of Humphrey's prodigious talent.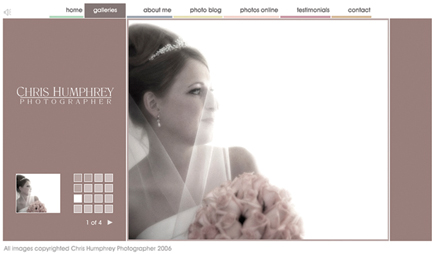 © 2006, Chris Humphrey, All Rights Reserved

LATEST VIDEO

SPONSORED VIDEO