PMA Show Report; Portable Flash And Lighting Accessories; Light On The Go Page 3
Olympus has two new flash brackets for macro photography. One version holds one of their shoe-mount flash units below and to the side of the camera lens. Another model has two shoe contacts so two flash units can be used for cross lighting. The Olympus UFL-1 underwater flash has a GN of 14, is TTL compatible, and has both a fiber optic cable or can be used for slave operation. Model UFL-2 with a GN of 32 lets you reset camera controls at the flash unit.
Olympus Flash Brackets For Macro Photography
Olympus UFL-1 Underwater Flash
OmegaBrandess has a host of lighting modifiers and accessories. The Phoenix SmartFlash US 92 slave flash comes set for use with Canon or Nikon cameras but includes a learning function to synchronize it with other system cameras. This slave flash has bounce and swivel capabilities, a GN of 92, and lists for $92. The interesting line of light-modifying products from Gary Fong now has a collapsible version of the Lightsphere, a soft white light diffusion dome that folds to a height of only 1.5", making it much easier to carry in your bag or case. A patented grip system permits mounting the dome on all flash sizes. The MSRP is $60. The orbis ring flash kit converts any shoe-mount flash into a ringlight. Simply connect the
flash to the camera using a dedicated TTL cord then hold the ringlight around the lens or off to one side as a portable softbox. The MSRP is $199; a bracket to hold the device is $59. The Torch Light/Switronix TorchLED TL-50 can fit onto a camera's hot shoe and contains 50 LEDs, produces 30w of 5600?K output, is battery powered, and has variable intensity. The MSRP is $359.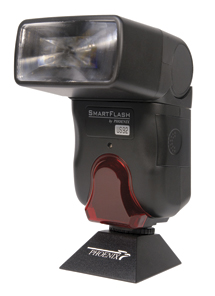 Torch Light/Switronix TorchLED TL-50
Promark's brand-new Cool-Lux Mini Combo hot light kit is designed for use with D-SLR cameras in Video mode operation and camcorders. A compact quartz halogen 100w lamp is inside a metal housing and offers a variety of light intensities. It can be used straight "raw" or directed up to bounce off a diffusion reflector. Several different reflector modifiers are included as is a filter to convert the tungsten-balanced light to 5600?K for daylight. A rechargeable lead acid battery will operate it for 20 minutes.

A dual camera bracket has one shoe for the light plus another at the side for an external microphone. The MSRP for the kit is $400.

Tiffen's new Stroboframe is unusually flexible and it will fit most any camera and/or flash unit with its plateless universal adapter.

ToCAD America's Sunpak DSLR67 LED light is different from any other ringlight I've ever seen. The small box holding three AAA batteries slides onto the camera's shoe then a stiff but flexible cable is bent until the ring of lights fits around the lens. It will fit over lenses up to 67mm in diameter, has 12 high-powered LEDs with an output color temperature of 5500-6500?K, and has an effective working distance of 2-20". When you want light to be dominantly from the side, just don't position it around the lens. The light has a high-low power setting. It weighs only 4.2 oz (without batteries) and has a street price of $80.

Tristar (distributed in the U.S.A. by APV) offers the DS-8 digital slave with two shoes, allowing two hot shoe flash units to be positioned side by side for higher intensity light. It is fired by the digital camera's pre-flash wirelessly and typically would be used with an umbrella or softbox away from the camera. It has a 25-foot range, lockable socket for umbrella pole, adjustment switch for different camera pre-flash systems plus a socket for wired connection. The MSRP is $60. A new combination honeycomb bounce flash attachment for flash units is offered for $20.
Tristar DS-8 Digital Slave
Tristar Honeycomb Bounce Flash Attachment
VidPro has a small battery-powered LED constant light that consists of 28 LEDs, producing 40 lumens of 6500?K light. Two versions are offered, the LED-10 with a bracket for $40 and the LED-12 with a bracket, batteries, and an AC charger. Two LEDs can be mounted onto one bracket for additional output.
The folks at Vivitar have told me they are reintroducing the venerable 283 auto/manual shoe-mount flash that many of us used for decades.

Brand new, with no pricing yet, is the Vivitar DFS86, a macro ring flash compatible with Canon and Nikon cameras with adapter rings for 52-62mm lens threads.

Zeikos announced the ZE-HUL72S shoe-mount flash unit having bounce capability with both a wide-angle diffuser and white bounce card built-in. It is available in dedicated configurations for Canon, Nikon, Olympus, and Sony D-SLRs. A dedicated ringlight has eight flash heads, fits around lenses up to 62mm, and has a modeling light for focusing.
Manufacturers/Distributors' website addresses can be found by visiting the Instant Links section of our website at: www.shutterbug.com/currentissuelinks/.

FEATURED VIDEO