Photo Gear
Covering The Photo Beat
Softboxes, Shoulder Straps, Self-Regulating Tripods, And More Page 4
New Soft Pouch Body Cover For Manual And Rangefinder Cameras
A new size of OP/TECH soft pouch body cover fits manual and rangefinder-style camera bodies as well as autofocus SLR and digital camera bodies. The form-fitting neoprene cover protects against dust, moisture, and impact so the camera can be safely carried in a large bag full of other photo gear. It's intended for those who carry a spare camera body without lens attached. It is available in black in three sizes at an MSRP of $23.
Contact: OP/TECH USA, 304 Andrea Dr., Belgrade, MT 59714; (888) 678-3244; fax: (406) 388-2063; www.optechusa.com.
Heavy-Duty Hand Carts Carry Big Loads
New Clipper Carts from BKA are heavy-duty hand carts constructed to carry large loads. They range in size and load capacity. The product line ranges from 180-400 lb load capacity but the carts themselves weigh from just 13-25 lbs. All are compact and fold down for storage. They have stair guards plus guards in front of the wheels to protect soft cases. Rear wheels stabilize the load, taking weight off the user. Some models have an upper tray offering a stable working platform. The MSRP ranges from $45-$250. Contact: Brandess-Kalt-Aetna Group, Inc.,
701 Corporate Woods Parkway, Vernon Hills, IL 60061; (847) 821-0450; fax: (847) 821-5410; www.bkaphoto.com.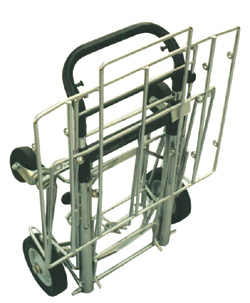 Archival Storage Pages
Brand-new are the Pana-Vue Archival Pages, a broad line of storage pages for the most popular sizes of negatives, slides, photographic and digital prints. They are all acid-free having no PVC, thus are safe for long-term storage. They are intended for use in three-ring binders but most of the pages will also fit hanging files. They are sold in packages of 25 and 100 pages. Contact: Argraph Corporation, 111 Asia Pl., Carlstadt, NJ 07072; (201) 939-7722; fax: (201) 939-7782; www.adi-digital.com.
Backlit Picture Frames
PhotoGlow backlit picture frames emit a uniform wall of light behind the subject matter in the frame providing a greater brightness than that of a computer monitor. Measuring less than 1" thick, the PhotoGlow frame is virtually indistinguishable from a conventional desktop or wall-mount picture frame. The bulb life on these frames exceeds 20,000 hours or approximately 3.5 years of continuous use. Almost no heat is generated and they are offered in standard and custom sizes. The 8x10 model has an MSRP of $99. Contact: PhotoGlow, 152 Whittier Dr., Dennis, MA 02638; (508) 737-9199; www.photoglow.com.
To submit information for Photo Gear please contact Robert E. Mayer by e-mail at: rmayer@kconline.com or regular mail at: Shutterbug Magazine, 1419 Chaffee Dr., Suite #1, Titusville, FL 32780.

LATEST VIDEO