Pentaxians Rejoice: The Long-Awaited Pentax K-3 III APS-C DSLR is Here!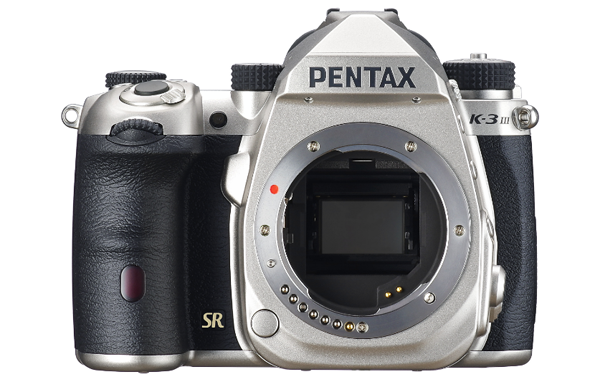 After a few fits and starts, Pentax has finally unveiled the highly anticipated new flagship of their popular APS-C DSLR line. The K-3 Mark III features robust construction and the superior dust- and weather-resistance for which the company is known.
The 25.73-megapixel camera boasts a wide array of advanced capabilities, a 5-axis shake reduction system said to provide 5.5 stop correction, 12fps continuous shooting, dual card slots, and an ISO range of 100-1,600,000 (no, that's not that's not a typo). In addition to built-in WiFi and Bluetooth connectivity, the new K-3 III promises an 800-shot battery life and 12fps continuous shooting.
The enhanced autofocus system in the Pentax K-3 III utilizes 101 AF points (25 cross type) and improved tracking capability for fast and precise acquisition of both stationary and rapidly moving subjects.
Pentax says the new K-3 III delivers uncompromising image quality thanks to its advanced back-illuminated BSI CMOS sensor, a newly developed imaging engine, and a next-generation accelerator unit. Combined, these new technologies promise superior imagery at all sensitivities with minimal noise.
Ideal for outdoor use during difficult conditions, the K-3 III furthers the promise of outstanding resolution with an advanced Pixel Shift system that captures four images of a scene, shifting the image sensor by a single pixel for each shot, and combining the exposures into a single composite image.
The new Pentax K-3 facilitates precise framing with an optical finder with a nearly 100% field of view and approximately 1.05X magnification. Pentax designers incorporated a premium high-refraction prism and a distortion-free optical element to deliver a wide field of view comparable to that in a full-frame camera.
Other key features of the innovative Pentax K-3 III include a high definition touch screen LCD monitor, an anti-aliasing filter simulator for reduced moire patterns, an intuitive user-friendly interface, and a real-time scene analysis system to detect a subject's face and eyes—supported by the latest artificial intelligence technology.
All these features and much more are packed into a compact, rugged, and weather-resistant body. The new Pentax K-3 III will be available in late April for $1,999. We'll have much more to say about the new Pentax APS-C flagship camera as soon as we get our hands on a sample and run it through its paces. As a long-time Pentax user, I can hardly wait!

FEATURED VIDEO