Canon Announces Development of Speedy EOS-1D X Mark III Flagship Pro DSLR Camera
Canon just announced it is developing a "powerful, faster, and rugged" new flagship professional DSLR camera: the Canon EOS-1D X Mark III. The Canon 1D X Mark III is the follow-up to the Mark II version, which debuted in 2016 and quickly became one of the most popular and best reviewed pro DSLRs for sports and photojournalism.
However, because this is just a development announcement for the Canon 1D X III, details, so far on the new camera are minimal. Canon did not say what the resolution of the 1D X Mark III will be, nor when it will be available or at what price. Presumably, with the 2020 Olympics in Tokyo, Japan next year, the 1D X Mark III will go on sale some time before that big event.
(UPDATE: Here are some real-world photos of the new Canon 1D X Mark III from the PhotoPlus Expo show.)
One thing is for sure though, the Canon 1D X Mark III will be fast. According to a press announcement today, the 1D X Mark III will be capable of shooting up to 16 frames per second (fps) with full autofocus and autoexposure using the camera's mechanical shutter, and up to 20 fps with full AF and AE using Live View with the mechanical or electronic shutter.
In a press release to announce the development of the Canon 1D X III, Canon said "the EOS-1D X Mark III offers an enhanced autofocus system, with dramatically improved still and video image quality and communication."
Canon offered some additional details of how speedy the EOS-1D X Mark III will be, calling it "blisteringly fast" with a "new autofocus algorithm [that] will improve stability and tracking when using both the Optical Viewfinder and in Live View shooting mode, using Deep Learning Technology and adapting to help facilitate accurate focus tracking for every shot."
"When using the optical viewfinder, the camera will use a new autofocus sensor, with approximately 28 times the resolution in the center of the EOS-1D X Mark II," Canon said.
"Offering the ability to autofocus in even brighter and darker situations than before and with greater precision, the camera will have a range of autofocus capabilities, which will enable the photographer to get their shot."
In Live View mode, Canon added, photographers "will be able to make use of 525 AF areas using the Dual Pixel CMOS AF system [that] will cover approximately 90x100 percent of the image sensor. "
The company added that the Canon 1D X Mark III "will support significantly faster frame rates with full AF and AE, using either the optical viewfinder (up to approximately 16fps mechanical shutter) or Live View (up to approximately 20fps mechanical or electronic shutter). Additionally, the camera's dual CFexpress card slots will enable more than five times the RAW burst depth of its predecessor."
Canon said the 1D X Mark III will use a new Canon-developed, CMOS image sensor and DIGIC processor and that it "will deliver greater image quality, at even higher ISOs, with the ability to capture stills in 10-bit using the HEIF (High Efficiency Image File) file format." According to Canon, HEIF produces wider dynamic range and greater color representation compared to JPEG.
"The power of 4K resolution brings stories to life – shoot 4K videos including 4K60p with 10-bit 4:2:2 Canon Log internal recording," Canon said.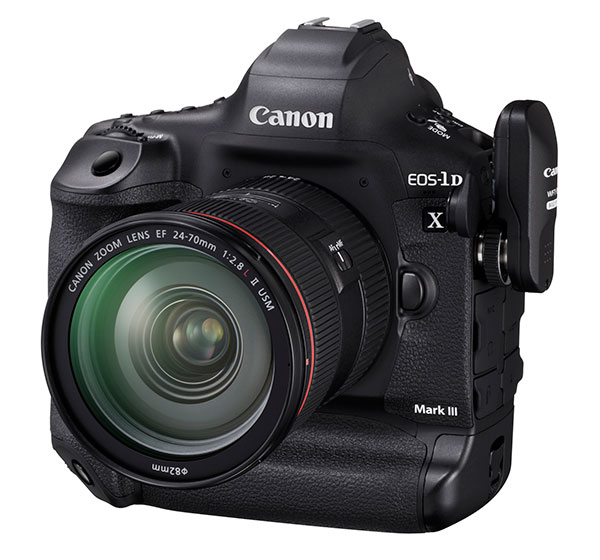 Canon also gave some details about the 1D X Mark III's connectivity attributes, noting that the camera will be compatible with the WFT-E9 wireless file transmitter device. The Canon 1D X Mark III will also feature built-in WiFi, Bluetooth and GPS.
In terms of camera build, the 1D X Mark III will look nearly identical to its predecessor, a Canon spokesperson told Shutterbug. The Canon 1D X Mark III will have similar ergonomics and a weather-sealed magnesium alloy body that will be able to stand up to "harsh conditions, including wind, rain and humidity." The camera will also now feature "select illuminated buttons that allow for precision operation in challenging, dark and dimly lit conditions."
The Canon 1D X Mark III will also offer "a new additional control for selecting AF points, built into the AF-ON button, allowing photographers to change AF points on-the-fly for the best composition – further helping to simplify their work. In addition, dramatically improved battery life – with the same LP-E19 – will allow professionals to shoot for longer periods of time, without having to change batteries, helping reduce the chance of missing a shot."
Announcing the development of a major pro DSLR with little detail is not unusual. Last month, Nikon announced the development of the forthcoming D6 DSLR in a similar fashion.