Paxis Twin Lakes Photo Backpack Review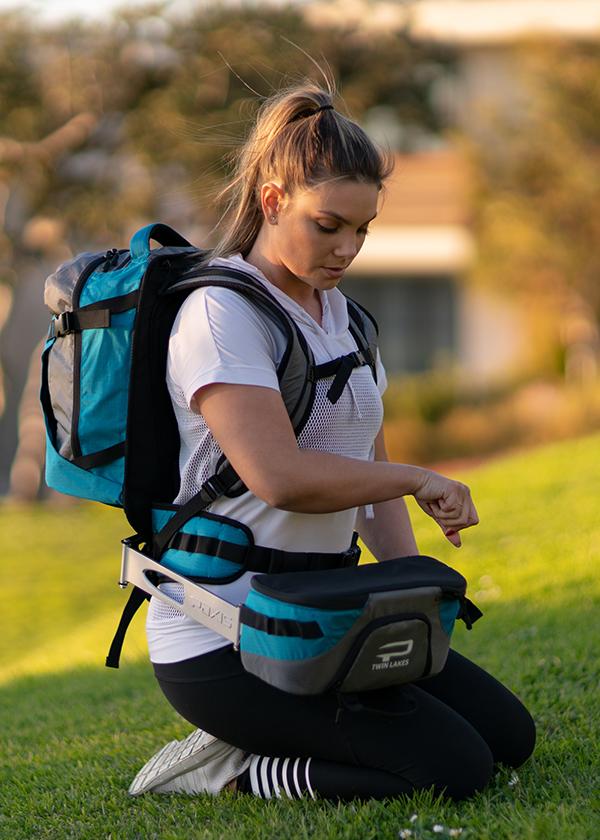 Here's a close look at an innovative camera bag design that provides the capacity and comfort of a backpack and simultaneously allows you to access your gear from a padded shelf-like pod that can be swung in front of your abdomen almost instantly. If you like the idea of rotating the bottom of a backpack to your front while keeping the top part of the bag on your back, the 30-liter Twin Lakes photo backpack from Paxis ($325) does it quickly and securely.
If you happened to read my column "How to buy a camera bag," you already know that even the finest bag designs are compromises. They're sort of like football players. The tall, fast Wide Receiver can't play Middle Linebacker very well, and the squat immovable fireplug of a lineman will probably never lead the division in punt returns.
The Paxis Twin Lakes Photo Backpack challenges that rule. While the backpack is attached securely on your back, you can unlock the bottom compartment and swing it to your front on a sturdy metal arm. The arm is firmly attached to the backpack's internal metal frame so the whole contraption feels solid and stable at all times. Once the pod is in front of your navel, you can easily access its contents.
While the Paxis design is patented, the concept is not new. The MindShift division of Think Tank Photo offers a similar product design that permits the user to rotate the bottom of a backpack to the front to fetch gear. In fact, they won a Red Dot product design award for it in 2014. The MindShift Gear Rotation180° Professional Backpack measures 23 x 15.8 x 9.1 inches and weighs about 5.3 pounds. It does not use a metal swing-arm to reposition the movable module; instead it's made entirely of fabric.
The Paxis Twin Lakes photo backpack has a capacity of 30L (30 liters) including the bottom portion (which Paxis calls the Shuttle Pod) and measures 21 x 14 x 9 inches, just right for airline carry-on. The pack's bottom is fully waterproof and the back is nicely padded. The adjustable shoulder harness is connected to a wide, padded waist belt and includes a sternum strap.
The outside fabric is very lightweight (210 denier) ripstop nylon. Covering the front you'll find a bib-like flap that can be used to secure a jacket or similar item. I wish the bib was removable because it must be unsnapped to fully unzip the top portion of the bag. On the very top there's a nicely padded haul handle.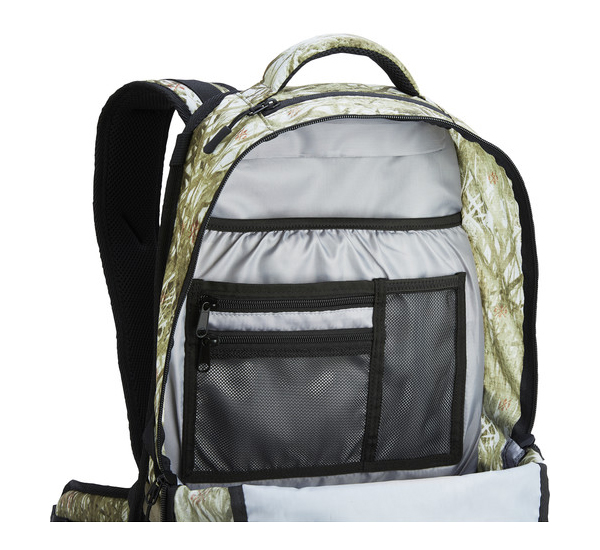 Inside the top area there is an organizer panel that has zippered pockets that are large and useful. I usually consider organizers a waste of space but this one is functional. Behind this panel is a shallow pouch large enough to store a smaller tablet but too small for a notebook computer. The floor of the top area is reinforced by a sheet of corrugated plastic.
The bottom portion of the bag is, of course, the Shuttle Pod. It has adequate padding but does not include dividers which must be purchased separately (two-pack costs about $15). The floor of the Pod is quite firm and made rigid by a thick piece of molded plastic that has a rather unusual bottom. The lid of the Pod is hinged on the side away from the user and features two zippered pockets.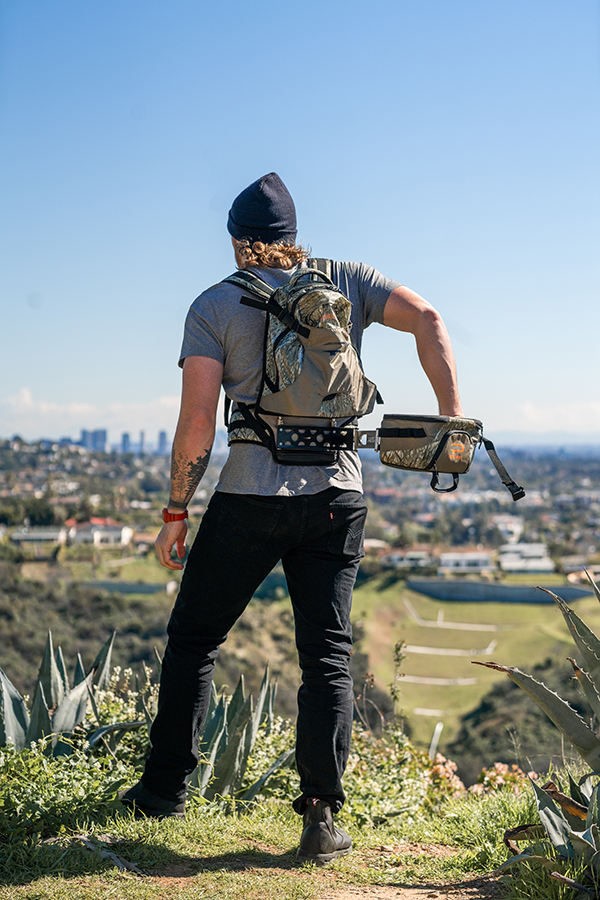 The Shuttle Pod pops out quickly and easily when you tug on the T-shaped release handle and rides its metal arm to a resting position in front of you. Operation is smooth and intuitive and the Pod feels stable throughout its journey.
There is a pouch for keys and one for a rain cover, but the rain cover is sold as an optional accessory ($22.50). An abundance of straps and loops make it easy to attach various items like a tripod, fly rod or similar.
Construction
The Paxis Twin Lakes Photo Backpack is well made of lightweight materials. It features a sturdy, rigid internal frame and good padding.
Caveats
Three caveats I feel compelled to share. The Paxis Twin Lakes photo backpack is heavy. According to my Balanzza Ergo digital luggage scale it weighs 6.4 pounds including the rain cover and optional partitions. The mitigating factor is that the weight is mainly toward to bottom, so the balance is still quite good.
Second, for all of its convenience, the moving Shuttle Pod itself is on the small side (11 x 4.5 x 5 inches) and has a load limit of 5 pounds. For most people that shouldn't be an issue, but it's something one should be conscious of. A Nikon D850 wearing a Nikkor 24-70mm f/2.8 zoom weighs about 4 pounds. Guide yourself accordingly.
A bigger annoyance, I found it very difficult to unzip and access the contents of the Shuttle Pod unless the Pod was swung out from its nest under the backpack. The hinge on the zippered pod lid is located on the outside, making it impossible to lift the lid to peek inside when the Pod is snapped in place.
This will not be a problem for everyone, and in fact it does make the bag more resistant to pilfering. But for me it's a dealbreaker because I often find myself sitting in a theater, at a diner or inside my car when I want to change lenses. In these circumstances it's inconvenient (too cramped) to swing the Shuttle Pod away from the backpack, so accessing its innards is problematic or impossible.
Conclusion
It's really great to see a truly inventive, innovative photo backpack come down the pike. If you often ride a bicycle, paddle a kayak or engage in any other activity that prevents you from shifting a conventional backpack or sling bag to your front so you can access the contents, this may be the solution for you.
The Paxis Twin Lakes photo backpack comes with a limited lifetime warranty and is available directly from Paxis or at B&H and Adorama in your choice of four attractive colors: Quarry (black/gray), Long Range (green/camo), Mineral (cyan/gray) and Madroa (rust/gray). Price is $325. The optional Paxis Pod Armor dividers cost $14.95 and the Paxis Rainshield runs $22.50.
—Jon Sienkiewicz

FEATURED VIDEO