Passport
Flight Plans; Easy Does It At The Airport Page 2
You're not going to have to worry about that, though. You don't have to pack as heavy as I do, and packing light is the first step toward easy transit through the world's airports. One case should do for your photo gear, which is most likely to be one camera body--two if you're really serious--a few carefully chosen lenses--say, zooms in the range of 17-35mm, 28-70mm, and 80-200mm--and maybe a flash unit.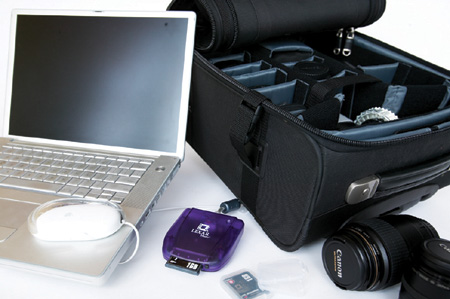 Soft-side: Packing the Pelican for digital work. The laptop will go in a separate case that zips to the top of this carryon.
My carryon of choice these days is a soft-sided Pelican case--it's the one you see holding my EOS-1Ds outfit in the accompanying photo. It's got wheels, a handle, and--a very nice touch--a separate zip-on, zip-off laptop case. I zip it on to pull the whole thing through the airport, zip it off to stow the cases on the plane.

Though I can't prove it, I believe that having a professional-looking, well cared for and neatly packed case for your camera gear will help you at the airport. It creates, I think, a positive impression, shows you're serious, and helps with the inspection. Couple that with your friendly, courteous demeanor and things should go smoothly.
The Numbers Game
Finally--and perhaps most important--you've got to know what you can carry on. And for that I advise you to do some homework and make some phone calls.

Here's what I've learned: The TSA (Transportation Security Administration) allows photographers two carryons and one personal item. But the TSA doesn't control the baggage regulations of individual airlines, and that's where it can get sticky. Here's what the TSA says on its website (www.tsa.gov/public): "You may carry one (1) bag of photographic equipment in addition to one (1) carryon and one (1) personal item through the screening checkpoint. The additional bag must conform to your air carrier's carryon restrictions for size and weight. Please confirm your air carrier's restrictions prior to arriving at the airport. Air carriers may or may not allow the additional carryon item on their aircraft. Please check with your air carrier prior to arriving at the airport."
Light bag: checked baggage, this one holds the stands, booms, tripods, and umbrellas.
Those last two sentences are the big ones. Call the airline, tell them what the TSA regulation says and see what they say. And when you call, be sure to speak to someone from customer service, not reservations. (By the way, I carry a printed copy of the TSA regulation in every one of my bags.)

Another bit of homework for you: Visit the website of ASMP, the American Society of Media Photographers, www.asmp.org, and use their search engine to search "airline regulations."

And if you have anything you'd like to ask me, visit my website, www.jackhollingsworth.com, and send an e-mail by clicking on the "Contact Jack" link.

Sure, it's a different world out there now, but it's amazing what patience, courtesy, and professionalism will do.