Homeward Bound; Triggering The Memory Response Page 2
I've come to realize that it's because I was born on the Cape and grew up there. I have a strong emotional connection to the place, and when I'm there, I want to be, maybe need to be, expressing my emotions by doing what I do best—taking pictures.
Marconi Beach
Marconi Beach is part of the Cape Cod National Seashore. It's famous for steep sand cliffs and miles of pristine oceanscapes. When I was a kid, standing on these cliffs and staring to the horizon, no problem was too large.
My mind works differently when I'm photographing up there. My subjects are not distant; they're not isolated from my feelings. I'm thinking about what I'm seeing and photographing in the context of my family and my life. I'm reflecting on who I am and where I am at this stage of my life. I see places I knew when I was growing up. I visit places where I used to hang out. Some look familiar, many have changed, but in each case the place calls up a memory. And all those memories trigger the same response: I've got to photograph this!
Lobster Pots
Stacked lobster pots are a common sight on the Cape. My dad, a school teacher and football coach, was an avid lobsterman during the summer.
It happens year after year; it happened again last summer. The only difference is that this time I decided to write about it, and the idea of writing came to me when I realized that this feeling, this particular kind of inspiration, probably isn't unique to me. How do you suppose going back to the place where you grew up would inspire your photography? I'd be surprised if your hometown didn't have a unique resonance for you. I think there's a special connection, and a special inspiration, waiting for you.
Beach Fences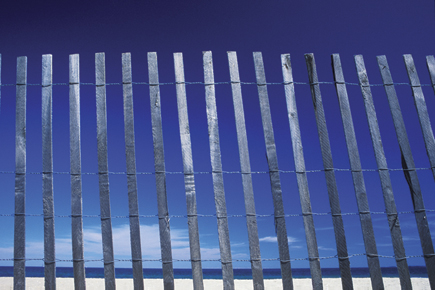 I must have thousands of shots of beach fences in my library. Something about symmetry, order, boundaries.
If you take a trip back to where you started, if you make the attempt to get emotionally reconnected to that place, let me know what you capture in your pictures.