Homeward Bound; Triggering The Memory Response
Every year my family journeys from our home in Texas to spend a few summer weeks at our house on Cape Cod. In the fall I usually return to the Cape by myself for a month. I spend half that time doing some commercial shooting, and it's always my intention to spend the remaining two weeks just relaxing and doing pretty much nothing before the fall season of photo shows, assignments, and travel kicks in. The idea is to rest, rejuvenate, and recuperate; sleep late, walk the beaches, read a book in the backyard (maybe with a glass of wine nearby).
Clapboard Cottages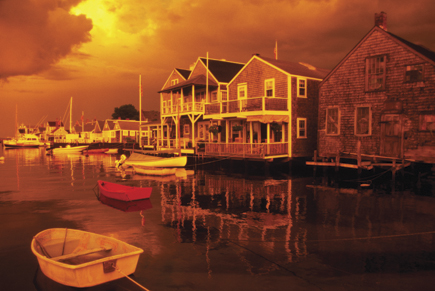 Clapboard cottages on Nantucket. Both Nantucket and Martha's Vineyard seem like worlds apart, places where time seems to stand still and no one seems to be in a hurry—a perfect context for visual thinking.
All Photos © 2008, Jack Hollingsworth, All Rights Reserved
But that's not what happens.

For those two weeks, I don't do "pretty much nothing." I get up and go out and shoot. And I get inspired by what I shot, so the next day I go out and shoot some more…and so on until my two weeks of doing nothing have been spent doing photography. And you know what? At the end of those weeks I'm relaxed, rejuvenated, balanced, and centered—not because I took pictures, but because I took pictures on the Cape.
Sagamore Bridge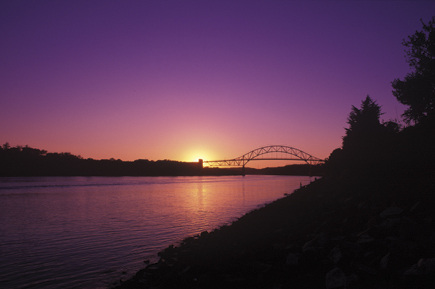 Sagamore Bridge, across the Cape Cod Canal, connects the Cape with the rest of Massachusetts. For me, growing up, it was both a metaphorical and magical crossing—of winter to summer, work to play, meat and potatoes to seafood.
When I'm shooting on the Cape the skies seem clearer, the clouds brighter, the air fresher, the colors more vibrant. When I photograph there I may not be doing the most significant work of my life, but by far it's my most meaningful work. At the end of my two weeks of shooting up there, I ask myself, what is it about this place that does this to me every time? Why do I repeat this pattern each fall?
Wicker Bike
I love this wicker bike. I own five of them, and every time I take one out someone wants to buy it, but I'm never selling.