Panasonic FZ2500 Superzoom Camera Review
(Editor's Note: Lab Review lab tests and comments are supplied by BetterNet, Shutterbug's TIPA-affiliated testing lab and edited by George Schaub. Shutterbug is the sole U.S. representative within TIPA, a worldwide association of photo and imaging magazines.)
When it comes to Bridge superzoom cameras, Panasonic has established itself as one of the major players. The new Panasonic Lumix DMC-FZ2500 has a new 20x lens system (a Leica DC Vario-Elmarit) that covers a focal length range of 24 to 480mm (35mm film equivalent in 3:2 mode). The lens speed is f/2.8 in wide angle and f/4.5 at maximum focal length.
Those very long tele settings require powerful image stabilization and the FZ2500 delivers with an optical and electronic hybrid stabilizer system which is able to level out up to 5 axis movements. We do note that when recording 4K videos only the optical stabilizer is available. The 13.2x8.8mm sensor has 20MP resolution.
While the camera is large it is also very handy for making settings. It offers two setup dials for changing image parameters on the top and two lens rings for zooming and working in manual focus. There are numerous user-definable function buttons and a rotary switch on the back to change between single, continuous and manual focus modes very quickly and easily.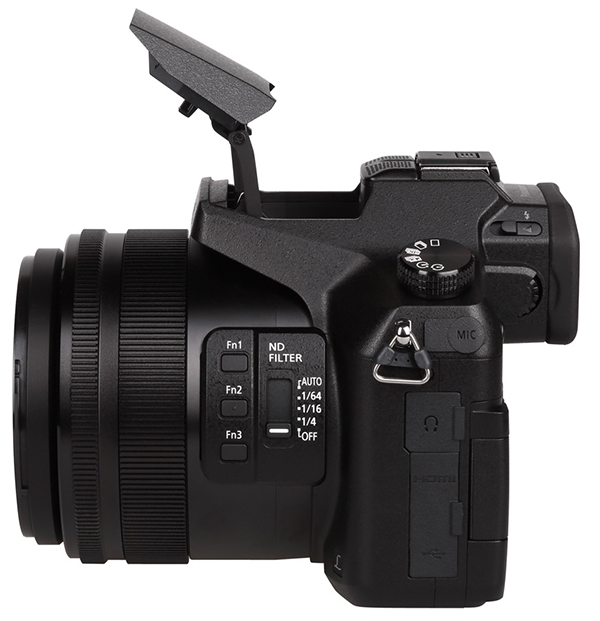 The electronic viewfinder is comparable to high-resolution EVFs in mirrorless cameras and offers 2.36 million RGB-dots: it also has a diopter compensation control. A fully articulated swivel LCD on the back has 1.04 million RGB dots. This screen is touch sensitive and fully integrated into the operation of the camera.
The camera also offers Panasonics "4K Photo" modes. In this mode it takes 30 8MP frames per second and records the images as video files. The photographer can extract single images out of this video stream directly in the camera via playback mode. The camera offers additional "4K Photo" modes like "Post Focus Stacking" to take images/videos with varying focus settings that can be combined to create an image with a deep depth of field.
Comments on Image Quality:
Color: The white balance system of the Panasonic FZ2500 showed a shift of neutral gray nuances into the blue and magenta color areas of the color space. The color errors are on a low level. The saturation of most colors is correct: only blue and turquoise nuances show major aberrations, especially the darker blue which is oversaturated and even shifted into the magenta area. The blue nuances are the reason for the oversaturation result of 115.7 percent. Skin tones have a higher yellow and magenta rate. The color differentiation is very good, even in highly saturated colors.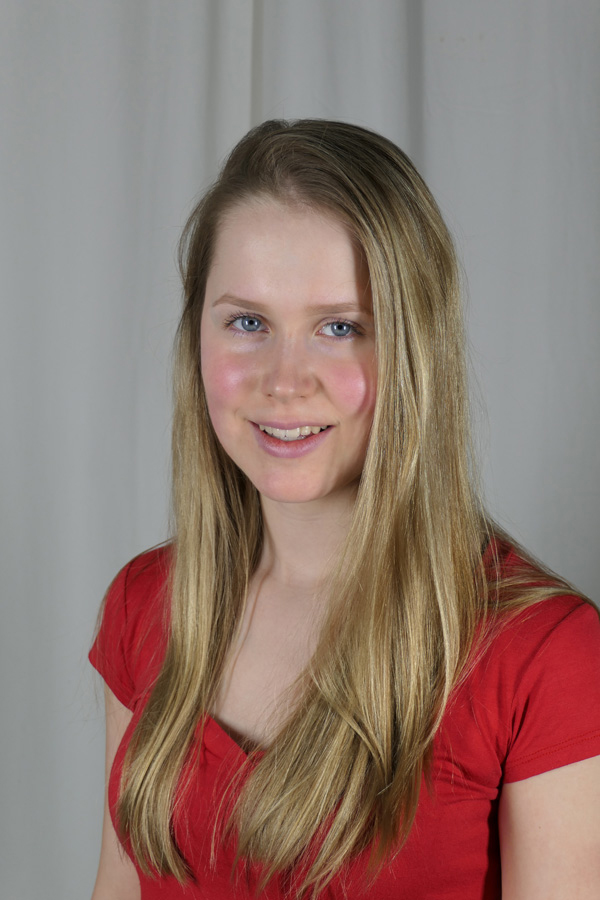 Sharpness: The camera has a sensor with 5472x3648 pixels and reproduced the ISO 12233 test chart with 3136 lines per picture height. The overshot and undershot effects are on a high level (20.8/3.7 percent) which means that the camera uses an intense sharpness filtering and creates halo effects on hard contrast lines. These effects are less intense in real life images, but still noticeable. Fine structures like the hair of our model have a slight artificial look. Sharpness decreases noticeable in the corners of the image.
Noise: The camera showed a very good performance in our noise tests: Luminance noise stays on a very low level between 0.38 and 0.87 percent at ISO 125 to ISO 6400. It crosses the 1.0 percent line only at ISO 12,800. Color noise gets visible in images taken at ISO 3200. Starting at ISO 1600 the anti-noise filtering effects become visible, along with the blurring of fine details. At ISO 12,800 these effects are clearly noticeable and are combined with color smear effects in darker and homogenously colored areas.
Dynamic range results are on a good level. The Panasonic FZ2500 achieved a maximum of 10.6 f-stops, but in the ISO 6400 to ISO 12,800 range the dynamic range drops drastically (6.53 f-stops at ISO 12,800).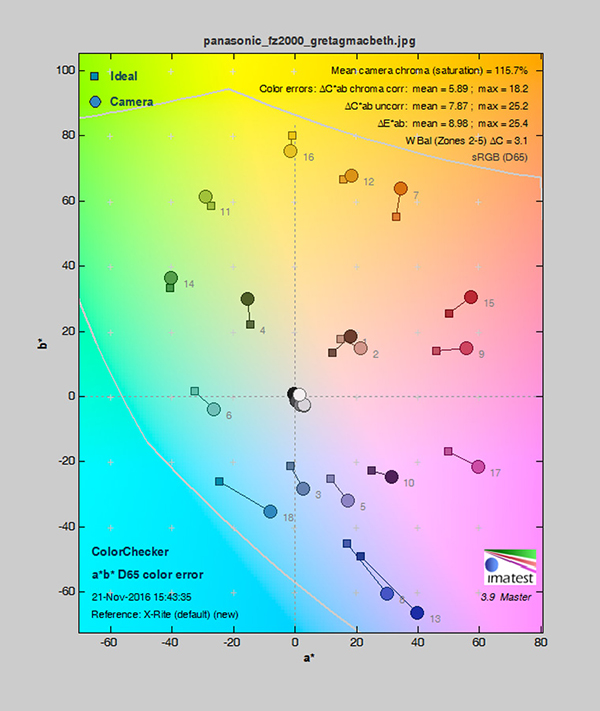 Video Format and Handling
The Panasonic FZ2000 is a highly sophisticated video recording system with a lot of very interesting features. It is able to record 4K videos with up to 30 frames per second and offers additional frame rates for PAL compatible and Blu-ray compatible productions (24/25 frames per second). In Full HD mode it is able to record up to 60 frames per second and also offers PAL modes such as 50 frames per second. The camera allows the user to record in MOV, MP4 and AVCHD format (AVCHD for Full HD movies). It also can deliver high bit rates up to 200 Mbit/s and All-Intra frame recording for higher image quality. Recording 4K video requires fast and very high-capacity SDHC/SDXC cards.
A unique feature for a bridge camera is the ability to use the HDMI port as an interface for recording videos on an external device with 4:2:2 chroma subsampling at 10 bit recording. This allows the user to record videos in broadcast quality.
When using the camera in manual movie mode standard exposure settings like P, S, A and M are available. In this mode the large shutter release button is used to start video recording; the camera offers an additional video recording button on the top when working in photo modes. The user can change ISO speed use manual focus. ISO speed settings are limited to the ISO 125 to 6400range . The photographer can change the focus area on the touch screen even while recording the movie, so changing the focus while recording is very simple.
The Paansonic FZ2500 has an internal stereo mic on the top and a 3.5 jack for an external microphone and an additional 3.5 jack for earphones. Sound level controls are quite extensive. The camera offers different zoom speed settings. By default the function buttons on the left hand side of the lens system allow zooming that can be very gradual and smooth.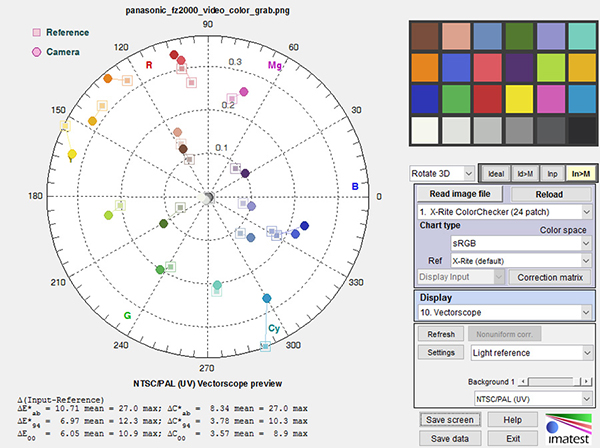 Comments on Video Quality
In Full HD mode the camera showed an excellent result in our resolution tests. The ISO chart was reproduced with 960 of 1080 lines per picture height. In 4K mode the resolution result is also very good, but not as excellent as in Full HD mode. The camera recorded the test chart with 1653 of 2160 lines. Real life images show some sharpness filtering artifacts, so the look of the videos is a little "digital". However, we should note that these effects can be reduced by using the special video image styles like Cinelike D, Cinelike V, and V-Log L, as well as by reducing sharpness settings to lower values. The V-Log L mode records very "flat" images with higher dynamic range, and therefore better material for color correction and color grading in post production.
Our video tests were done with the standard/default setting of the camera. In this mode the colors of the GretagMacbeth chart were reproduced very naturally. Just like in photo mode, the darker blue nuances are boosted and the pure cyan is shifted into the darker blue and magenta area, but the average level of all other color errors is very low.
The noise results of the FZ2500 in video mode are excellent. Due to pixel binning, the noise level in Full HD mode is extremely low. At ISO 3200 color noise starts to create "flickering" effects; at ISO 6400 these effects are clearly noticeable. Dynamic range results are a little disappointing. The camera showed a maximum of 8.62 f-stops. This can be enhanced by using different image styles and using color grading/contrast control effects in post production.
Pro:
+ Large and robust body
+ High-resolution EVF, swivel LCD
+ 20x zoom lens with very smooth motor and 5 zoom speeds
+ Professional video features (4K with 4:2:2, 10 bit via HDMI)
+ Built-in ND filters
+ Fast and highly configurable AF system
Con:
- High price for a Bridge camera
The Panasonic Lumix DMC-FZ2500 has a list price of $1,197.99.
(Lab Review is where we publish web-exclusive lab reports on cameras. To read more Lab Reviews, click on the Reviews tab on the top navigation bar of this page. New photo gear reports are published frequently, so check Reviews for more equipment evaluations from Shutterbug writers.)

FEATURED VIDEO