Our 5 Favorite Photo Gadgets & Gizmos: Drone Photography Gear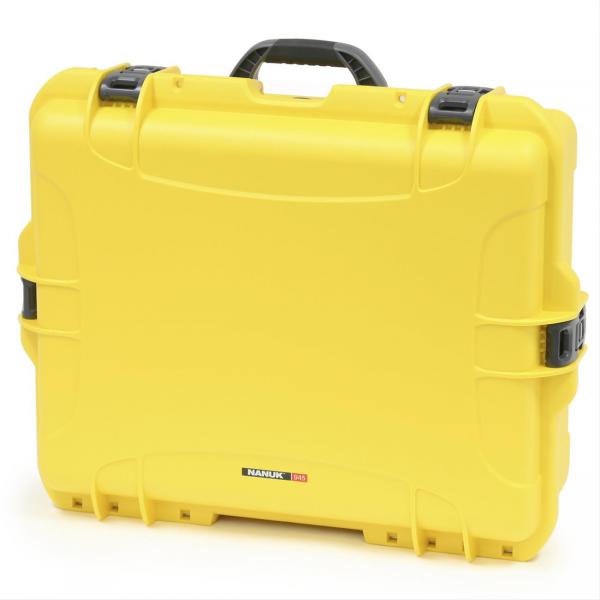 NANUK 945 DJI Drone Case: Ideal for drone users, this durable case is crafted from lightweight NK-7 resin with a top foam insert and a polyurethane lower foam insert. The case measures 25.1x19.9x8.8 inches and weighs 12.7 pounds. It is watertight (with a maximum buoyance of 120 pounds), temperature range is a minimum of 20˚F to a maximum of 140˚F. The NANUK 945 DJI drone case has a conditional lifetime warranty and is available in your choice of olive, orange, silver, yellow, graphite or black.
More info on the NANUK Drone case here.
QUADframe Brushless Gimbal For GoPro Cameras: The Brushless Gimbal is a small BLDC gimbal designed for use with GoPro camera models Hero 2, Hero 3 and GoPro 3+ (all versions). The 155mm and 200mm landing legs are ideal for this gimbal and the Gimbal Pitch is able to move 360 degrees. This device is crafted from a durable, lightweight aluminium alloy and painted black. The QUADframe Brushless Gimbal comes with all of the needed aluminium elements, screws, rubber (to protect your camera) and self adhesive rubber. The suggested retail price is $36.80.
More info on the QUADframe Brushless Gimbal here.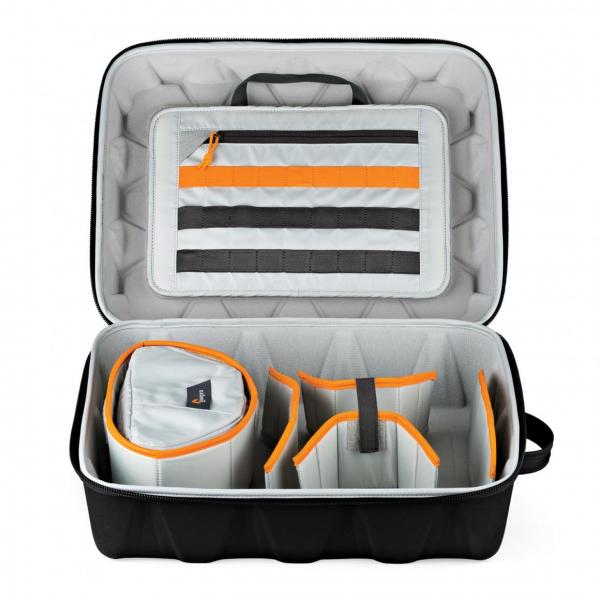 Lowepro DroneGuard Series: This is a three-piece collection of cases designed by and for pro and enthusiast quadcopter pilots. The DroneGuard series features a (patent-pending) system of compartments and flexible, removable dividers to manage all parts of a complete quadcopter kit. DroneGuard CS 300 and DroneGuard CS 400 are constructed of tough 600 denier polyester and feature Lowepro's FormShell technology for impact protection (without added bulk or weight). The DroneGuard CS 300 is designed to hold a Parrot Bebop (or a similar drone), the DroneGuard CS 400 can carry a DJI Phantom 1, 2, 3 or a 3DR Solo (or a similarly sized quadcopter). Both include dedicated space and organization for accessories—blades, props, mounts, cables and batteries. The ultra-portable tray with grab handles is built with a rigid, durable base with a honeycomb interior. Modular components include a battery box with adjustable dividers, drone sidewalls with slash pockets and a remote/transmitter divider. The DroneGuard CS 300 ($129.95), DroneGuard CS 400 ($149.95) and the DroneGuard Kit ($99.95) are now available for purchase at select in-store and online retailers.
More info on the DroneGuard series here.
Hoodman's New Drone Aviator Hoods for iPad Mini: The HAV1 aviator hood for drone pilots mounts to your iPad mini for improved outdoor viewing. The bottom panel of the aviator hood has a unique pierceable feature to aid in touch screen access. Two adjustable mounting straps make hood mounting quick and easy. Hood mount measurements: 7.5x5x 5.5 inches. The HAV1E is an extender hood that mounts over the HAV1 hood for times when drone videographers/photographers require a longer viewfinder hood that seals out all of the light for optimum glare free outdoor ipad mini viewing. Overall distance from iPad with extender 13 inches. Suggested retail price: HAV1 $49.99 and HAV1E $39.99.
More info on the Hoodman Drone Aviator Hoods here.
Fat Shark Pan/Tilt/Roll Camera Mount: The Fat Shark Pan/Tilt/Roll mount is made for use with cameras and allows you get the most out of your FPV headset equipped with a Trinity 3-Axis Head Tracker. It includes a mount bracket compatible with a 600TVL FPV tuned CMOS camera (as well as the Fat Shark CCD cameras). A metal gear pan axis servo allows for 180deg. of panning motion with increased durability. The high tolerance tooling and servos ensure smooth camera movements for an improved flying experience. The retail price is $59.99.
More info on the Fat Shark mount here.