Olympus Pen-F Mirrorless Camera First Look Review (Full Resolution Test Images)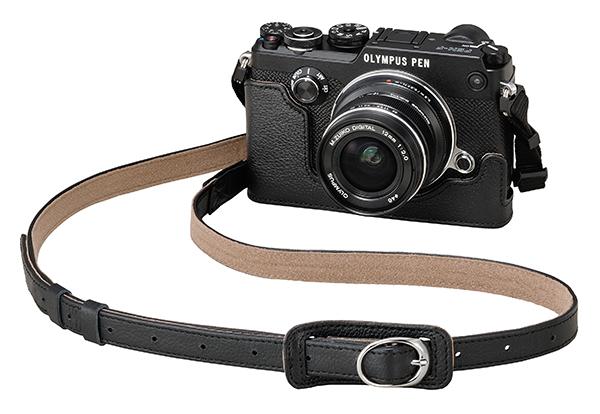 Without telling us why, Olympus ferried a number of the photo press to Austin, Texas last week, myself included. As it turned out, the purpose was to debut the new Olympus Pen-F Micro Four Thirds digital mirrorless camera ($1199.99, body only). We got to test out the new 20-megapixel Olympus Pen-F for several days in Austin, and all I can say is: Wow!
The following are my initial thoughts, impressions and opinions of this retro-styled digital mirrorless camera in a first look review. (We'll have a full review of the Olympus Pen F in the future when we get more time with the camera.)
Meet the Digital Pen-F
The new camera is modeled after the original Pen F (sans hyphen) half-frame 35mm camera of film/analog days, at least on paper. In my opinion, the original had cleaner lines, and upon closer inspection the two cameras are nothing alike except for a few distinct physical features, most notably the rounded-body construction. Still, the new Pen-F is a welcome throwback to the good old days, if only because it reminds you of a simpler time.
So why introduce this camera? According to Olympus, they "wanted to focus on the joy of photography." And Olympus appears to have done just that.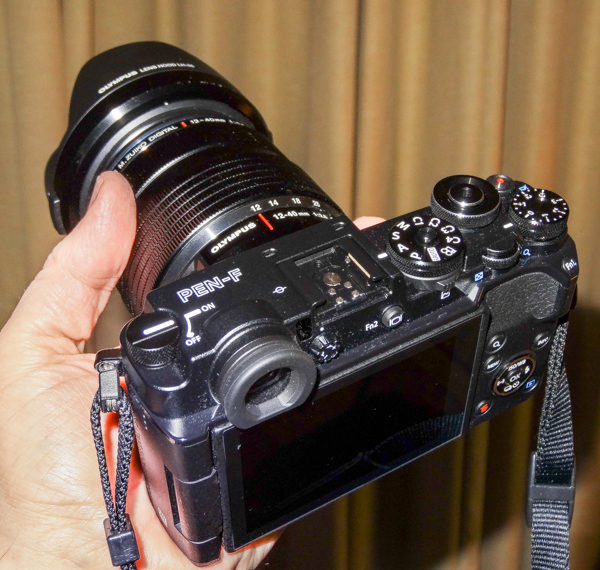 In case you're wondering why parts of the camera are circular instead of squared off, there's a simple answer. Back in the day, it was more economical to produce a camera this way. And between you, me, and the bedpost, it works.
The new Olympus Pen-F is well contoured for a firm grip, with a textured surface. And the camera is solid—thanks to magnesium-alloy unibody construction. The only downside: it's not weather-resistant (hopefully, the next iteration will be the Pen-F AW).
On the plus side, the shutter button is threaded to accept a good old-fashioned cable release. (Sadly, I wasn't told in advance, so I didn't bring a cable release along. And to think, I've held on to several of these. Note to self: bring one along for the next trip.)
Complete with Optical Viewfinder—of Sorts
The Olympus Pen-F's S-OVF simulated optical viewfinder (translation: interactive OLED electronic viewfinder) is said to yield a higher dynamic range than conventional EVF systems, meaning it's really bright when it needs to be, especially at night, and not grainy in the least, now that I recall.
I spent most of my time composing and focusing using this finder, and never looked back. By the way, the viewfinder comes from the OM-D E-M10 Mark II.
The Olympus Pen-F features a 20MP Live MOS sensor. But there's a High-Res Shot mode that builds up the image to 50MP.
Additional Features
Other features include 5-axis sensor-shift image stabilization and, according to Olympus, the shortest shutter lag in any compact interchangeable camera. The camera boasts a Silent (electronic shutter) mode to 1/16,000 sec. Also, this is the first Olympus electronic shutter that can use flash. The mechanical shutter is capable of 10fps maximum.
There's also Wi-Fi wireless control/sharing and, for you video enthusiasts, full HD 1080p movie recording (sorry, no 4K—but do you really need it?). Not to be overlooked, given this is an interchangeable-lens digital camera, there is of course a supersonic wave filter to combat any pesky dust that may invade the camera between lens changes.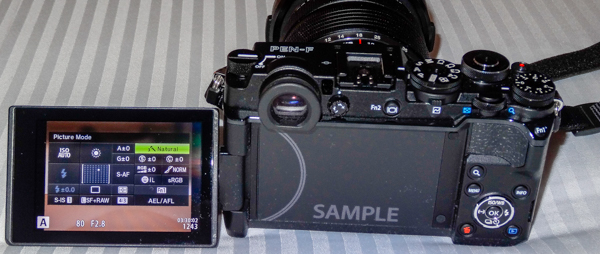 What's more, there's a touch screen. By hitting the OK button, you bring up the menu of settings. You'll still need the rotary dials—and there are plenty of them (some might say too many, but you'll get used to them in time).
One more thing to note: there is a histogram and a horizontal/vertical level gauge. They are mutually exclusive, so choose to display one or the other. I found the factory settings for the level gauge led me to skew too many pictures, so after awhile I dispensed with it. Given more time with the camera, this likely would have been resolved.
AF—Touchy, Touchy…
Autofocus was, for the most part, very responsive. However, in low light I did experience some problems in a few situations, likely due to low contrast. On the other hand, you always have the option to shoot in manual mode.
I used the Pro-series lenses (specifically the 7-14mm—love this lens, 12-40mm, and fisheye) with the clutch mechanism that shifts to activate manual focusing. Once I'd shifted to manual, things went more smoothly in these rare situations. I should also add that face recognition AF was beautifully responsive. I normally only included one to two people in a shot, and the camera picked up on each face.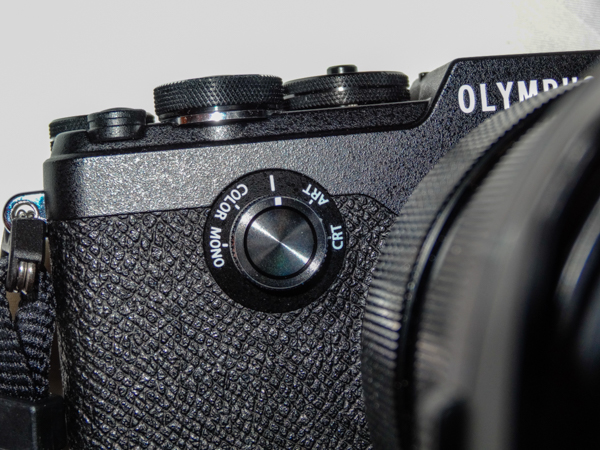 What did, however, bother me was that I would constantly find the AF point shifting position against my will. Someone pointed out that it may be due to my inadvertent touching of the LCD screen, but that should not be the case since I was using the S-OVF. The other possibility is that I hit the cursor control. Either way, this is something that needs to be explored further.
Oh, and one more thing. Sometimes the AF point would be moved to an area that veiled it from view. So take this into consideration when selecting display settings.
Black-and-White to Blow Your Mind
Perhaps the most mind-blowing function is the monochrome setting. With several options, this adds grain (user selectable levels) and one setting even yields what appears to be a quasi-infrared image. And you can selectively filter the effect. Seriously, the effect will knock your socks off!
There are also color effects. Some people were also blown away by these. Me, not so much. I prefer adjusting color in the unvarnished Raw file, in Lightroom, with perhaps some finessing in Google/Nik Color Efex Pro.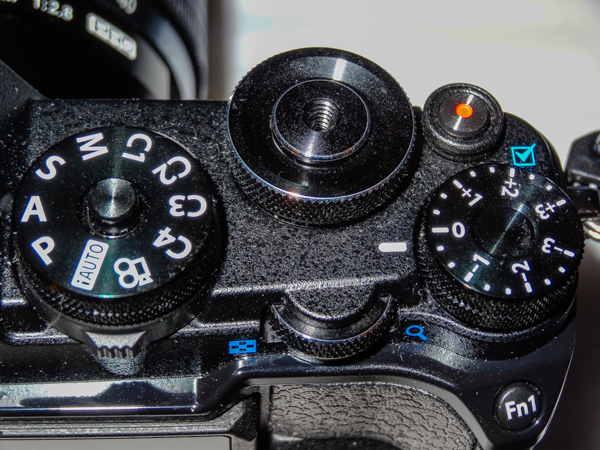 Keep in mind that these effects only affect the JPEG image. If you shoot Raw, you'll have to use Olympus Viewer 3 to convert the file. (At this time, Adobe and DxO do not yet support the camera, but even if they did, the special effects would not translate over outside Olympus's own software.) I was happy I shot high-resolution JPEGs alongside my Raw files so I could enjoy the effect, since I did not yet have access to the Olympus software.
In the Field
Grabbing hold of the camera, it felt good in my hands from the get-go. Beyond that, you have to keep in mind that we were only given a short introduction to the camera's operation, and no instruction manual, so understandably some functions remained difficult to master immediately. On the one hand, I really appreciate all the dials on the top of the body. It means you don't have to go digging through the menu. On the other, as I said, they take some getting used to.
I love the way the electronic viewfinder responds to your eye, automatically switching between S-OVF and the articulated LCD finder on back. The LCD, by the way, appears to be selfie-friendly. The view on either finder is very sharp and clear, although under bright light, you'd do better using the electronic VF.
The camera is touted as a great street-shooter's camera, but you can take it well beyond that. I shot numerous landscapes, as well as street candids. I went in really close for forced perspective with the 7-14mm and even used this lens to photograph a turtle that someone had fished out of the Colorado River (he'd promised to return it).
As noted, I did experience a bit of a problem with the focusing points relocating themselves, but that's likely due to my inexperience with the camera. Let's put it this way: I rarely, if ever, missed a shot. (Keep in mind that all focal lengths are doubled owing to the 4/3 sensor factor.)
Conclusion
Austin turned out to be an awesome place to take pictures with the new Pen-F. Olympus made sure there was no shortage of subjects from day one. When left to my own devices, I found subjects to photograph at every turn.
How does the Olympus Pen-F compare to other mirrorless cameras? Very favorably. Remember, it's not intended as a pro camera. It was designed as a fun camera, but no one said you couldn't take fun seriously.
The fact that this camera sports an optical finder (in the form of an electronic viewfinder) puts it head-and-shoulders above many cameras of this level, where your only option is the LCD—not the best choice in very bright conditions or for very sharp pictures in low light. And the camera is responsive, without doubt. The street shooter in you won't miss that decisive moment.
Also worth noting: since there's no built-in/pop-up flash, the camera comes with a tiny shoe-mount with tilt/swivel capability. And this flash really delivers. Of course, using it with people did result in red-eye, which is to be expected. Just use it judiciously to deliver just the right amount of fill.
I will point this out. At this stage I'm relying solely on JPEGs to evaluate the camera. And I realize now that I should have perhaps used a lower noise reduction setting (can't recall if that option existed) or turned it off entirely.
When I view the high ISO images at 100%, they do appear over processed, and these JPEGs are already written in concrete (no post-processing can undo this). Obviously, the Raw files won't suffer a similar fate.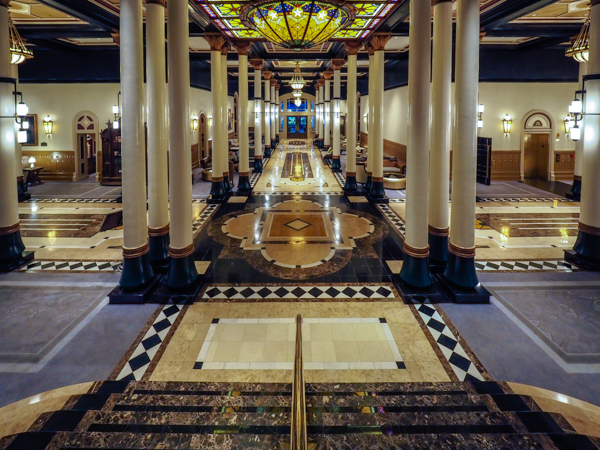 So, in conclusion, I can't help but repeat myself. Wow! It feels so nice to have an old-style camera with new-style finesse, grace—and digital savvy. I was sorry we had to return the camera so soon—three days didn't seem enough to experience all the Pen-F had to offer.
As I understand it, the cameras went back for a firmware upgrade. And while these were final production samples available only to the press, the retail versions won't really be on the market till March.
One thing to keep in mind about Olympus: they keep improving their products, hence the firmware upgrades. It sure beats having to buy a new camera or lens each time just to add enhanced capability, or having to send it back to the shop.
I should add that I focused on selected functions on the Pen-F—functions that governed my ability to use and enjoy the camera effectively out of the box, and then some. For more complete details on camera functions and specs, see Dan Havlik's in-depth introduction to the Olympus Pen-F.
(Note: Select JPEG files were processed in Adobe Lightroom to, among other things, enhance their tonal range and/or color balance. Yes, you can even tweak a JPEG—within strict limits. Also, all images were shot with the camera handheld, unless otherwise noted.)

FEATURED VIDEO