Old Becomes New: Olympus Unveils PEN-F Mirrorless Digital Camera Based On Analog Classic
Olympus just took the wraps off its newest digital camera and it owes a lot to an analog predecessor. Called the Olympus PEN-F, the 20-mepapixel mirrorless camera is the digital update to the original PEN-F "half frame" film camera from the 1960s.
The new PEN-F features a 20-megapixel Live MOS Micro Four Thirds sensor combined with Olympus' 5-Axis Image Stabilization, a built-in 2.36 million-dot OLED electronic viewfinder, and a new Creative Dial on the front of the camera that accesses a range of controls.
Classic Design
The most striking thing about the digital PEN-F though might be its sleek, classic design. The PEN-F's look comes from its predecessor, which debuted in 1963. (Incidentally, "half frame" meant that the original PEN-F employed an 18×24mm vertical portrait format, which produced twice the number of photos on a roll of film. It also meant the cameras and lenses could be smaller, and the original PEN F was one of the smallest SLRs ever made.)
The top and front covers of the new PEN-F body are made from magnesium, and the metal dials (along with the bottom of the body) are made from aluminum. There are several nice touches such as the leather-grained exterior of the camera body and the back of the articulating LCD monitor.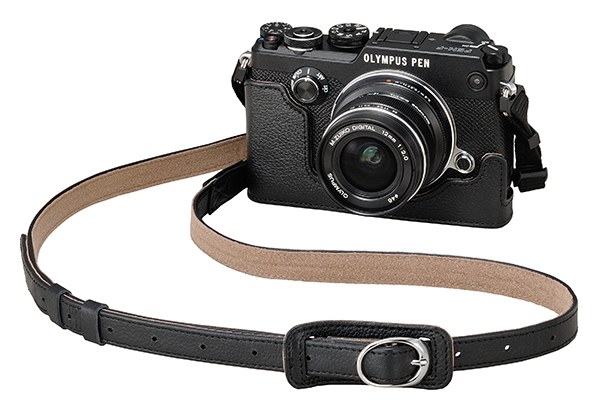 Customizable buttons and dials are positioned to be easy to operate while the user looks through the viewfinder. The new Exposure Compensation dial and four custom modes on the Mode Dial offer quick access to registered settings for fast, direct control.
Features
The digital PEN-F's 20MP Live MOS Sensor is paired with the latest TruePic VII Image Processor. The sensor's low-pass filterless construction is designed to deliver high resolution and a low sensitivity ISO LOW mode equivalent to ISO 80. In addition, the 5-axis VCM (Voice Coil Motor) image stabilization compensates up to five stops of shutter speed. Focal length can be set manually, so even legacy manual-focus lenses can be image-stabilized. The PEN-F's High Res Shot Mode captures images, which Olympus claims are equivalent to 50MP. Plus, Olympus Viewer 3 Ver. 2.0 image editing software has been updated to process High Res Shot Raw images.
The PEN-F's new Monochrome and Color Profile Control functions allow photographers the ability to emulate classic film looks. These functions differ from using photo editing software after shooting because they allow users to apply and check effects in Live View while shooting to create their own images. Both functions include quick-select presets designed to give images the look of classic film. Or, settings can be customized to achieve specific looks. The camera's front-mounted Creative Dial accesses Monochrome Profile Control, Color Profile Control, Art Filters, and Color Creator, all with a simple twist.
Monochrome Profile Control combines five photographic effects — Color Filter effect, Shading effect, Film Grain effect, Monochrome Color, and Highlight and Shadow Control — for a variety of monochromatic expressions. In addition to the default setting (Preset 1), there is also Classic Film Monochrome (Preset 2) for a monochrome film effect with high contrast, and Classic Film Infrared (Preset 3) for an effect that mimics infrared film.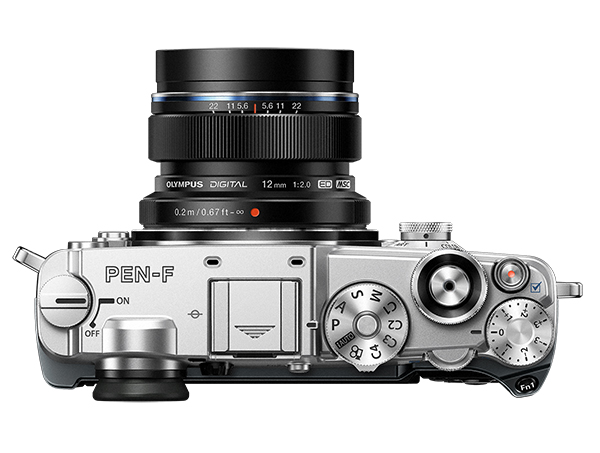 In Color Profile Control, users are able to adjust the color saturation of 12 individual colors in 11 steps. This is combined with Highlight and Shadow Control for limitless color expression. In addition to the default setting (Preset 1), there is also Chrome Film Rich Color (Preset 2), which provides deeper tones in images, and Chrome Film Vivid Saturation (Preset 3), which creates high levels of color saturation. The PEN-F's rear lever lets users easily toggle through the various effect controls, including Highlight and Shadow Control, a feature that also allows for the adjustment of midtones within plus or minus seven steps for advanced customization.
EVF and LCD
The Olympus PEN-F has a built-in 2.36 million-dot high resolution OLED Electronic Viewfinder (EVF) with a 100-percent field of view and a magnification rate of 1.23x (35mm equivalent: approx. 0.62x) for a clear view without aberrations, even at the edges. Simulated OVF (S-OVF) Mode expands the dynamic range and provides an image similar to what would be seen with the naked eye.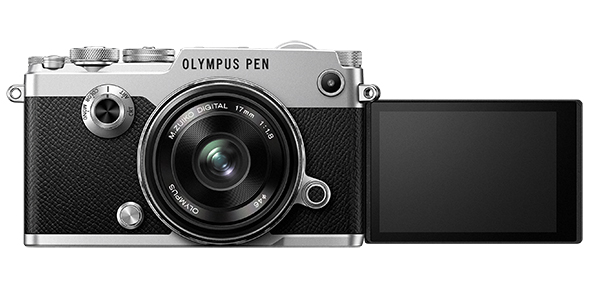 The magnified display function and Focus Peaking (which offers three levels and four colors) allow for extremely precise lens focusing. In addition, the PEN-F's vari-angle, touch-enabled LCD monitor lets users compose Live View shots from a variety of angles, high or low.
Speed
According to Olympus, the new PEN-F features the shortest shutter-release time lag of any compact system camera at 0.044 seconds. The 1/8000-second, high-speed mechanical shutter is designed to capture fast action, and shutter functions can be customized according to the scene. Silent Mode is for shooting in situations that require silence, and Anti-Shock Mode allows users to prevent shutter shake.
The AF Targeting Pad allows users to set focus points by touching the rear monitor with their thumb while composing their shot in the viewfinder. Face Priority AF and Eye Priority AF detect and continuously adjust the focus on faces or eyes for easier portrait shooting.Enhancing the detail of every shot is AF Target Spot Metering, which links the AF Target and the metering area, while Super Spot AF and Small Target AF make it possible to focus on small subjects.
Leather Accessories
Optional accessories include the External Metal Grip (ECG-4) that lets users replace the battery without removing the grip, featuring a Quick Shoe Compatible Rail on the bottom for direct connection to a compatible tripod head. Premium-quality leather accessories are also available in limited quantities. The Premium Leather Shoulder Strap (CSS-S120L PR)features high-quality leather with a two-tone design and a thickness that helps reduce shoulder strain. A Premium Leather Wrapping Cloth (CS-48 PR) made of finely textured genuine leather is perfect for wrapping the entire camera with a large lens attached.
The Premium Leather Camera Bag (CBG-11 PR) is a compact, genuine leather camera bag produced under the direction of AJIOKA Co., Ltd., a Japanese leather manufacturer, with thorough attention to details including pockets, a shoulder pad, and shoulder strap. The Genuine Leather Body Jacket (CS-47B) is designed to protect the bottom of the Olympus PEN-F from bumps and scratches.
Pricing and Availability
The new Olympus PEN-F mirrorless digital camera will go on sale in early March 2016 for an estimated street price of $1,199.99 (U.S.) and $1,499.99 (Canada).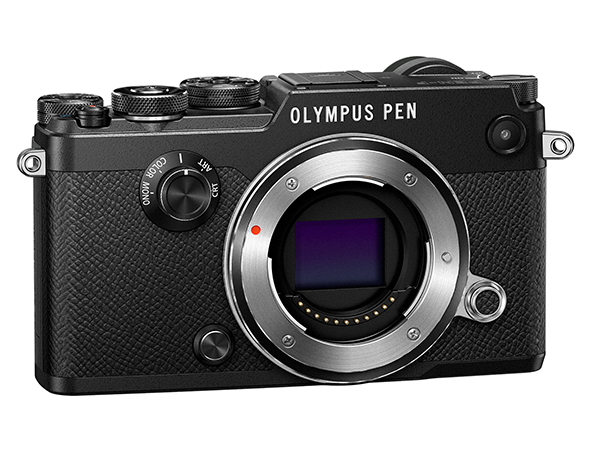 FEATURED VIDEO