Olympus Intros Rugged New Stylus Tough TG-4 Underwater Compact Camera
Olympus announced its latest waterproof, crushproof, shockproof, freezeproof compact digital camera this morning: the 16-megapixel Stylus Tough TG-4.
The successor to the Stylus Tough TG-3, this new Olympus Tough camera is designed to offer better performance for crisper and clearer images in extreme shooting conditions. The Olympus TG-4 features a f/2.0 lens, Raw image capture, advanced macro capabilities, underwater modes (including Underwater HDR), night time Live Composite mode, integrated Wi-Fi and the Olympus Image Share smartphone companion app (for instant sharing). The Olympus TG-4 also has revamped GPS capability, a multifunction e.Compass, and AF target selection.
The Tough TG-4 is waterproof to 50 feet, crushproof to 220 pounds, shockproof from seven feet, freezeproof down to 14°F and dustproof. The f/2.0 lens is designed to capture images with reduced blur, for shooting action or shooting in low-light conditions. The large aperture enables shooting with less noise at a lower ISO speed while snorkeling, exploring dimly-lit areas, or capturing shots in poor weather conditions.
This lens has a range from 25mm wide to a telephoto 100mm and is finished with a durable scratch-resistant lens coating. The camera's DSA (Dual Super Aspherical) technology has a high refractive index and powerful aberration compensation capabilities in a single lens. In addition, HR/HD (High Refractive Index & Dispersion) lenses are used to suppress chromatic aberration.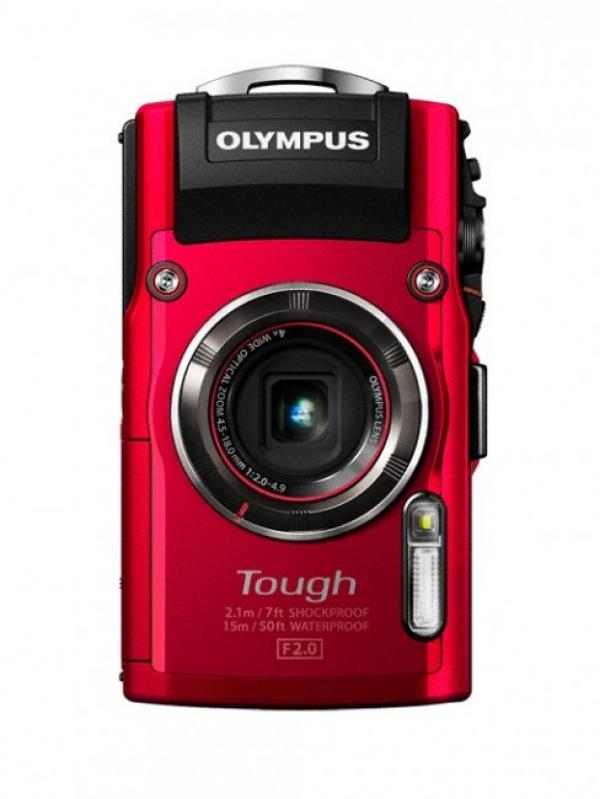 The Variable Macro System includes a Microscope mode that can capture subjects just 1 cm away from the end of the lens at a focal length of 100mm. The lens magnifies subjects up to 44.5x with Super Resolution Zoom. To ensure macro shots are as clear as ever, the Olympus Stylus Tough TG-4 uses a Focus Stacking mode to capture eight different shots continuously while shifting the focus from the foreground to the background. Then, focused areas are extracted and merged to produce a single photo with maximum depth-of-field.
The camera's on-board GPS can be used to display (and record) landmark information in your photos. This system narrows down your location in under 10 seconds via multiple satellite systems, and the Olympus Image Track (OI.Track) app includes GPS data when sharing and uploading images and video from your smart device. In addition, the Tough TG-4's multifunction e.Compass provides barometric pressure, altitude, and water depth as it displays direction.
The Tough TG-4 boasts Raw image shooting for maximum resolution capture as well as AF Target selection. Advanced users can expand the possibilities of creativity by using the included software (Olympus Viewer 3) to fine tune exposure, contrast, white balance and color balance when editing RAW images. AF Target selection allows for more convenient shooting. Use the arrow pad to set your preferred focus area to enhance focusing accuracy. Simply frame the shot, select the focus point, and capture your subject.
Additional new features on the Tough TG-4 include two custom modes (C1 and C2) on the mode dial for instant access to your favorite settings. Capture night scenes, star trails, and cityscapes with the new Live Composite feature. The brightest areas from multiple sequentially shot images are extracted and composited to capture stunning light displays. For underwater adventurers, the new Underwater HDR corrects color tones and changes the exposure while shooting multiple images to create an underwater HDR photo. This feature creates vivid underwater scenes with enhanced light and shadow.
New to the accessories line-up is the Sport Holder CSCH-123 (sold separately), which can be used to secure the Tough TG-4 to a backpack or belt and easily remove it with a single hand. The Sport Holder includes a carabineer and spiral cord to secure the camera and prevent drops and falls. For ultimate underwater protection, the Underwater Case PT-056 (sold separately) is pressure-resistant down to 45m, featuring a black coating on the polycarbonate body to prevent light beam leakage.
The Olympus Stylus Tough TG-4 will be available in black and red beginning in May 2015. It will sell for $379.99.
More info on the Olympus Stylus Tough TG-4 here.

FEATURED VIDEO