Olympus Debuts New TG-860 Waterproof Tough Camera with 180-Degree Flip LCD Screen for Selfies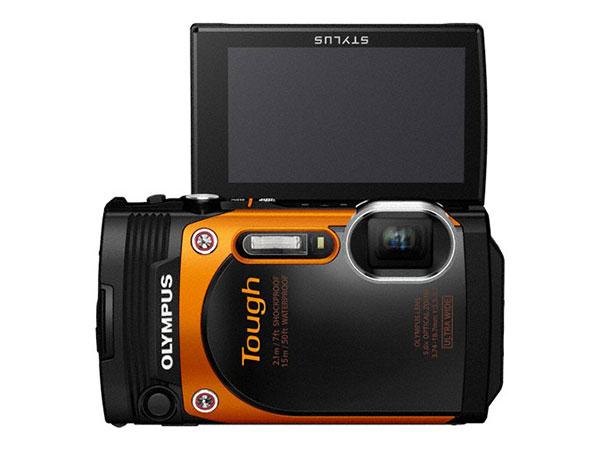 Olympus launched its new rugged Stylus Tough TG-860 camera this morning, which features a wide 21mm lens, 5x optical zoom and a 180-degree flip up rear LCD screen to make it easier to shoot "selfie" self portrait photos, even in rough shooting conditions.
The 16-megapixel Olympus Stylus Tough TG-860 camera also has GPS with multiple satellite system support, built-in Wi-Fi, a variety of shooting modes and Art Filters to capture different looks and produce different effects in your photos, whether under water or on land.
The TG-860's metal body is built to stand up to extreme conditions; the camera is waterproof to depths of 50 feet (15 m), freezeproof to 14°F (-10℃), shockproof from 7 feet (2.1 m), crushproof to 220 pounds (100 kgf) and dustproof. The Stylus Tough TG-860's features a 21mm-105mm (35mm equivalent) f3.5–5.7, zoom lens and it's powered by Olympus' TruePic VII image processor
The TG-860 can capture Full HD 1080p video at 60 frames per second, with 720 60p and 480 60p options also available. The camera can also record High-Speed Movies at 120 frames per second at 854x480 (16:9) or 640x480 (4:3) or 240 frames per second at 640x360 (16:9) or 480x360 (4:3) resolution. A Time-Lapse Movie mode is also available, capturing images in 0.5, 1, 3, 6, 12 and 30-second intervals, while a Sport-Burst shooting mode allows you to shoot sequential images with a shutter interval from 0.05 to 60 seconds.
An optional PT-057 Underwater Case expands the TG-860's underwater capabilities to 147 feet (45 m), while an optional UFL-3 Underwater Flash helps you illuminate shots while submerged. A CSCH-124 Silicone Jacket is designed to protect the camera from scratches on land, while a CSCH-123 Sport Holder allows you to attach the camera to a backpack or belt for hands-free photography during extreme sports.
The Olympus Stylus Tough TG-860 goes on sale in April 2015 in black, orange and white versions for $279.

FEATURED VIDEO