Nikon Says "High Resolution, High-Speed" D850 DSLR Is Coming Soon; Will Replace D810
Nikon announced tonight it is developing the D850, which is the company's "next generation full-frame, high-resolution, high-speed digital SLR." The Nikon D850 will be the successor to the 36.3-megapixel D810 that made its debut back in 2014.
Nikon's announcement of the forthcoming D850 is timed to help celebrate the company's 100-year anniversary, which falls on today's date (July 25th).
"The D850 will be a formidable tool for creators who will not compromise on exceptional image quality and versatility, including both aspiring and professional photographers as well as hobbyists who capture landscapes, weddings, sports, fashion, commercial imagery and multimedia content creators," Nikon said in tonight's press announcement.
"This powerful new FX-format digital SLR camera is engineered with a range of new technologies, features and performance enhancements that are a direct result of feedback from users, who demand the very best from their camera equipment."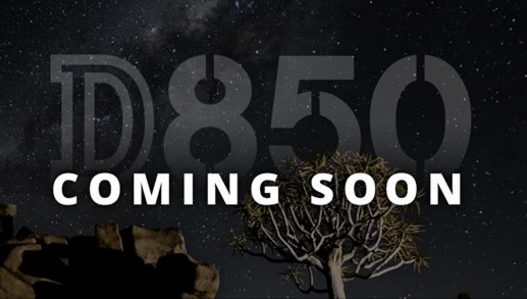 Unfortunately there are few specific details about the new FX-format DSLR from Nikon at this time, including when it will be officially unveiled and when it will ship. We suspect, however, that more will be revealed in the next few months. Back in November 2015, Nikon said it was developing the Nikon D5 and not long after, that camera officially was launched.
Below is a video released today by Nikon USA to tease the forthcoming D850. The video was shot on the D850 and includes the text "Hercules Rising" and "8K Time-Lapse."
Here are a few more products that Nikon has announced so far to commemorate its 100th anniversary.

FEATURED VIDEO