Nikon's D3; The New Pro Flagship "Full-Frame" D-SLR
The D3 is positioned as a pro camera, priced and marketed to those whose livelihood depends on consistently creating the best possible images, be they photojournalists, sports or fashion photographers. The two things that someone who makes a living in photography looks for in any new camera is quality and "what can this camera do for me?"
Don't let anyone who makes a living designing and selling cameras fool you. It's all about real estate. All other things being relatively equal, 12 megapixels (Mp) on an APS-C size chip is not the same as 12Mp on a full-frame chip. Quite simply, a bigger sensor costs more. That said, thank goodness for Four Thirds chips and inexpensive cameras, but thanking goodness doesn't increase the resolution or quality. So, instead of trying to see how many megapixels can fit on the head of a pin, Nikon has gone "full frame" (sensor size is equivalent to 35mm format) with the D3 in order to achieve more speed and less noise. The 12.1Mp full-frame CMOS chip with a built-in fixed low-pass filter is a complete redesign that exhibits exceptional light transmission properties, even in low-light situations. The pixel pitch is 8.45 µm, which is 15 percent larger than other cameras. This translates to ISO settings from 200 to 6400, expandable from 100 to 25,600!

This equates to high-quality images at very low levels of light. The result is a camera that can expose at 11 fps (frames per second) with an imperceptible shutter lag of 41 milliseconds and a start-up time of 0.12 seconds and still produce images that can be printed 24" wide on an Epson 7880 large format printer with Kodachrome-like results.

While I had the D3 on loan from Nikon I received an assignment from a local production company. They were mounting a musical entitled "Dorian--The Remarkable Mister Gray" based on Oscar Wilde's The Picture of Dorian Gray. In the production there is a picture of the protagonist, Dorian, which remains present on the stage throughout the play. For the image to be seen from the audience it had to be printed 4 ft x 6 ft (#1).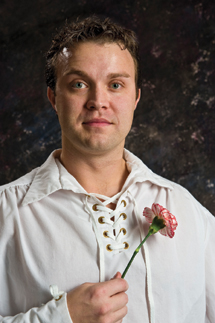 #1 Jason Bailey plays the lead in "Dorian--The Remarkable Mister Gray," a Pentacle Theatre production; book, music, and lyrics by Randy Bowser. This image is meant to be enlarged to 4 ft x 6 ft. (A 24-70mm f/2.8 ED lens at 70mm (105mm in 35mm); f/11 at 1/60 sec; ISO 200; Profoto AcuteB 600R monolight with strip light softbox.)
All Photos © 2007, Steve Anchell, All Rights Reserved
Image 2 is an unsharpened enlargement of Dorian's eye. By that I mean unsharpened in the camera, in Lightroom, in Photoshop--unsharpened.
#2 A 100 percent enlargement of #1. No sharpening was used at any stage.
For me, it's a given that a camera can record an exceptional image--but what other features and options are available to make the camera more versatile? Here are some key features that make the D3 a true pro contender:
LiveView
LiveView allows you to frame your subject on the LCD screen in situations where it would be difficult to use the viewfinder. If you find yourself holding the camera low to the ground you can make use of the 170° viewing angle of the 3" high-definition VGA LCD screen. This is precisely what I found myself doing while photographing in an antique store using a Lensbaby selective focus lens (#3).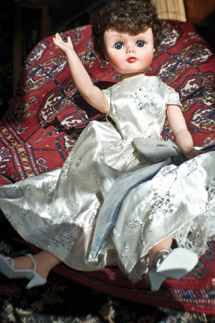 #3 A doll's life. This collectible doll was photographed at an antique store in downtown Salem, Oregon, using a Lensbaby selective focus lens. Because the doll was approximately 1 foot off the ground I used LiveView to frame and focus. (F/11 at 1/125 sec.)
Wireless Transmitter
The wireless transmission, using the optional WT-4 to upload images to a computer for viewing or printing or to control the camera from a remote computer location, is an invaluable function. In fact, in this day and age this should be standard on any camera intended for pro use. In a studio environment the art director or client can be viewing thumbnails on the screen while the photographer is still photographing. The art director can see what the photographer is seeing and make on-the-spot corrections. The photographer can check lighting on a full screen without having to take the card out of the camera and load it into an image editor.

The application for law enforcement surveillance is obvious. I predict a new round of house cleaning in Congress as law enforcement agencies attempt to justify the cost of a new D3 in their annual budget.
Virtual Horizon
Another feature of note is the horizontal tilt meter, a.k.a. Virtual Horizon. The horizontal tilt meter can be enabled through the menu, in which case an airplane cockpit-style circle with a floating horizon appears on the monitor. It can also be assigned to a function button on the lower right side of the lens. If the latter is chosen the tilt meter appears as an analog scale in the viewfinder and on the top control panel. In either case, the applications for this in both architectural and landscape work are apparent and valuable. It would be nice, however, if future models included a vertical tilt meter as well.

FEATURED VIDEO