Nikon's D3; The New Pro Flagship "Full-Frame" D-SLR Page 2
Dual CompactFlash Cards
The D3 is the first camera, to my knowledge, to have dual CompactFlash card slots. These can be configured in one of three ways: 1) when the first card runs out of storage space the second card takes over without a pause, 2) one card can write raw files while the other writes JPEGs, and 3) the second card creates a simultaneous backup. Images can even be transferred from one card to the other.
HD LCD Monitor
I've already mentioned the 3" high-definition VGA LCD screen. What I didn't say was that the LCD used in the D3 (and the D300) has 1920 columns x 480 rows, which add up to 921,600 dots. The pixel array has also been changed to use "stripe array," instead of "delta array." Stripe array is the same array used on a computer LCD screen, a simple RGB layout with all rows the same. Delta array uses an RGB pattern on one row and an offset BRG pattern on the next row. The result of all this is a very high-definition screen that can be used to accurately view and preview images for sharpness and focus, both in LiveView and image preview. There has never been anything this good on a D-SLR.

There are numerous other features, including the ability to connect to a GPS via an optional adapter cord and a 60-second voice memo. All of this sounds great on paper but anyone can read the specs on the promo sheet. So, it's time to take a look at some of the great and not so great aspects of the camera.
The Good
This camera is designed for action. Indeed, if it had a middle name it would be Nikon "Action Jackson" D3. If photographing sports is your thing then run, don't walk, to the nearest store and buy a D3. It's not just the new EXPEED image processing system, which allows the D3 to capture and process massive amounts of data at high definition. It's not just the 9 fps in full-frame Capture mode and 11 fps in DX mode. It's the 51-point 3D tracking setup that makes this the king of sports. To test this I first photographed the Les Schwab Invitational High School Basketball Tournament.

I used 51-point AF, 3D Color Matrix II metering, Shutter Priority set at 1/125 sec, and the default advance speed of 5 fps on Continuous Low (Cl) Advance mode. I also used ISO 800, JPEG Fine, and DX. I used DX mode to gain some reach on the 24-70mm lens which Nikon sent--a little short for photographing down a basketball court.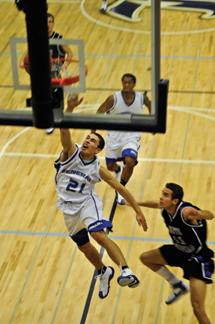 #4 Grant Generals' Michael James #21 scores during the 12th Annual Les Schwab Invitational held at Liberty High School in Hillsboro, Oregon. He is supported by Paul McCoy #23 and flanked by South Medford Panthers' Michael Work #41. The Nikon D3's 51-point focusing was able to accurately zero in on James, who I had been following as he moved toward me on the court. (A 24-70mm f/2.8 ED lens at 70mm (105mm in 35mm); f/3.2 at 1/125 sec; ISO 800.)
Overall, I was quite pleased with the results. Exposure was spot on, and I was able to capture all but the most difficult photos, and some of that was my own inability to keep up. In fact, I returned with a much higher percentage of in-focus, perfectly exposed images than I have with any other camera. And at ISO 800 and DX mode the noise is almost imperceptible. Don't get me wrong, though. There is noise, but I wouldn't hesitate to use these action photos (#4 and #5) in a high-quality glossy publication. (Are you listening, Sports Illustrated? Photographer for hire.)
#5 A close-up detail from #4. The noise is smooth and evenly distributed throughout areas of similar color and contrast.
Now that I had a better feel for the camera I decided to try photographing a really fast sport. Nothing moves faster than hockey, even auto racing pales by comparison--I know as I have photographed both Grand Prix and Demolition Derbies. So I arranged to photograph a Portland Winter Hawks hockey game.

This time I started with 51-point 3D tracking, 11 fps on DX with Continuous High (Ch) Release mode, 3D Color Matrix II metering, and the shutter speed set at 1/250 sec (1/250 sec or faster is necessary in order to use 11 fps). Hockey makes basketball look slow, especially when the players are whizzing past at arm's length from where you are standing. I was pleased at how well the predictive focus worked once the main subject was identified in the viewfinder.

The 11 fps was another matter. I found it too fast. I was blazing through my card and every other image was so near the one before that I decided to switch back to 5 fps Cl to keep from running out of card space--if I wanted video I would have brought a camcorder. As it turned out, I made almost 900 images at a game that was only 45 minutes long, compared to 630 images made during four hours of basketball! Once again, I came away with a higher percentage of useable images than with any camera I had worked with before (#6).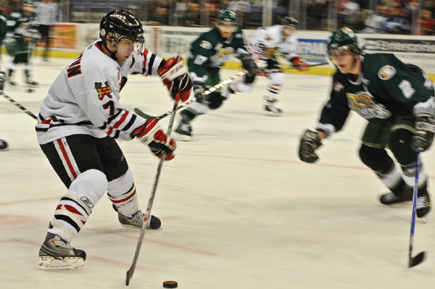 #6 Portland Winter Hawks' Tyler Swystun #7 faces off with Dane Crowley #2 of the Everett Silvertips. For this image I used the 51-point 3D tracking system. (A 24-70mm f/2.8 ED lens at 70mm (105mm in 35mm); f/5.6 at 1/125 sec; ISO 800.)
When photographing sports I like to keep the shutter speed above a minimum, usually 1/125 sec (unless I'm going for a panning effect, which I often use at horse races). The D3 (and some other Nikons, including the D2X) has a lock feature which is accessible on the left side of the penta-prism. In both Manual and Shutter Priority modes this allows you to lock the shutter speed so you don't inadvertently move it to a lower speed. In Aperture Priority it allows you to lock the f/stop. Having experienced accidentally moving the shutter speed while working fast I found this to be a welcome feature.

There are numerous "little things" that make the D3 a pro-level camera. Nikon seems to understand that a pro needs to be able to see and quickly change critical settings on their camera, so just about everything you might want to change is right at hand. Things like ISO, mirror lockup, Advance mode, AF/MF, image quality (raw, JPEG, TIFF), Metering mode, and yes, shutter speed lock...these need to be one-touch accessible as they are on the D3, not buried in a hierarchy of menus.

Another feature of the D3, which has more to do with Nikon's long-term commitment to the pro, is backward compatibility with older lenses. If you have almost any Nikon lens, dating back even as far as the early 1970s, it will work on this camera. No, not all the functions will be accessible, but you can mount the lens and start photographing. This is also true of the current generation of DX lenses. Even though the DX lenses will only allow you to photograph in the smaller format (23.7x15.7mm) you don't have to sell them on eBay and buy a second set of lenses in order to use this camera.

LATEST VIDEO

SPONSORED VIDEO
Testing Tamron's SP 150-60mm G2 lens while capturing birds and alligators in Apalachicola, Florida.