New Gear For 2007: PMA Report; Best Of Show
As part of our coverage each of our reporters were asked to pick out what they considered the Best of Show product, service, or idea. In most cases it is the item that caused them to reconsider how they worked or that sparked their imagination. While each reporter had their beat, this category was open game for all, and most "crossed lines" to find their pick.

Canon's EOS-1D Mark III And Olympus' EVOLT E-510
The fastest D-SLR camera in the world, the new Canon EOS-1D Mark III definitely deserves the Best of Show award because of its 10 frame per second (fps) Drive mode and full-time live view option (with manual focus only). While not everyone needs such blazing speeds, sports, news, wildlife, and celebrity photographers are probably lining up to get this entirely new 10-megapixel camera. My colleague Joe Farace provides full specifics in his report in this issue, but several features are worth additional emphasis. In my estimation the following will be most valuable in real-world photography: the Live View mode that allows for a preview of the scene for long periods of time on the huge 3" LCD monitor, the ultrasonic sensor cleaning system, and the 1/300 sec flash sync speed that's great for outdoor photography in bright light.
Sure, the EOS-1D Mark III is huge, heavy, and expensive, but it's built like a tank, incredibly well sealed against dust and moisture and is among the most versatile cameras on the market. Note, too, that the CMOS sensor is much larger than average so the photosites (pixels) are larger, potentially providing wider dynamic range and superior high ISO quality. Because of the larger sensor, the "focal length conversion factor" is only 1.3x instead of the more typical 1.6x. That's ideal for anyone who loves ultra-wide angle photography because there's less need for unusually short focal length lenses. Hopefully, Canon will also introduce a more affordable (consumer-grade) EOS camera with the 3" LCD and Live View mode even if it will offer only the more common APS-size sensor and 3 fps advance rate. And that is likely before the end of 2007 since the best features of the pro cameras generally begin to work their way down the line within a year or less.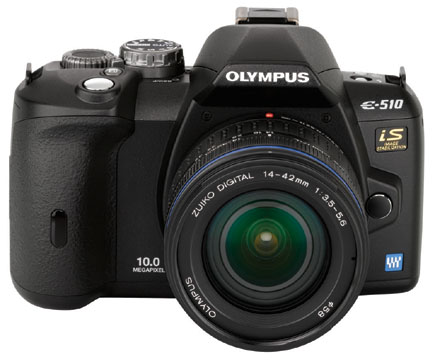 Those who want a budget-priced ($799, list) D-SLR with a live view feature will love my second choice as Best of Show: the new 10-megapixel Olympus EVOLT E-510. This full-featured camera not only provides full-time live preview on its 2.5" LCD screen but allows for the use of autofocus during that process. Granted, that's a bit slow because the reflex mirror must flip out of the light path for the AF system to operate but it certainly works well otherwise. The even more affordable ($699) and smaller EVOLT E-410 provides the same resolution and live preview feature, but I selected the E-510 because it offers a significant bonus: a built-in Image Stabilizer that works with any compatible (Four Thirds) mount lens. Similar in concept to the CCD-shift Stabilizer employed by Sony and Pentax for their D-SLRs, the Olympus system should be just as effective in minimizing image blur caused by camera shake.
--Peter K. Burian

HP's Designjet Z3100
My Best of Show pick is the HP Designjet Z3100, with 12 pigment inks and 200 years archival life. Sized up to 44" wide, the printer even includes a built-in spectrophotometer for creating custom profiles. If you're a black and white fan, the printer works as a quadtone black with two blacks and two grays when printing to fine art papers. The gloss enhancer eliminates bronzing and gloss differential when printing on gloss and satin media.
--Jon Canfield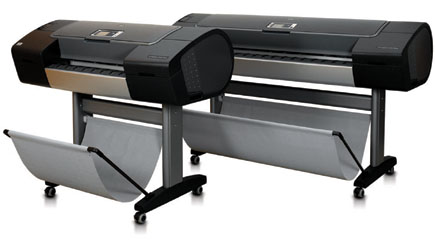 Canon's PowerShot TX1
Maybe it was the motel I stayed in during PMA, where I was treated to live daily performances of TV's Cops (or maybe it was Reno 911), but my accommodations and the live action made me susceptible to the charms of video capture. That may be the reason my Best of Show is Canon's PowerShot TX1, a "do-it-all" capture device. It's more than just another digicam. For openers, it's a 7.1-megapixel TX1 digital camera wrapped in a cool-looking stainless steel case about the size of a deck of playing cards. The TX1 has an Optically Image Stabilized 39-390mm (equivalent) zoom lens and an LCD screen that swings out camcorder-like from the camera's side.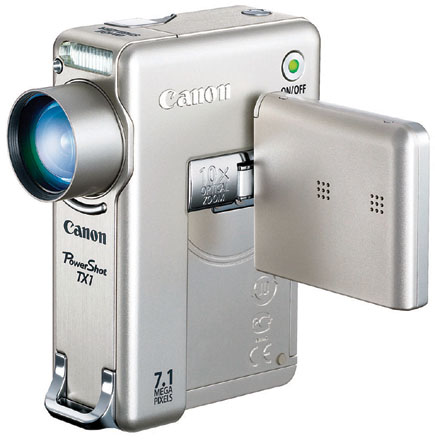 The camcorder analogy is appropriate because the TX1 has 30 fps High Definition video capability. Its Image Stabilization system shifts the lens to compensate for unwanted motion, making it easy to capture movies in low-light conditions. The TX1 digital camera can shoot 640x480 pixel video clips at 30 fps in a traditional 4:3 aspect ratio with the option of shooting at 30 fps or 60 fps at 320x240 pixels. Its MovieSnap feature even lets you capture high-resolution still images while recording movies. For storage, the device uses SD, MMC, MMCplus, and the new SDHC memory cards.

Like its big brother and Canon's new halo camera, the EOS-1D Mark III, the TX1 has a DIGIC III image processor (but only one of them) that offers aggressive noise reduction and the ability to shoot from ISO 80 to 1600. In addition, the camera has Face Detection (soon to be appearing on everybody's point-and-shoot) that can detect, lock on, and track multiple human faces in a scene. The TX1 uses this for video clips as well as still images. What would Face Detection be without Red-eye Correction? Canon's latest version detects and corrects same during playback or manually while viewing photos on the TX1's LCD screen.

The TX1 digital camera has 14 Shooting modes, including Automatic, Manual, Super Macro, Color Accent, Color Swap, Stitch-Assist, and seven Special Scene modes with Portrait, Night Snapshot, Indoor, Foliage, Snow, Beach, and Aquarium for your next visit to Monterey. The TX1 is compatible with Windows Vista and XP as well as recent versions of Mac OS X. I predict the $499.99 PowerShot TX1 will be as important a camera and show the direction for future Canon offerings just like the company's original Sure Shot.
--Joe Farace

FEATURED VIDEO