New Gear For 2007: PMA Report; Best Of Show Page 2
Convertible, Versatile Monopod And A Universal Charger
I found the group of new products for holding cameras from Trek-Tech quite interesting and different from the norm. The basic component is the TrekPod, a combination hiking staff/monopod/tripod. There is a comfortable cork grip with a wrist strap for easy carrying. At the base three short legs can be spread out for a more stable support than obtainable with a monopod. It's not as firm as you get with a conventional long-legged tripod, so it's more of a steadying support that is self-standing. At the top is a quick-release ball head mounting system held in place with a strong and quickly released MagMount. It lets you remove the entire top rapidly to replace it with another component. Accessories include a wooden palm rest for the top, for when using it as a walking stick, and a horizontal VersaMount component that can be positioned anywhere on the vertical shaft for lower angle shooting positions via a ball socket camera support. Several of the components use a unique, powerful magnet to hold them together yet allows them to be quickly separated for carrying or changing.
Another pick for my Best of Show is the MFUEL Universal Charger. Now that nearly every camera or photographic accessory requires a rechargeable battery to operate it--often entirely different in size or voltage--keeping track of the proper cord required to recharge them all can be tedious, not to mention confusing and space wasting. The new and appropriately named MFUEL Universal Charger accepts both AA- and AAA-size batteries and has two sets of fold-out terminals so it can be used worldwide. It can even be used to charge batteries in your car. It accepts both Ni-MH and lithium ion batteries.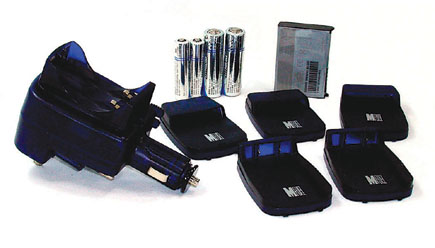 The bonus is that if you have several different sizes and shapes of digital camera rechargeable batteries you can simply purchase the proper charger receptacle module to replace the AA/AAA charging unit. Thus, one relatively small charger can be used to recharge all of your various batteries. At a price of $30 for the basic small plug-in unit, it's very reasonable and much smaller than lots of factory-supplied chargers that typically have long cords that make them bulky to store. International Supplies, the firm that handles the MFUEL products, also offers Power Bank portable color-coded power supplies, suitable for use with a broad range of portable electronics.
--Robert E. Mayer

Have Data, Will Travel
I've rarely had much need for a USB flash drive. I know, these drives let you carry a lot of information around in a very tiny package, and now that the world has progressed to USB 2.0, problems with these drives are negligible, if nonexistent. But still, I would occasionally use one, and the ones I did have were always low capacity so they held very little.
Kingston Technology DataTraveler Reader
Now that these drives are available in the gigabyte range, I'm beginning to find them more and more useful. With the DataTraveler Reader from Kingston Technology I have no excuse not to carry around a flash drive. What makes these pen drives special is not their capacity--they're available in 1, 2, and 4GB versions (under $40 for 2GB), which is not in itself remarkable; I fell in love with this USB 2.0 flash drive because it's also a card reader. Lift up the lid to reveal a small slot in which an SD or MMC card will fit, or any SD or MMC variation, including SDHC (some requiring an adapter).

Will the computer recognize both the drive and the card separately? I tried it on my Windows XP Dell and my Intel iMac and the answer is a resounding Yes! Technology is not only getting more clever, but it's also getting more practical. Which is why I chose the DataTraveler Reader as my Best of Show from this year's 2007 PMA.

And speaking of practical, I found two very close contenders. Samsung impressed me with the L74 Wide digital point-and-shoot because of its Tour Guide function, which provides travel information covering 4500 regions in 30 countries. The camera comes equipped with 450MB of internal memory in which all this information is stored. As I understand it, the camera acts as a GPS (with the help of a flash drive-size accessory module) that can help identify places I'm photographing, especially when they're off the beaten path. I'm looking forward to testing this feature out in the field.
Another close contender is Delkin's SensorScope D-SLR sensor treatment center, as I like to think of it. The full kit is a one-stop shop for first determining whether and where there is dust on the sensor and then cleaning it with tools that permit you to do so carefully and methodically. First the scope itself provides an intimate view of the sensor, then tools such as a brush-tipped vac and a sensor wand/solution combo go in to tackle the problem as needed. It's a one-two punch. And talk about being practical, it all comes in a handy carrying case.
--Jack Neubart
Delkin's SensorScope D-SLR
New Tech And Image Uses
Rather than choose one or more actual products my Best of Show pick for 2007 is new technology that now or in the near future will be found in a number of products. Each of these "new tech" items helps us all create better images, encourages more and easier sharing techniques, and promises even more development for imaging in the future. While each of these capabilities deserve more discussion, I'll just list them here in the knowledge that we will explore them further in coming issues of Shutterbug.

1) Face Detection: While we covered this in our January 2007 issue in our photokina report, more cameras now have this "face-finding" technology. What's exciting about the future of this capability is that it will eventually be applied to finding specific faces in our image libraries, allowing us to sort and catalog all images with one special person at the touch of a button.
2) In Camera Tagging: A number of cameras now allow us to begin the all-important task of putting images in folders, before or after we shot, right in the camera, thus attaching the "tag" or keyword to the image file info before we download to our hard drive. This saves lots of time and effort later.
3) Live View: This technology continues to evolve and will become a more standard feature on future D-SLRs. New additions include Live View with pre-exposure histogram, depth of field preview, and full information screens. It's the "externalization" of the SLR viewfinder.
4) GPS: While the wireless features on cameras continue to improve I'm just as excited about the affordable accessories that bring GPS to more and more cameras. When coordinated with software that can link with Internet mapping functionality the sky's the limit on who can use this in their work and how vacation photos might be shared.
5) Photo Albums: The infrastructure for creating a wide range of digital photo albums, everything from simple "brag books" to elaborate wedding albums, is now in place. Any numbers of companies, such as Apple with Aperture and Kodak with their EasyShare Gallery, and retailers, from Internet finishers to local camera shops and minilabs, are offering the service. If you haven't tried making a photo album from your digital images because you thought it too difficult, it's time to give it another try. To me, it's one of the most exciting ways to share and preserve images to come along in years.

Manufacturers/Distributors' addresses can be found by visiting the Instant Links section of our website at: www.shutterbug.com/currentissuelinks/.
--George Schaub

FEATURED VIDEO