Cameras, Lenses & Accessories Debut Next Week at Photokina, the World's Largest Imaging Show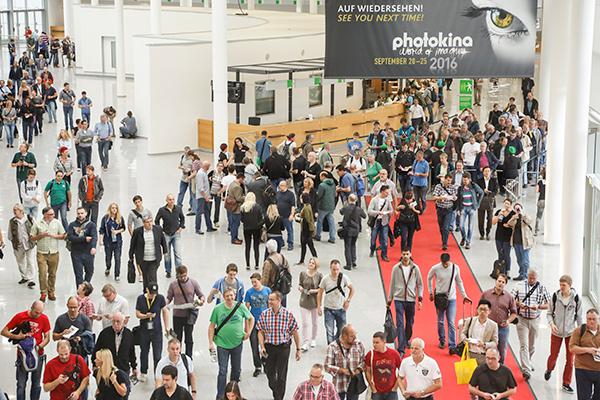 Photokina, the world's largest imaging show, will open its doors in Cologne, Germany in a week and an array of new cameras, lenses, and assorted photo accessories are set to make their debuts at this massive event.
Photokina 2016 starts on Tuesday, September 20th, and organizers are expecting 185,000 international visitors will be checking out the latest and greatest imaging gear from 1,000 companies from over 40 countries in 11 exhibition halls. This six-day event will take place from Sept 20-25, 2016
Here's a rundown of some of the events that will take place during photokina.
Multimedia
Photokina 2016 will offer more multimedia events and opportunities for interaction than ever before, organizers said, and the theme this year is "imaging unlimited" with lots of new photo tech being showcased. On display will be Smart Home functions for cameras, cloud services, apps, wearables, audio and video, but also augmented and virtual reality, along with more traditional photo gear.
Workshops
In a series of photo and video workshops in the city of Cologne, professionals and amateurs, adults and children can look at the city from a photography perspective while learning lots of tips and tricks on how to take better images and videos. Spectacular large-format projections will be displayed on the Rhine river, and while strolling around the city, visitors can have a souvenir snapshot taken in one of the photokina photo boxes and, at the same time, pick up a voucher code for a day ticket to photokina.
Fun & Games
Photokina attendees who like things to be a little turbulent, should apply for the Indoor Obstacle Challenge in Hall 6 as soon as possible. From September 23-25, the task at hand for all action lovers will be to master the first indoor obstacle race in Germany while equipped with a high-tech camera, which will capture a recording of the entire event.
The Copter World in Hall 6 is also inviting the guests to join in: visitors can try their hand at test flights on a drone course. Professionals will demonstrate the potential of capturing still images and video from the bird's eye view perspective of a flying drone.
Video Blogging
In Hall 5, the theme at the VLOG CON for video bloggers is also moving images. In live tutorials, experienced and successful YouTubers will offer insight into the special features of online video, from the planning, to the production and editing, all the way to the distribution of content for video platforms and one's own blog.
The latest camera models and lenses can be tested in the photokina zoom area: On the Piazza, tight-walking acrobats, artists and spontaneous walking acts will offer fantastic motifs for photographs and videos from unusual angles.
US Imaging Companies at Photokina
Along with Japanese and German photography giants such as Canon, Nikon and Leica, there will be a strong US contingent of manufacturers at photokina.
Among the exhibitors will be approximately 50 U.S companies showcasing their newest photo and imaging products. Here are some of the U.S. highlights:
Black Rapid, one of the world's leading players in the sling strap market, will show their new line of camera carrying devices. The company launched their first line in 2008 and will show an advanced version. (Hall 4.1, C 24)
ShootProof will present their online sales solutions, which integrate print and digital download fulfillment for professional photographers. The company offers galleries for professional wedding and portrait photographers to share, sell, and print their work. (Hall 4.1, I 26)
One of the world's most versatile cameras displayed will be the Vuze Camera powered by Human Eyes. This camera is the world's first consumer virtual reality 360 3D camera. It comes with an integrated function for automatic VR movie production. (Hall 9.1, B 14)
A "must-see" for studio photographers will be the new Savage Drop Stand used for easy light set-up stand with auto-extending and collapsing legs. The feature allows easy repositioning of lighting when moving between groups and in tight spaces. (Hall 4.1, F-39)
Another highlight will be the MagMod flash modifiers using two strong neodymium magnets to attach modifiers to the flash device making the picture capturing process more effective. (Hall 4.1, C 29)
Goal Zero will come with their newest lines of battery chargers with the 100 Solar Recharging Kit and the Venture 70 line which charges phones, tablets, cameras and other USB powered gear multiple times. (Hall 9, A 21)
13 North American exhibitors will use the US/Canadian group exhibits in Halls 2.1, 3.1, 4.1 and 9 to present their lines.
A magnet for professionals and amateurs will be the photo exhibition of the United Nations titled "At 70 at Photokina 2016". This exhibit will depict works of the UN around the globe, including peace-keeping, peace-building, and humanitarian assistance. It was made possible through the cooperation of Koelnmesse, in coordination with the Department of Public Information of the UN as well as the corporate sponsorship from Lifetouch Inc., the world's largest employee-owned photography company.
More info at photokina.com.