Nat Geo Photographer Saves Her Mother and 3 Dogs from Hurricane Harvey Flooding in Houston (VIDEO)
Those of you who followed Hurricane Harvey know that the huge storm dropped unprecedented levels of rainfall on Texas and resulted in over 40 deaths and major devastation to property and infrastructure. But as you'll see in the video below, we also witnessed numerous acts of compassion and heroism.
Erin Trieb in a National Geographic photographer based in Istanbul who happened to be visiting Texas when the storm hit. For this five-minute clip she documented the hair-raising experience of evacuating her mother and dogs from rising floodwaters in Houston.
After earning a degree in photography at Texas A&M University, Trieb photographed conflicts in Israel and the Palestine territories for the Dallas Morning News and Houston Chronicle. Now living in Istanbul, her work has appeared in newspapers and magazines across the globe.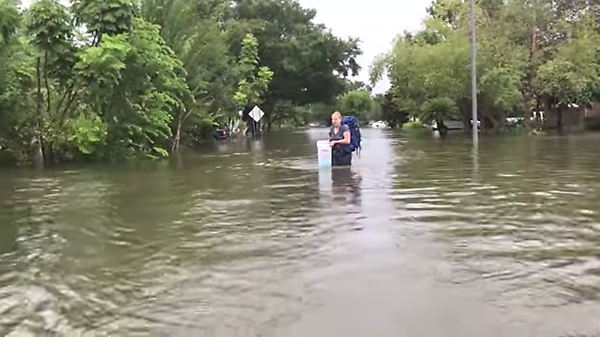 Harvey is the third hurricane that Trieb has photographed, but she says "I have never before had to turn the camera on my own family, who has experienced substantial flood damage," she says.
You can see more of Trieb's imagery on her website, and for a lighter video from National Geographic check out our earlier story with a slow-motion look at how hummingbirds feed, fly, and hover.

FEATURED VIDEO