Mixed Bags: Our 7 Favorite New Photo Backpacks for All Budgets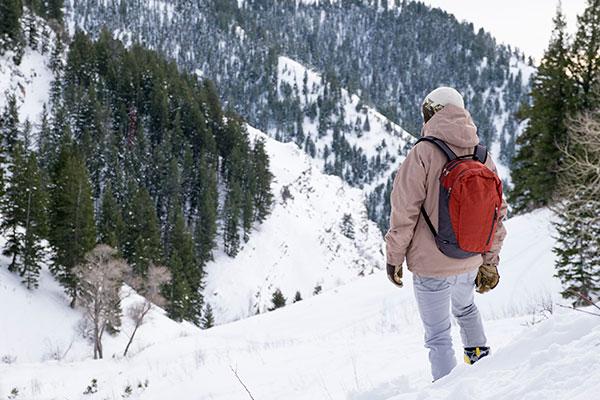 Photographers young and old love photo backpacks. Small wonder: they're easy to carry, as durable as a mountain goat, and they hold a ton of gear. Photo backpacks are available in hundreds of styles and colors, and at every price point. Which to choose? Here are our picks of seven new camera packs that run the gamut from economical to luxurious.
1. USA Gear UBK DSLR Camera Backpack, $35

Don't let the price fool you. The USA Gear UBK DSLR Camera Backpack is a budget-priced, no-frills bag but it's very well made. Designed for a beginner, youth, or casual shooter, quality is on par with the camera-branded backpacks you sometimes see bundled with mirrorless or compact cameras. The inside of this pack is fitted with easily movable padded dividers. The outside is an attractive, durable gray fabric. It fits a compact DSLR, up to five lenses, and other small accessories. On the front flap there is a small zippered pouch deep enough to hold most phones and a large utility pocket for filters or lens caps. Also, there are lash straps and inverted-U flap pockets on either side. Exterior dimensions: 13.5x10.5x6.5 inches (34.3x26.7x16.5cm).
2. Manfrotto NX CSC Camera/Drone Backpack, $69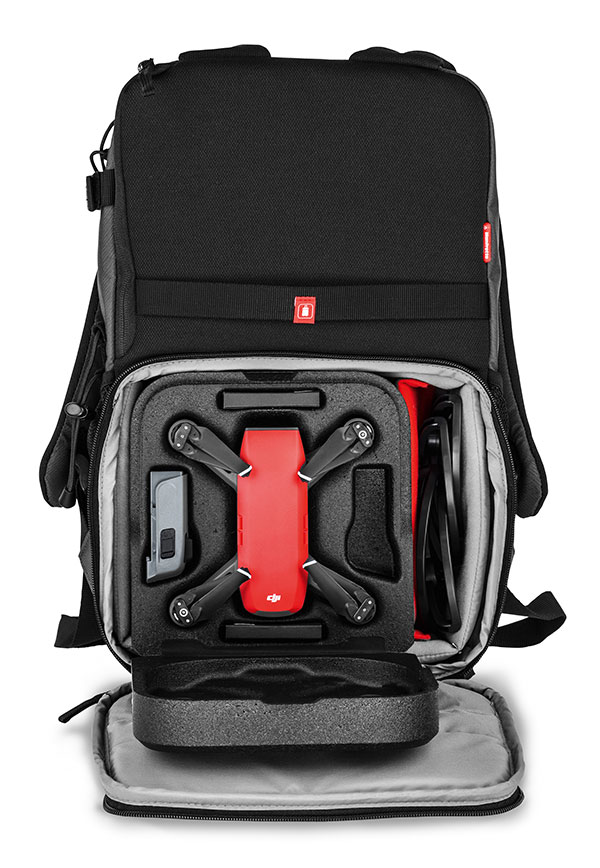 Designed with UAVs in mind, the Manfrotto NX CSC Camera/Drone Backpack is attractively priced and features water-repellent nylon construction, padded inserts with hook/loop fasteners, a trolley strap, tripod lashings, and a dedicated tablet compartment. The NX CSC allows rear and top access to contents and has pockets inside and out as well as a mesh pocket on either side. Strap, haul handle, and back panel are padded for all-day comfort. Exterior dimensions: 17.7x11.0x7.5 inches (45.0x28.0x19.0cm).
3. Tamrac HooDoo 18, $79

There's a lot to like with the Tamrac Hoodoo 18. Tamrac is a top-tier camera bag maker known for stylish, hard-wearing products. The Hoodoo 18 is available in black, green, orange, or blue and comes with a five-year warranty. The exterior is constructed of water-resistant waxed canvas plus durable ripstop fabrics, and it's fitted with high-quality YKK zippers. Bonus: there's a built-in 13-inch laptop sleeve. The large main opening is designed to hold your personal gear (e.g., jacket, snacks) while the separate camera compartment stows a compact DSLR, lenses, and accessories. Capacity is 18 liters total. Exterior dimensions: 19.0x10.5x6.5 inches (48.5x27.0x16.5cm).
4. Lowepro Urbex BP 20L, $99

Popular and legendary brand Lowepro offers a photo backpack that's well suited for both photographers and video makers. The tough and versatile Lowepro Urbex BP 20L photo backpack has a 20-liter capacity and accommodates a 15-inch laptop in a padded, dedicated pocket plus a 10-inch tablet. Other features include a pass-through trolley loop, bottle pocket, haul handle, and smartphone pouch. The main internal compartment contains the included 11.0x2.8x5.3-inch Lowepro Gear Box equipment pouch that is perfect for small accessories like microphones or batteries. Exterior dimensions: 13.0x5.1x18.9 inches (33.0x13.0x48.0cm).
5. Shimoda Explore 40L Backpack, $379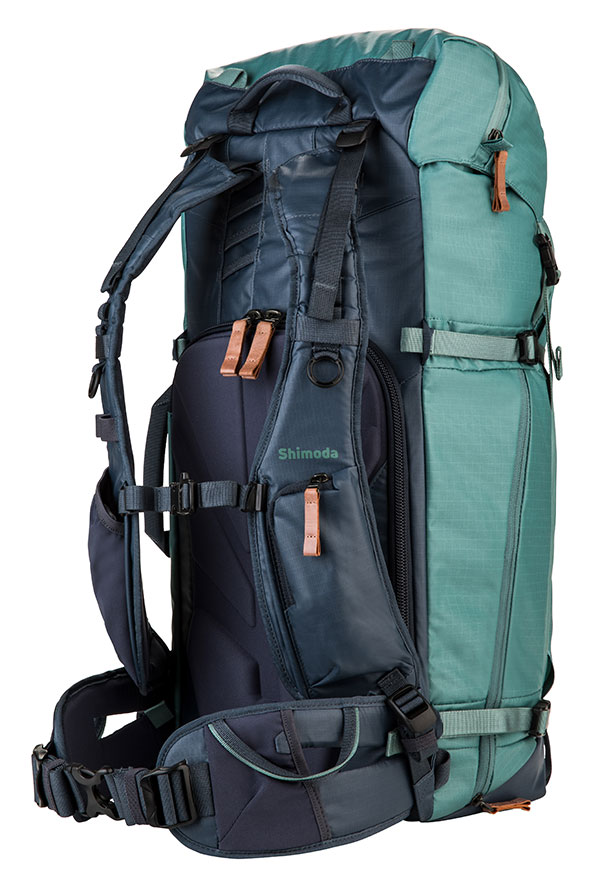 A newcomer to the adventure backpack arena, Shimoda bags are designed to be as gentle to the photographer as they are to the payload of camera gear. With the Shimoda Explore 40L Backpack, equipment is divided and protected by modular Core Units and (optional) Accessory Cases. Zippers are all YKK and the outer nylon shell is coated with carbonate ether resin on the outside and on the inside for greater water repellence. Unlike most photo backpacks, the Explore series features internal T6 aluminum frames to properly distribute the load of heavy equipment. Exterior dimensions: 22.4x10.2x11.4 inches (56.9x25.9x29.0cm).
6. Hex Medium DSLR Backpack, $199

Hex offers dozens of bags, computer and phone cases in addition to camera cases and backpacks. The Hex Medium DSLR Backpack is large but comfortably flat and will hold a pair of DSLRs with 28-70mm size zooms attached plus four more lenses and accessories. The exterior is water-resistant coated canvas and the inside is fleece lined and subdivided by repositionable partitions. The cushioned back panel and the posterior padding on the shoulder straps are yellow. This bag provides top access and a tripod lash on one side, and a 17-inch MacBook Pro fits comfortably. Exterior dimensions: 20.0x12.0x8.0 inches (50.8x30.5x20.3cm).
7. Gillis London Trafalgar Rucksack, $422

Usable as a camera backpack or everyday bag, this fine specimen is handcrafted from genuine leather and features unique, specially designed hardware. The Gillis London Trafalgar Rucksack has a unique pullout padded camera sleeve that's accessible from the side and fits a DSLR with a zoom lens attached. It also has two separate compartments, both secured by YKK zippers. One of these compartments is suitable for 13-inch laptop storage and the other features a lift-out padded tray. Even for non-photographers, this all-leather pack is luxuriously exquisite. Exterior dimensions: 16.9x13.0x5.9 inches (43.0x33.0x15.0cm).

FEATURED VIDEO