Marketing Your Wedding Photography: Wedding Pros Share Their Tips
Finding clients for your professional wedding photography work can be a challenge. In this article we talk with seven wedding photography pros about their business today and how they find clients, what portfolio formats work best, and where they think the wedding business is heading in the next five years. We interviewed photographers from across the US; their styles range from beautifully posed portraits to wonderfully natural candids.
As we discovered, their marketing tools range from traditional print advertising to social media. They work very hard on planning their marketing to reach out to potential clients; none of these photographers sit back waiting for the phone to ring. Even "word of mouth" marketing entails a marketing plan.
I would like to thank the following photographers for their contributions to this piece: Stewart Bertrand, JP Elario, Patricia Kantzos, Kenny Kim, Joseph and Amanda Kingry (Yellow Paddle Photography), Justin & Mary Marantz, and Eric Newland (Hybrid Moon). To see more of each photographer's work, check the URL resource list at the end of this article.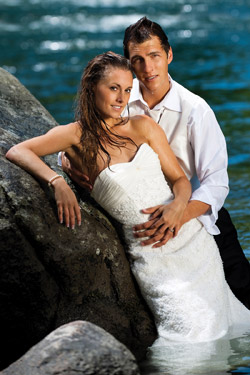 Shutterbug: Let's start with the basics. How do you find wedding photography clients?
Stewart Bertrand: Wedding markets are segmented by budget and these markets are referred to in many different ways but I like to call them: budget, mid-market, upper mid-market, high-end, destination, and ultra wedding/celebrity. To find them, you have to know how the market you are seeking is finding their photographers. That's the key. For example, high-end clients will most certainly have a full-service coordinator who they will rely on to guide them to the best wedding vendors, while budget clients are counting every dollar and will end up choosing most of their vendors based on their own research through bridal shows, the Internet, and magazines.
Patricia Kantzos: I find that advertising in a few select publications is important. Over the last few years, advertising on key blogs has become essential to increasing exposure. It is also great to have weddings I've shot featured in magazines or blogs so potential clients get to see my style more fully. One of the best ways to get clients is doing a great job on each project so clients and vendors recommend you.
Kenny Kim: After graduating college, I met hundreds, if not thousands, of people through work or various walks of life. It is through those people I first started getting my clients. The bigger your network, the bigger your net worth will be. I would encourage you to meet as many people as you can and befriend them—I'm not just talking about fellow photographers—but anyone and everyone you can around you. Before you know it, you'll be making relationships with your future clients.
Justin & Mary Marantz: From the very beginning of our business we knew we wanted to put together something remarkable and uniquely personal and we wanted that to permeate every single interaction a potential client had with us. For example, there are many places on our site for the client to feel like they already know us from minute one. Besides the blog (which we keep very personal and update every day), we also have our "about" page that talks about how we do dishes together and how that "I'll wash, you dry" mentality has become a mantra for how we take on
life together.
We also have our promo video there that builds on that idea. It doesn't have us shooting a camera at all (except for Justin shooting some fun Super 8 stuff) and it is all about us, our Mini Cooper, our dog Cooper, Starbucks, country music, slow dancing, and washing dishes.
Immediately people can really get a feel if they like us or, maybe just as likely, not. So the not-so-fun people can filter themselves out right away. We also have our "Stuff We Love" page where clients can hover over the icons to see something funny and click the link to whatever it is. So we get clients writing us saying, "Omigosh, you like pumpkins? We like pumpkins!" And right away they feel like we're the only people on the planet who truly "get" them or could capture their wedding day.
SB: What have been your most effective marketing tools?
Eric Newland: Our most effective marketing is to show what we have done for past clients. I have been creating videos to show clients how past clients have planned their weddings. In addition to referrals from past clients, we prefer marketing by networking with other bridal professionals. My associate shooters and myself attend Wedding Network USA events hosted by the Seattle and Portland Chapters. We attend once a month and try to actively participate. Our goal is to reconnect with past vendors as well as meet new contacts each month.
Joseph and Amanda Kingry: We have had great luck with Facebook. Their targeting of a specific area and status profiles allow us to advertise directly to potential clients in our area. We have also put together a simple booklet that walks clients through our services. This is very helpful and gives a good visual understanding to what we offer.
Justin & Mary Marantz: On the site we also do something a little interesting, in that we make it very clear that it's not a given that we'll take every wedding that comes to us. In fact, we specifically say that only if we feel like we're the best fit will we agree to be there with them on the day. We ask them to rank on a scale of 1 to 10 how excited they are to "have Justin & Mary shoot their wedding" and we also have an open-ended comment form that just says "tell us what you're looking for." We learn a lot about our potential clients from just what they write. Clients have the ability to feel incredibly connected to us and see us as a scarce resource. And we use their answers to do all of the filtering we do for the clients we actually meet in person.
Then, at the wedding, we are downloading the files and picking one image to print on site as an 8x10. We then put that in an 8x10 silver frame from Restoration Hardware and package it up in all of our branding and a bow to give to them at the end of the night when we hug them goodbye.
At the end of the year for the holidays, we send out Crate & Barrel ornament frames to all of that year's couples with a wedding picture in it and a card that says "'tis the season to be Married" and the "M" in married is the M from our logo. For all of the upcoming year's couples we send a blank frame with a card that says "for the memories still to be Made." And again the "M" in made is from the one in our logo.
When we're shipping all this stuff out, we've paid a lot of attention to the branding in the packaging. So we've been investing in things like custom chocolate brown boxes, scatter print tissue paper with our logo on it, packaging tape with our logo on it, an embosser, etc.
And we have a whole separate protocol (gifts, cards, etc.) for the vendors we work with on these weddings that creates a really good experience for them, too, as well as other photographers who refer us. And basically that's our entire marketing budget right there. We call it the "triangle offense of marketing." Since we've shifted over to this approach we have seen our business at least quadruple.
JP Elario: For me the best marketing is from referrals. This has always been true but now we have social media tools like Facebook to proactively seek out referrals and not sit back and wait for them. Once I have a client booked, I look them up on Facebook and connect with them to start this new media referral process. For example, today I am on my way to an event with a couple getting married. Tomorrow I will post an image on my wall, tag them in the image, and add a link to my blog post so it shows up on their page. Now they will see it and share it. Then their friends will see it and share it with their friends—and so on and so on it goes. It is this style of "viral" marketing that works so well for me!
This social media—Facebook and my blog—has become my number one marketing tool. It is fast and simple. It gives us the chance to show people what we are doing; it is always fresh and up to date. It is marketing that takes more time than money. We still practice the traditional marketing using retail connections, finding places people go for planning their wedding and connect with them. There is a local catering and banquet firm with four wedding venues and we show in their annual bridal show and advertise with them as a "preferred vendor" but that is the only paid advertising that we do.
Kenny Kim: With social media, today it is easier to maintain and build relationships with people without always having to meet them in person. Sites like Facebook and Twitter can help you stay connected with them. My definition of marketing is figuring out where your consumers are hanging out and spending time there. That is the whole purpose behind social media sites.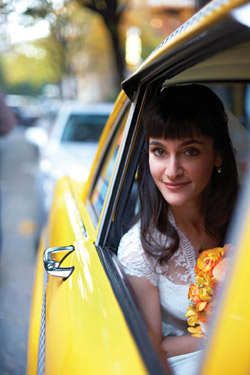 SB: What types of portfolio presentations and promotional materials work best?
Joseph and Amanda Kingry: We have transitioned into using an iPad to showcase the most updated portfolio from each of the photographers who work with us. This allows us an easy way to upload at no cost new images and gives the client an easy and professional way to navigate the images.
Stewart Bertrand: You must have a mix of different media to show prospective clients and in most markets it must be awesome. You need a website, a blog, albums, large prints, and slide shows to show clients—and you must be active in social media. You can do without some of these but your sales will be less than you'd like. Also, you will be less likely to catch very many "big fish!" The wedding photography industry is highly competitive right now and there are just too many people doing all these things right.
Patricia Kantzos: As far as presentation, I love beautiful prints. I use a combination of print portfolios and sample wedding albums. Your portfolio is important to make sure you book the right client because you might not always be the right photographer, even if they think you are. People make the wrong decisions for many reasons. If I find that I am being asked questions about my portfolio that really go against my style (like a heavy expectation of everything being posed) I start emphasizing my natural approach. You might lose the job this way, but in the long run both you and the client might be happier not working together.
JP Elario: When I do get a bride to meet in my office, I show albums and coffee-table books but my most popular presentation method is to refer them to my online portfolio (my blog). When I get a query to see my portfolio, I reply with an e-mail. This e-mail contains a link of my images that relate to the venue they have selected—it is so easy and something that the bride can completely relate to. Often from that point, they will either meet with me or go straight to locking down the date with me. Out of 45 weddings a year now, I will probably only meet in advance with 15 of the couples.
One of the reasons (and this is huge for me) that brides can go straight to a booking without meeting first is that I have "behind the scenes" videos on my website of me shooting at weddings mixed in with the resulting still images. This shows how I work, my professional appearance and demeanor with the bride and groom, the fun people have with me—all the reasons that make a couple feel safe and comfortable hiring me as their wedding photographer.
Kenny Kim: Aside from my online website portfolio, I also like to show them a full online gallery from a wedding I have photographed using my Pictage gallery. But honestly, the best presentation you can make is by meeting with them in person to connect with them.
Justin & Mary Marantz: We put a lot of work into our in-person meetings. We "present" to the five senses and plan how our meeting room: (1) smells, typically we go for lavender vanilla because it's relaxing or chocolate caramel spray; (2) sounds, we know the music we play is a reflection on us and our brand and it also builds more common ground if they happen to like that music, too; (3) looks, not just the decor but also the lighting—candles work double duty for sight and smell; (4) tastes, we serve up things like blueberries, boutique chocolate caramels, and red wine because they are rich and decadent; and finally (5) touch, the materials we give them are an extension of that experience.
At the meeting, we give them a chocolate brown "info box" filled with magazines, vendor cards, and a card that says "Stuff We Love" with an iTunes and a Starbucks gift card inside. Under each one it says Mary: Starbucks Junkie and Justin: Apple Fanatic and they get that just for meeting with us, whether they book or not. Coming in the very near future, we will give them each an iPad portfolio to scroll through images while they're sipping on a drink and enjoying the meeting experience. Because of the filtering of our prospects and all the effort we put into the meetings, we have a nearly 100 percent booking rate.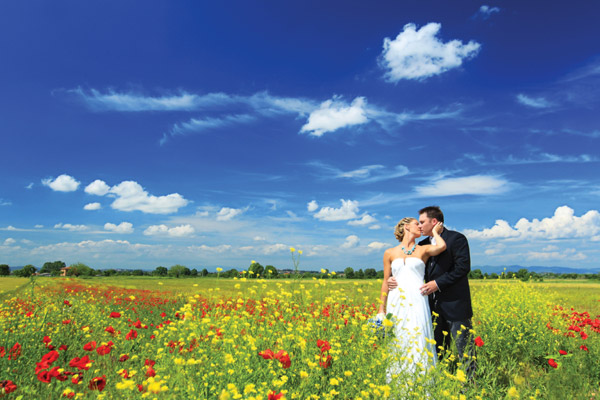 SB: What do you think of the current state of the wedding photography business and what do you think it will be like five years from now?
Joseph and Amanda Kingry: It is a given that people will always get married and the need for great photography will always be there. With that said, we think there will be more and more options of photographers and the price will be driven down due to the large amount of photographers. We also believe there will be more of an emphasis placed on videography in combination with photography, potentially seen as one service in the future.
Eric Newland: I have seen photographers and videographers come and go in three to five years. I do not see this changing. You have to really love shooting weddings to do this type of work.
Kenny Kim: Five years from now, people will be shooting weddings using only an iPhone…just kidding (not really)! It is constantly changing and it will be hard to predict where it will be in five years from now. I can't imagine how much further we will be in our technological advancement in just one year. I can safely predict technology will produce more user-friendly cameras—which means there will be more budding photographers in the future. So now is the crucial time to establish a solid business and continue to create a brand to stand out from others.
Stewart Bertrand: There is a tremendous flood of new photographers entering the wedding industry in numbers that have never been seen before. Just start looking at any of the free sites such as WeddingWire or Google wedding photography in your area and start counting. Is this due to the effects of the recession and people finding ways to generate income and get into businesses to survive because they lost their job or their spouse is still working but they have been laid off? Is it that their job is no longer rewarding or paying them well or is it weekend warriors trying to supplement their regular income? Or are people disenchanted with working for an employer looking for a better lifestyle? Or is it young people out of college in their 20s or early 30s that are being stonewalled by corporate America? Or is it just the digital photography effect? I think it's all of the above.
A lot of established photographers are fighting harder and harder to keep their revenues and profits stable. A lot of them have seen significant declines in their sales, sometimes as much as 50 percent or greater, and we are talking about excellent photographers and businessmen. Some are doing fine and some are growing but a lot of people are working really hard out there, harder than they can imagine and so much harder than they used to. The state of business today is heavy competition in combination with a recession that has decreased the number of weddings and their budgets, which translates into lower revenues and income for photographers and at the same time high demands in every aspect of the business.
Patricia Kantzos: I have been blessed from the start to have a good run, and figure if I follow my heart and creative style the right couples will keep appearing. I know that in the 1980s many photographers looked to studio product photography as bread-and-butter work. It almost looks as though wedding photography has somehow become the new bread and butter for those of us who love photographing people. I believe it is a great business and will remain so.
Although one keeps seeing hundreds of cameras and numerous techie relatives getting in your way at weddings, when it comes down to creating art out of the day in a reliable way, couples are realizing they still need to get a professional photographer. I don't think we will be replaced by the robots in five years. However, it is always good to keep up with the technology, while paying attention to the fact that it does not get in the way of your art. I still shoot a healthy ratio in medium format film, while using digital where it shines.
JP Elario: I think that more than ever people getting married understand and appreciate good photography. I have seen the brides' needs to "outdo" each other with the best and greatest wedding photos. So in five years, I don't see my business going away. Every year, I see more interesting and over-the-top weddings happening more and more. Brides see these theme weddings in a magazine and want that—or better. I think that people are always going to get married and the photographers who are good and who keep making a strong footprint in their local market will continue getting that work.
Contributors' Contacts
Stewart Bertrand
• www.stewartbertrand.com
• http://blog.stewartbertrand.com
• www.facebook.com/stewartbertrandphotography
Joe Elario Photography
• www.joeelariophotography.com
• www.joeelariophotography.com/category/video
• www.facebook.com/elario
• http://twitter.com/jpelario
Patricia Kantzos Photography
• www.kantzos.com
• http://patriciakantzos.blogspot.com
Kenny Kim Photography
• www.kennykim.com
• www.kennykim.com/books
• http://wileyauthoritiesspeak.com/kenny-kim/
• http://photoventure.kennykim.com
• www.facebook.com/kennykimphotography
• http://twitter.com/KennyKim
• http://twitter.com/KK_PhotoVenture
• Instagram: @Kenny_Kim
Joseph and Amanda Kingry/Yellow Paddle Photography
• www.yellowpaddlephotography.com
• www.facebook.com/pages/Yellow-Paddle-Photography/199688647012
Justin & Mary Marantz
• www.justinmarantz.com/index.cfm?catID=29
• www.justinmarantz.com/?page=stuffwelove
Eric Newland/Hybrid Moon
• www.weddingsportlandstyle.com
• www.iplayerhd.com/player/2011WeddingFilms.aspx
• www.hybridmoon.com/wedding.php
• www.facebook.com/HybridMoon

FEATURED VIDEO