Locations: Castle Walk: A Photo Journey Through Northumberland, England
Growing up in San Juan, Puerto Rico, I used to love playing in the Spanish colonial castles in Old San Juan, imagining I was a Spanish conquistador getting ready to do battle with foreign attackers. My interest in castles and history has never subsided, although the only shooting I imagine anymore involves my camera, not guns. I was therefore excited when I had the opportunity to visit and photograph a number of castles in Northumberland, a region located in England's northeastern corner abutting the North Sea. Besides its numerous castles, Northumberland also features wide beaches and tall sand dunes, rugged cliffs, rolling hills, and quaint fishing villages.
Because the castles I would visit were relatively close to each other (10 to 14 miles apart), and to get a better feel for the region, I decided to walk from one to the next, photographing along the way and staying in small inns overnight. The route I took follows the coast and is part of what is known as the Northumberland Coast Path. I walked south but walkers can walk north if they prefer. I used a service to carry my bags from inn to inn, so during my walks I only carried my camera gear, snacks, and a map.
Gear For The Trek
My camera backpack included wide-angle (16-35mm), normal (24-105mm), and long (70-300mm) zooms. Since I mostly photographed landscapes and architectural subjects during the trip, I used the first two zooms the most. However, I had occasion to use the long zoom to photograph some of the castles from afar. I also carried a polarizer, split neutral density filters, and a tripod. At night I would download my take onto a laptop and back it up to a portable hard drive.
Berwick-Upon-Tweed
I spent the first evening in this touristy but charming village on the banks of the River Tweed. Though this was the largest town I visited, all that is left of Berwick Castle are a couple of standing walls. Still, the town features lots of other photogenic subjects, including the multi-arched Old Bridge (dating to 1611), the Royal Border Bridge (a railway viaduct), a lighthouse, historic ramparts, and the bustling town itself. The Royal Border Bridge photographs well from either side of the river. The lighthouse, a simple, red and white structure built at the end of a long pier, can be photographed from up close or from a distance as you walk south of town.
Lindisfarne Castle
This castle is located on a rocky outcrop on Holy Island, an important center of Christianity during the Dark Ages and the sometime home of St. Aidan and St. Cuthbert. The small island is only accessible during low tide via a three-mile causeway or by walking on wet sand and following tall wooden poles (the so-called Pilgrim's Way). Needless to say, timing is crucial when visiting Holy Island; crossing times are conveniently posted at both ends of the causeway.
The castle is surrounded by grasses, rocky shores, and a small bay called the Ouse, all of which make excellent foreground subjects. Inside, the castle features 10 fully-furnished rooms, and though they are dimly lit (it's a castle!), tripods are allowed.
Other subjects worth photographing in Holy Island include the ruined (but very photogenic) Lindisfarne Priory, St. Mary's Church (established in 1140), and some interesting lime kilns just east of the castle.
Bamburgh Castle
Lording over the village of Bamburgh from atop a massive block of dolerite, Bamburgh Castle dates back to AD 547, when a wooden fortress was first raised at its present location. In 1894, after undergoing a series of deteriorations and upgrades, Bamburgh Castle was bought by Victorian industrialist William Armstrong (the First Lord Armstrong), who restored and brought it to its present condition. Though still owned by the Armstrong family, the castle is open to the public.
One of the best vantage points from which to photograph Bamburgh Castle is the wide sand sheet located to its northwest, which is peppered with rocks and tidal pools that can be used as foreground subjects. When the sand is wet from the tide, it can be used as a reflecting sheet, especially at twilight when the castle is illuminated by floodlights. Inside, the castle features numerous furnished rooms, including a library, medieval kitchen, dungeon (complete with life-sized mannequins being tortured), and the magnificent King's Hall, a Victorian masterpiece with a hand-carved teak ceiling. Although the castle can get crowded, tripods are allowed. Be patient and courteous and you should be able to get tack-sharp images of its beautiful interiors.
Dunstanburgh Castle
Perched atop a spectacular headland bordered by the North Sea, all that remains of Dunstanburgh Castle (ca. 1313) is a ruined shell, distinguished by the still-impressive twin towers flanking its entrance. That the walls of Dunstanburgh are still standing is a testament to its builders, since it fell into disrepair at the end of the Middle Ages. Currently the castle is maintained and operated by the government.
Dunstanburgh Castle's entrance faces southeast, and pleasing compositions could include visitors (for scale), the entrance by itself, or the castle from a distance (from the south) showing it in context. Another possibility is to walk south, then down to the coast, and use the North Sea's rocky shores as a foreground subject.
Warkworth Castle
Strategically located on a hill within a loop of the River Coquet, Warkworth Castle has been at its present location, in one form or another, since at least 1139. The castle features a well-preserved, cross-shaped keep with numerous (but unfurnished) rooms, and a simple but imposing entrance accessed by a wooden bridge. Warkworth Castle's keep, entrance, and front ramparts photograph well in the afternoon. Tripods are allowed inside the walls.
Below the castle sits the pretty village of Warkworth, itself a worthy photo subject. Castle Street, the town's main thoroughfare, can be used as a foreground subject as it lines up nicely with the castle in the background. A paved trail along the River Coquet also offers excellent views of the castle in the afternoon (walk west from the castle); look for compositions, including reflections of the castle in the slow-moving water.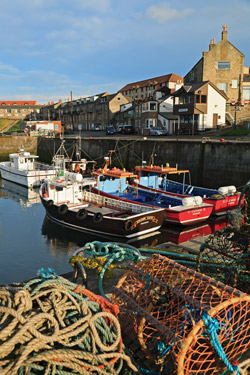 If You Go
1. When to go: Because of their relatively mild temperatures and smaller crowds, spring and fall are good seasons to visit Northumberland, though the weather can at times be cold and wet (but be prepared for unfriendly weather any time of the year along the coast). Summer brings the warmest temperatures and more predictable weather, but also the most tourists.
2. How to get there: The most convenient airport to Berwick-upon-Tweed is Scotland's Edinburgh Airport (EDI). Berwick is located south of Edinburgh, and can be reached in about 50 minutes from Waverley Train Station in downtown Edinburgh.
3. Getting around: If you prefer driving a car in Northumberland (and don't forget that the rental will probably have a manual transmission and that you will be driving on the left side of the road), I have had good luck obtaining reasonable rates via Europcar. However you get around, I strongly recommend purchasing Ordnance Survey (OS) Maps 332, 340, and 346. Surveyed and produced by a self-supporting British government agency, these highly detailed maps include every henhouse, outhouse, boathouse…you get the picture. Visit www.ordnancesurvey.co.uk/oswebsite/index.html for more information.
4. Entrance fees: Except for the free-standing walls of Berwick Castle, access to the castles listed here requires the payment of a fee. The fees range from about $6.50 to about $14.00 per person per castle. For current fees, visit the websites listed.
To learn more:
• Northumberland: www.visitnorthumberland.com
• Northumberland Coast: www.northumberland-coast.co.uk
• Lindisfarne Castle: www.nationaltrust.org
• Bamburgh Castle: www.bamburghcastle.com
• Dunstanburgh Castle: www.english-heritage.org.uk
Author's Bio
Efraín M. Padró is a professional photographer specializing in travel subjects. His work has appeared in Geographic Expeditions catalogs, Frommer's Budget Travel, and other publications. He is the author of The Photographer's Guide to New Mexico. He currently lives with his wife Cathy in Santa Fe, New Mexico. To see more of Padró's work, please visit www.padroimages.com.

LATEST VIDEO