jAlbum 15 Review: Website Photo Portfolio Software Adds Features, Looks & Speed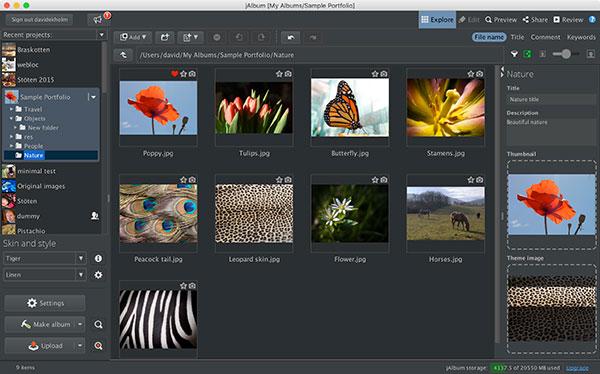 If you want to build an online photo album or digital portfolio of your images to share on the web, there are many ways to do it. But one of our favorite options has been the jAlbum photo gallery software, which we have reviewed several times over the years.
Currently on Version 15.2 at the time of this writing, jAlbum keeps getting better as it adds features, updates its look, and increases the speed, letting you easily grab the images you want from your computer or external hard drive and post them on the web so people can see them.
As mentioned, we've reviewed older versions of jAlbum through the years—the software launched way back in 2002—and the current iteration is not drastically different from what came recently before. So rather than re-review the entire software package, in this story I'll look at some of the key features that are new to jAlbum 15 and give you my overall impressions.
If you'd like to see a more in-depth look at the software, just type jAlbum into the search box of Shutterbug.com for our previous coverage.
What's New
The last time we reviewed jAlbum in the September 2016 issue of Shutterbug, the software was on Version 13 and most of the new features back then included organizational tools, which made it easier to import, filter, and group your images so you could display them quickly and logically on the web. For instance, if you wanted to post an entire album of travel photography you shot in Rome, Italy, on the web, jAlbum would locate the GPS tags in your shots and group the locations you want together.
In jAlbum 15 all those tools are still there but the software runs more quickly and your web albums take up less space thanks to the introduction of "hard links." With the hard links option turned on under Preferences, jAlbum will no longer make copies of the original images. Instead, the software will generate a hard link to the images, so that while they'll display the same way, they take up less space, which can, theoretically, save you money in online storage while making your website run faster.
Also, jAlbum 15 now supports 360-degree images without frames, allowing you to post these complete panoramas via the software on your site so viewers can experience the immersive visual effect. While this feature may not be for everyone, with 360-degree cameras such as the Ricoh Theta, Nikon KeyMission 360, and Yi 360 VR Camera coming down in price, it's nice to have this option with jAlbum 15's web albums.
Most importantly, for us, are some of the visual changes in jAlbum 15. While the behind-the-scenes organizational and processing stuff is all well and good, it's how your web portfolios are displayed that's most important.
There are now quite a few additional "skins," aka templates, available with jAlbum 15, letting you arrange your shots in a variety of aesthetic displays. Better yet, because jAlbum has a fairly robust community of users who create their own skins (some of which are free but some you have to license for a fee, it should be noted), there's a myriad of looks you can give your portfolio.
The software has also added more attractive theme options, which are the wide images that appear at the top of your galleries.
Image processing has also improved with jAlbum 15. The software has added new code for image loading and scaling, which makes it handle oddly formatted JPEG images better.
Combine that with the faster Raw image processing that came with earlier versions of the software—and is further refined in Version 15—and jAlbum can handle pretty much any image file you throw at it. This is a big relief if you've dealt with other, more finicky web album software out there.
Why We Like It
Whether you have your own photo website or want to use jAlbum's web hosting service, jAlbum 15 provides an easy-to-use software solution for locating your favorite images, organizing them in a logical way, and designing them into attractive online photo albums that you can share with the world.
While jAlbum 15 isn't a major update from previous versions of the software, it's got enough improvements and refinements to warrant serious consideration from even users who have older licenses of the software (they can upgrade at a discount). For anyone with a current support and update plan or an active Premium or Power subscription, it's a free update, making upgrading a no-brainer.
If you just want to try it out, there are now 30-day trials of jAlbum 15, which should give you an idea if it fits your workflow. For details on all the various pricing plans, some of which include hosting if you don't already have your own website, visit jalbum.net.

FEATURED VIDEO