Here's a Powerful Action Video Light For GoPro Cameras with a Funny Name: the Qudos from Knog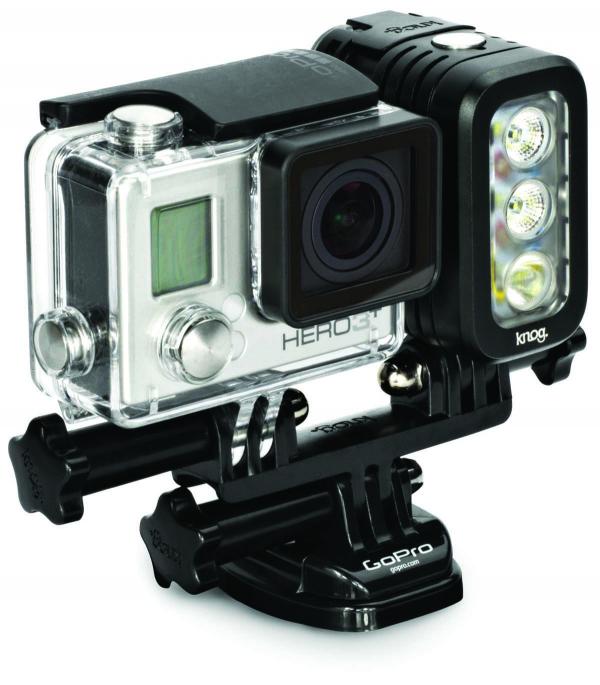 Created for adventurous types, like those who live to explore the night on a bicycle, skateboard, surfboard (or with SCUBA gear), the Qudos (pronounced kudos) Action light for GoPro cameras helps illuminate the darkness and allows you to capture great videos of your nocturnal adventures. The Qudos Action is a high-powered video light designed specifically for use with Go-Pro 2, Hero3 and Hero3+ cameras, as well as other action cameras that are compatible with GoPro conversion mounts.
It comes with a cold shoe mount that allows you to use it with DSLR cameras and tripods. Delivering 400 lumens of light from its three Cree LEDs (and weighing 150 grams) the sleek, compact Qudos comes with a padded case for extra durability. Like the GoPro, the Qudos is waterproof to 40 meters, and features a marine grade aluminum heat sink, faceplate, polycarbonate lens and a sealed rear battery door.
The Qudos has three modes to adjust the brightness and light spread: the Action Sports mode offers a wide-angle beam at either 400 lumens (high) or 225 lumens (low). The Target Spot mode offers a narrow angle beam at 155 lumens (high) and 100 lumens (low). The Ambient mode produces a soft, ultra wide-angle beam at 270 lumens (high) and 70 (low).
A long lasting 1000mAh LiPo (USB) rechargeable battery powers the Qudos and the kit comes with a GoPro mounting bracket, 2 mount screws and a cold shoe bracket. It is available in midnight black or bullet-proof silver (to match your Go-Pro gear). The Qudos Action is available in selected markets for a suggested retail price of $119.
More info on the Qudos Action here.

FEATURED VIDEO