How to Light a Boudoir Shoot in a Hotel (VIDEO)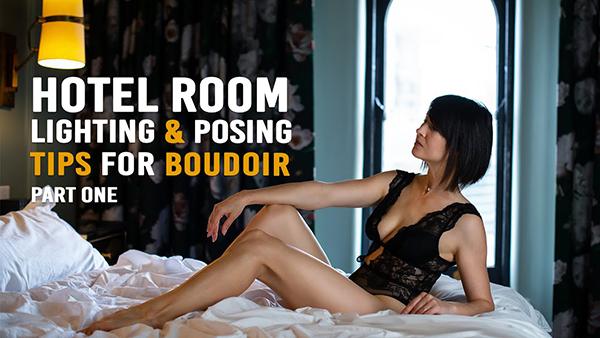 If you want to spice things up on a boudoir shoot – and who doesn't? – one location that's fun to try is a hotel room setting. There are a few things to consider though if you plan to photograph a boudoir client in a hotel, particularly lighting, which can be dodgy at best in a hotel room.
There are, however, some good ways to illuminate this type of space using simple lighting tools. Florida-based boudoir pro Yuliya Panchenko shares her best lighting tips for boudoir in a hotel in the below video, which she shot in a "gorgeous hotel in the center of Atlanta."
"Here where I am right now is a small living room," Panchenko explains. "We have nice furniture in this room, big windows and a nice couch. So, there's a lot of furniture that we can utilize for the shoot."
While the hotel space is deluxe, the lighting has a lot to be desired for boudoir photography. In the tutorial, she shows you how to enhance the ambient light by using strobe, continuous light, and lighting modifiers to get your subject to appear, so to speak, in their best light.
"The quality of light is amazing, it's very soft," Panchenko says about her set-up. "It resembles window light and that's what we need when we photograph women. We need that light to be soft, beautiful and flattering."
Watch below as she shows you how she sets up her lighting in every room of the hotel suite to produce the best results. After you check out the video below, watch this tutorial explaining what it's like to shoot swimwear models at a perfect natural light photo studio.