How Do You Take Better Travel Photos? Simplify! Daryl Hawk's Back-To-Basics Tips For Photo Treks
Midway in my talk with Daryl Hawk about his travel photography, he mentioned that it was relatively easy for him to approach people and get their okays for impromptu portrait sessions. "I'm polite, I know something of their culture, and I spend time with them," he said. Then he added, "And I speak a universal language."
I knew his next word would be "photography," but I was wrong. What he said was, "I smile. If you're really enjoying what you're doing, people pick up on it, and that opens more doors than you can imagine."
I should have known. Hawk has a passion for traveling to remote places, learning firsthand about the people who live there, and documenting the portion of their lives he's fortunate enough to witness. His joy is almost invariably reciprocated.
Perhaps you won't be visiting locations as isolated as those he explores, but your enthusiastic appreciation of any destination might be the most important thing you can bring with you to ensure memorable and meaningful photographs. What's also important, Hawk maintains, is what you don't bring with you: namely, a whole lot of gear.
He finds that traveling with a back-to-basics kit of camera, lens, and filter means fewer decisions, fewer distractions, and greater concentration on the elements that result in better pictures.
Only The Essentials
The images in this story were taken on Hawk's three-week, 3,000-mile journey across South America's Altiplano plateau and over the Andes mountains. His camera was a Canon EOS 60D, his lens an EF-S 18-135mm f/3.5-5.6 IS zoom, the filter a ProMaster 67mm CPL circular polarizer. Because he travels far from home to remote locations, of course he carries backup gear: another 60D and EF-S 18-135mm. That camera and lens combination provides all the capability and versatility Hawk needs. It also eliminates the need to switch lenses—no small consideration in areas of dust and high winds.
Ten SanDisk 16-gigabyte memory cards stored in ProMaster weatherproof memory card cases, eight batteries for the 60D, a charger, and a set of voltage converters completes his gear. There's no backup for the files—no laptop, no external hard drive. The cards offer him all the storage he needs, as he shoots high-quality JPEGs rather than Raw files. "I pay close attention to what I'm getting as I'm shooting," he says, "and I get good quality from the smaller-size files."
Everything fits in a well-worn EMS backpack that features a zip-off daypack that carries the shooting gear, his passport, memory cards, and batteries. He wears a Weekender Traveler photo vest that holds maps, the polarizing filter, a small tape recorder, pads, and pencils.
You'll note there's no flash unit. "I like the real look of things in natural light," he says, "and one benefit of a digital camera is its ability to shoot in low light and still produce great results."
Another digital benefit he takes advantage of is instant confirmation of results. "I check the camera back nonstop," he says. "I'm in an exotic location, I took the trouble to get here, I probably won't be coming back, so I make sure I've got the shot. Even if I have to put a jacket over me and the camera to cut the glare, I want the peace of mind of knowing the exposure was right on the money. If it's not, I'll make adjustments until it's right."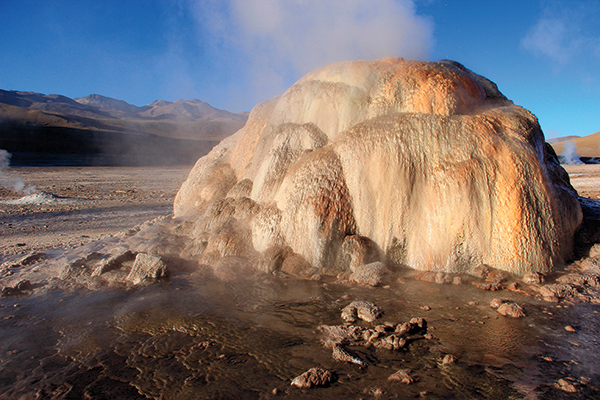 People In Focus
"I've learned to shoot fast in order to get fleeting moments and expressions," Hawk says of his people photography. "I shoot and check, and if I need to take more time, I'll ask. I won't walk away without trying every way possible to get quality images of the people I'm meeting."
Often he can get the portraits he wants in under 10 minutes. If he's established a relationship, he'll have more time. "I'll learn about a person, hear a story or two. One thing leads to another, and I often find out about a place few others know about."
That's exactly what happened on the South America trip. "I'd done my research—and research is important no matter where you travel. It gives you an idea of what you'll see, what you should see, and sometimes the questions you should ask—and I knew that in Purmamarca, Argentina, there's a mountain known as the seven-color mountain. One day I was talking with the man in charge of a small inn in the town of Tilcara. He asked me about my photography and what I'd been photographing."
When Hawk mentioned his interest in the seven-color mountain, the man said he had something better, something the locals knew about: a 14-color mountain. "I thought he was joking. It just happened to have twice as many colors? But he insisted it was real, and said I had to see it. I did, and it was the most incredible experience of any of my journeys. That's what can happen when you take time to talk with people, to learn about them and what they know."
Hawk approaches people with respect and courtesy, and he's not in a hurry. "I don't start firing away," he says. "They see the camera, the photo vest, they know what I'm doing. The fact that I'm there, showing interest in them, and having real knowledge of their lives and culture is why it's rare for me to be turned down when I want to photograph someone."
A Simple Plan
While he advises serious photographers to have a plan for any trip, he urges them not to over-plan.
"Leave time to roam, to follow whatever interests you, to talk with people you meet, to wait for the best light or wait out bad weather," he says. "It's a mistake to cram too much into a trip—you end up rushing from place to place on a tight schedule. It's better to enjoy what you're seeing, even if it's only part of what's there, than to run around trying to see and shoot it all. You're not out to cover ground, you're out to explore and enjoy."
The best plan, he suggests, is to rely on the basics and let the joy of the journey spark your photography.
Visit Daryl Hawk's website, darylhawk.com, to see additional images and learn more about his travels.

FEATURED VIDEO